Tree.com Inc. says it will close all of the field offices of its brokerage company — RealEstate.com, Realtors — by the end of the month, but will continue to operate RealEstate.com as a lead-generation network.
Tree.com announced last month that its real estate brokerage posted an $11.9 million fourth-quarter operating loss as revenue fell 67 percent from a year ago.
The company brought industry veteran Steve Ozonian on board as CEO of the RealEstate.com division in October. Ozonian is a former RE/MAX International Inc. executive who has held CEO positions at Prudential Real Estate Services, Realtor.com, and Help-U-Sell Real Estate.
But in a regulatory filing this week, Tree.com said results from the first two months of this year convinced management team that "the difficult mortgage and real estate market conditions are too weak to support our brick-and-mortar real estate brokerage business at this time."
RealEstate.com, Realtors, operated in 20 markets from 2008 through 2010. In its most recent annual report to investors, Tree.com said it closed brokerage offices in five markets in January and February, leaving it with offices in 15 markets.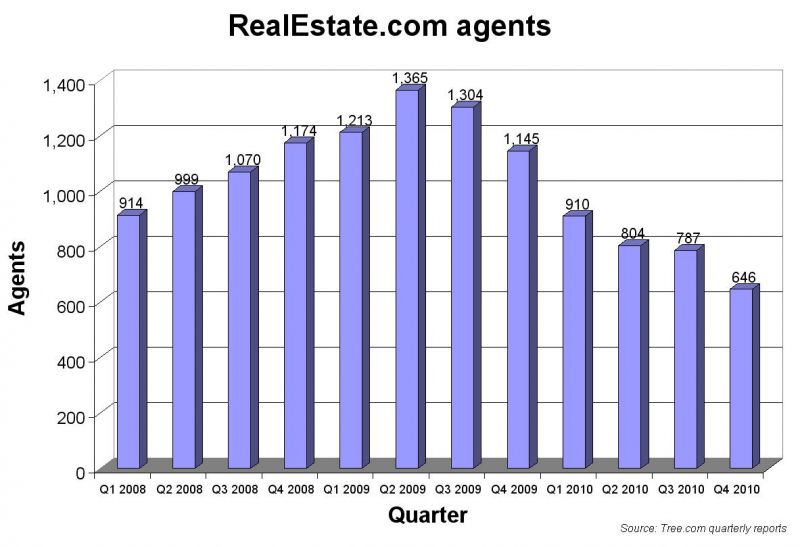 Right-click to enlarge.
In reporting fourth-quarter results, Tree.com said the brokerage employed 641 agents at the end of 2010, down from a peak of 1,365 agents in the second quarter of 2009. The number of transactions handled by the brokerage during the quarter fell 59 percent from a year ago, to about 600.
Tree.com will rack up $1.6 million in charges related to the cost of closing its brokerage offices, including $500,000 in termination benefits. The company will also recognize non-cash impairment charges totaling $13 million in the first quarter of 2011 related to goodwill, trademarks and property and equipment within the real estate segment.
Shares in Tree.com hit a 52-week low of $5.64 per share Friday before rebounding to close at $5.96.