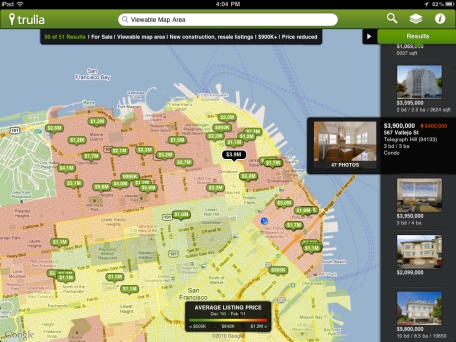 Trulia iPad app screenshot.
Property search site Trulia has launched two mobile applications, one for the Apple iPad and one for smartphones that run on Google's Android platform.
Trulia also has an iPhone app, which it launched in September 2008. That app is ranked fourth in popularity among real estate-related apps, according to a keyword search for "real estate" at ranking site TopAppCharts.com.
Traffic from mobile phones accounts for 12 percent of the site's overall traffic. In February, more than 2 million users accessed Trulia from their phones — a 300 percent year-over-year jump, the company said. Meanwhile, website traffic overall rose 80 percent year-over-year.
Pete Flint, CEO and co-founder of Trulia, said in a statement that competing real estate apps "lack both the vision and the utility" that consumers seek.
"Trulia has doubled its mobile resources and this year we will bring innovative tools to the fastest-growing segment of our business. During peak usage times on weekends, more than 15 percent of Trulia's traffic comes from mobile devices, and we expect this number to continue to grow in the future."
Trulia's iPad app, which already ranks ninth in popularity among real estate-related iPad apps, according to TopAppCharts.com, allows users to search for-sale, for-rent, or sold homes nearby or at a user-specified location.
Users can filter their search by price range, number of bedrooms or bathrooms, square feet, and property type. Users can also decide to see properties that are foreclosures, have an open house, and/or have experienced a price reduction.
Results appear in map view with a scrollable sidebar showing listing prices and thumbnail photos. The sidebar can be hidden for a full map view. The map populates results as the user moves it.
By tapping a layers icon, users can see heat maps that show an area's range of average listing prices, average sales prices, median sales prices, or average prices per square foot. Satellite, road or hybrid map views can be layered over a price heat map.
Users can add neighborhood, ZIP code, or county boundary lines to the heat maps as well. Further, users can add layers showing the locations of amenities such as restaurants, grocery stores, banks, and gas stations as well as elementary, middle, and high schools.
On listing pages, photos take up about half the screen and users can flick through them without disturbing the property information underneath.
That information includes public records information and property details, such as property type, square footage, number of bedrooms and bathrooms, lot size, days on Trulia, and year built; a description of the home's amenities; the home's tax and price history, including price reductions; and contact information for the listing agent.
Users can also get driving directions to a property, and they can send listing information via email.
With Trulia's Android app, users can also search for-sale, for-rent, and sold properties using the same filters as in the iPad app. Homes appear in list or map view and users can sort results by best match, newest listing, price, bedrooms, bathrooms, or square footage.
Listings include similar property details as those noted in the iPad app, as well as a description, public records and tax information, and a price history.
Users can save searches and listings, e-mail listings, contact the listing agent, and get directions from the app.
In contrast to the iPad app, users of the Android app are able to voice search, add open houses to their built-in calendars with the touch of a button, and read QR ("Quick Response") codes directly from the app.