Foreclosure data site RealtyTrac has integrated property ratings from investment analytics company SmartZip in its property detail pages.
A SmartZip HomeScore allows potential buyers to gauge a home's potential for above-average price appreciation and below-average costs.
"This enables shoppers to get an independent assessment of the long-term value of foreclosures, from the perspective of a homeowner. Shoppers can also easily compare properties against each other, since HomeScore is a relative rating on a scale of 1 to 100," said Avi Gupta, SmartZip's vice president of research and marketing.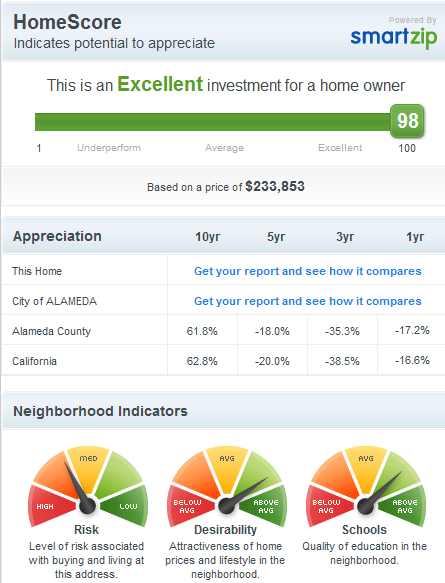 Screenshot from RealtyTrac listing detail page. 
Scores of 35 or above are considered good-to-excellent investments. Scores automatically appear in listing search results. Through RealtyTrac's advanced search options, users also have the option of narrowing their results by HomeScore range.
For details such as the home's historical appreciation rates, estimated expenses, and other key ratings, users have the option of purchasing either a single Home Ownership Report or a subscription to unlimited reports from SmartZip.