Imagine living in a compact, yet spacious-feeling 557-square-foot home lined with bookshelves capable of displaying 20,000 pounds of books.
Visualize yourself entertaining friends in a five-sided, 947-square-foot house featuring rooms with gardens, sweeping outside views and five arching walls converging to form a peak.
To Japanese architect Kazuya Morita, these smaller, greener houses offer a glimpse into the homes of tomorrow in crowded big cities — as well as in retrenching suburban communities.
"Japanese architecture always has to be smaller. We have to live more efficiently," he said in an interview from his office in Kyoto, Japan.
"Many big cities have the same problems. They are sprawling and sprawling. It's a very international situation." His smaller home designs, he said, are "very useful in China, New York, London and other big cities."
Indeed, housing experts predict the demand for compact homes will increase in the coming decades in the U.S.
"There's a focus today on smaller, particularly more energy-efficient homes. This idea of using space smarter and more efficiently is going to be a bigger trend moving forward," said Edward McMahon, senior resident fellow for Sustainable Development and Environmental Policy at the Urban Land Institute in Washington, D.C.
Fueling this trend: A fast-growing population of single women, downsizing baby boomers and 20-somethings looking for hassle-free living. McMahon believes Morita's designs can appeal to America's changing taste in housing.
Considered part of a new generation of architects, the 39-year-old Morita has wowed interior design and architecture critics with some of his innovative and unique housing designs, including those dubbed the "Shelf-Pod" house and the "Pentagonal House."
He's interested in expanding his work internationally, including bringing it west across the Pacific. "I'm interested in the United States."
Morita, who opened his Kazuya Morita Architecture Studio in 2000, describes his work as a harmonious marriage of traditional and modern architecture, which incorporates sustainable materials and eco-friendly amenities. His homes blend indoor and outdoor environments and demonstrate that comfortable living can come in small spaces.
He achieves this through lighting, including the location and size of windows and skylights, geometric spacing and floor plans, and walls with rounded corners. Morita believes these types of homes will attract more suburbanites to city centers, where real estate is tight and comes at a premium.
"In the Tokyo area, many people live in the suburbs, one and a half hours (from downtown)." But "people are changing. Many people want to live in the city. Many want smaller spaces."
In the U.S., there is a trend toward smaller homes, and builders plan to continue moving away from erecting those McMansions that marked the go-go days of suburban expansion.
A National Association of Home Builders report released in March predicted the "New Home in 2015" will be smaller and feature greener amenities, such as low-flow faucets and low-E windows (low-emittance coatings that suppress heat flow through windows) and table space for eating in the kitchens.
The living room also will vanish or be combined with other spaces, according to the association's survey of homebuilders. Builders also anticipate homes will average 2,152 square feet by 2015, a 10 percent drop from 2010.
Census figures support this trend. The median size of new homes declined from a peak of 2,268 square feet in 2006 to 2,100 square feet by 2009, according to the U.S. Census Bureau.
Morita said creative designs that give smaller homes a bigger feel are changing the mindset of people. In the past, compact homes "used to be a very negative way of life. Now it is changing."
In major cities with an abundance of restaurants, entertainment venues and recreational outlets, city dwellers can afford to do without some of the amenities found in McMansions. "You don't have to have everything in your house," Morita said.
Born in Aichi Prefecture, Morita earned his bachelor's and master's degrees in architecture from Kyoto University and then spent 1997 to 2001 working as a craftsman of traditional plaster on heritage building throughout Kyoto. From 2007 to 2008, he was a Pola Art Foundation young artist in Spain.
In the past decade, his work has earned nine design and construction awards, including a newcomer of the year honor in 2001. His training and background influences his philosophy of incorporating traditional with contemporary designs and building living spaces that can be passed down through generations.
As an artisan and architect, he favors natural materials such as wood, brick and soil. He builds scale models by hand to visualize, test and refine his projects.
Following the devastating March earthquake that struck northern Japan, Morita was called on to teach people how to repair damaged 100- to 200-year-old homes and storehouses.
Morita's designs remind McMahon of the work by Susan Susanka, a North Carolina architect and best-selling author, including the book "The Not So Big House."
While the Shelf-Pod isn't your typical house, the design and concept offers many appealing features, McMahon said. "What I like about it is the multipurpose function. That idea of built-ins has a lot of appeal. These smaller designs live better."
For Morita's services, the basic design management fee runs around 13 to 15 percent of construction costs, depending on the size and scope of the project. The Shelf-Pod was one of his most ambitious and challenging projects.
Designed for a client with an extensive book collection in Islamic history, Morita created a house featuring interlocking laminated pine boards that slotted together to form a lattice of towering shelving units.
Every element – from the stairs to the windows – were scaled to the individual shelf unit. The shelving had to be strong enough to support the entire house.
"This is an unusual structure. I never experienced this kind of architecture," said Morita, who declined to disclose the cost to build the house. Numerous tests and experiments were run on models to ensure the structural integrity and convince city planning officials to issue a building permit.
"It can support 10 tons of books," Morita said. And, he added, "it can survive earthquakes."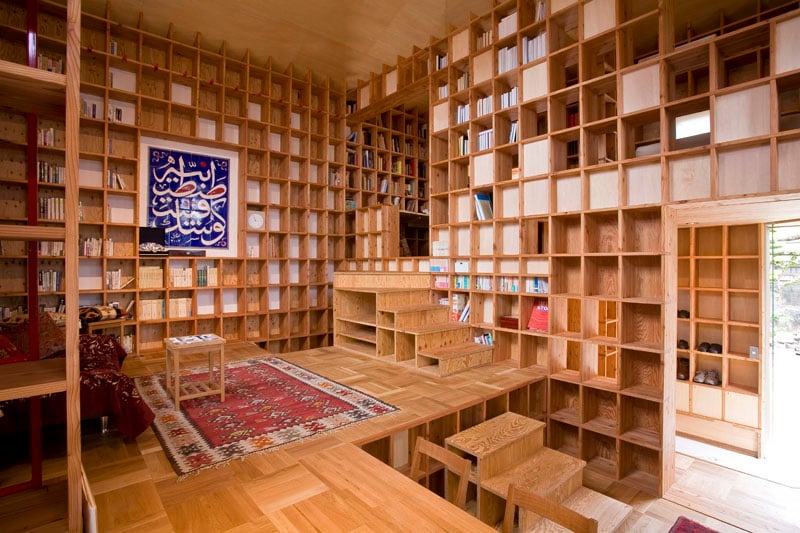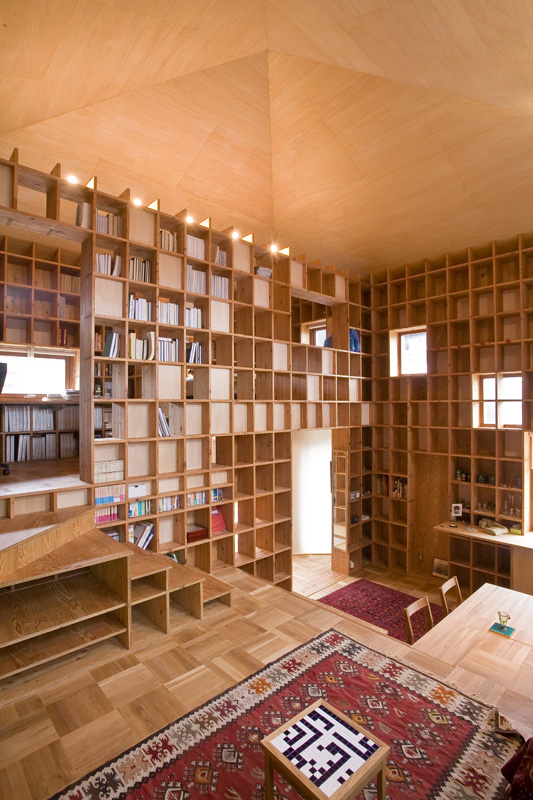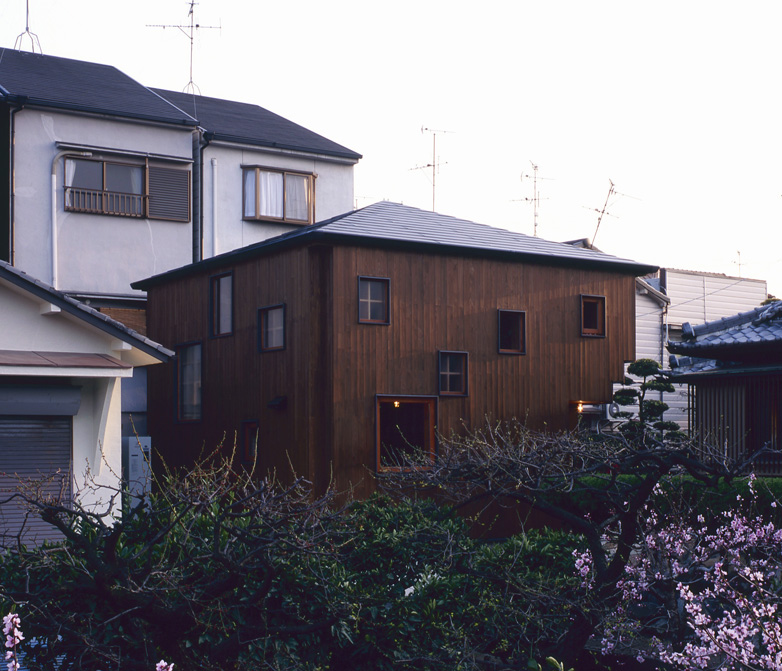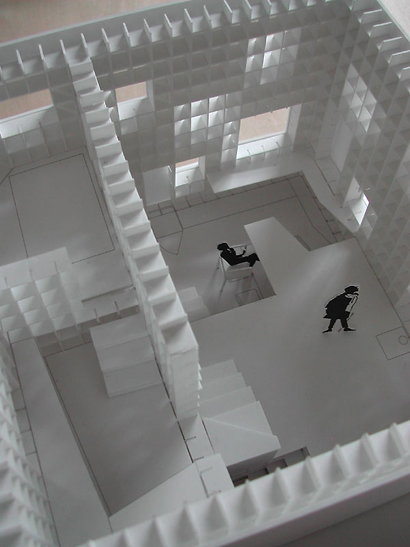 Photos courtesy of Kazuya Morita Architecture Studio.
Gilbert Mohtes-Chan is a freelance writer in California.