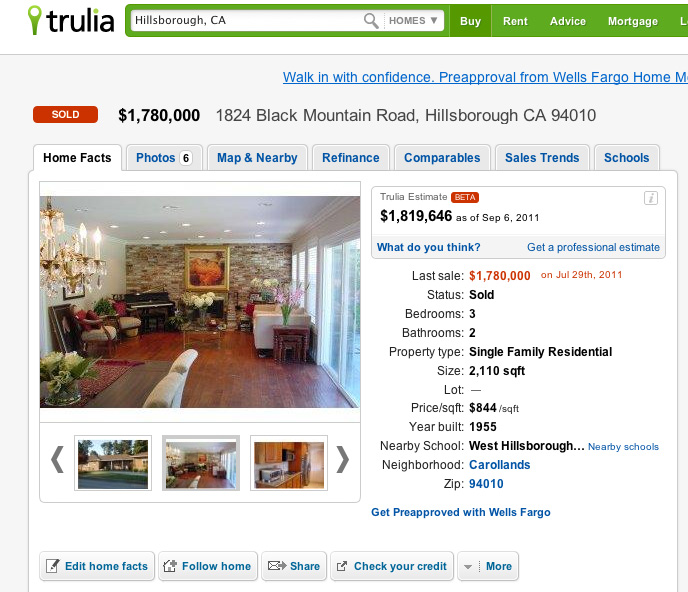 Real estate search and marketing site Trulia is jumping into the property valuation space. Today, the company rolled out Trulia Estimates, which will provide consumers with an assessment of a home's worth.
Trulia Estimates is launching in beta in the San Francisco Bay Area, where the company is based. The test market includes five counties: Contra Costa, Marin, San Francisco, Santa Clara and San Mateo.
The beta launch includes a about 1 million off-market single-family homes, condominiums and townhomes, including recently sold homes, the company said. Valuations are displayed on the site's map search and on pages for individual properties.
"Our … users have asked for it and in today's market it's no surprise that consumers are wondering what their homes are really worth," said Ken Shuman, Trulia's spokesman.
Trulia plans to "value as many properties as we can" in the future, he added.
The company plans to eventually roll out Trulia Estimates nationally and expand it to include for-sale homes, though there is no timeline in place for that launch, Shuman said.
"We want to be sure to take the feedback and user inputs from our early Bay Area beta testers to help ensure the product is ready for a national rollout," he said.
Trulia expects consumers to use the valuations as a starting point to price their own home or to help their determine how much to make an offer on a home. Nevertheless, Shuman emphasized that "these estimates don't replace the need for a professional appraisal."
The estimates are based on public records information. Feedback from users and local experts, such as real estate professionals, is also "built into the algorithm and in future versions their feedback will affect the estimate price," Shuman said. "Who knows the property better than the person living there?"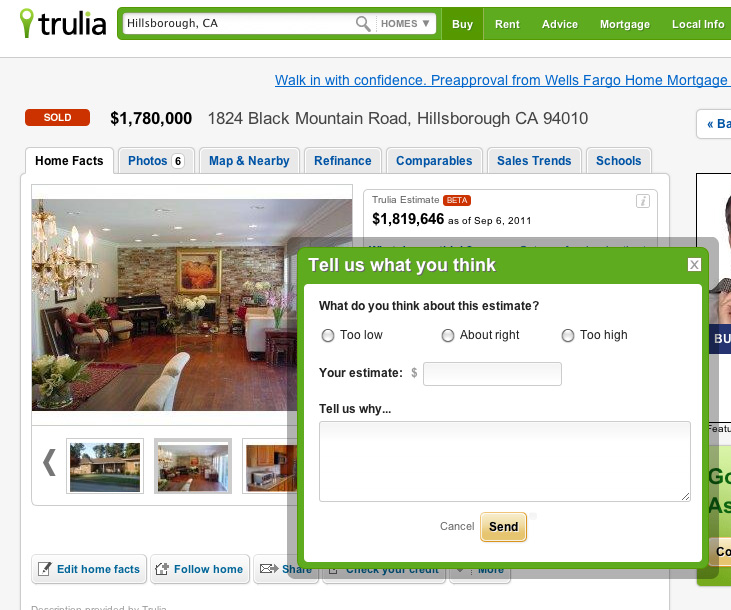 He added that the integration of user feedback on individual properties will continuously improve Trulia Estimates and differentiate them from valuations on other sites.
"Consumers and agents can voice their opinion on whether they believe the estimate is too high, too low or just right and they can provide comments on the estimate," he said. Though incorporated in the site's valuation algorithm, the comments will not be published on the site until a future date.
"It is our long-term goal to bring transparency into the confusing process of figuring out how much your home is worth. This is not part of the beta product, but we hope when the full product launches, transparency will be a key differentiator," Shuman said.
Competitor Zillow, perhaps best known for its "Zestimate" property valuations, recently incorporated user-submitted information to improve the accuracy of its valuation algorithm to an 8.5 percent margin of error nationwide. Shuman said that although margins of error are not part of Trulia Estimates' initial beta launch, the company has plans to publish them in the future.
Zillow is one of nine companies still in litigation with real estate and loan data aggregator CoreLogic over allegations that property valuations they provide use automated valuation models (AVMs) that infringe on a 1994 patent belonging to CoreLogic.
In June, CoreLogic settled with two of the 11 companies it first sued last year. Shuman declined to comment on that litigation.
Zillow became a publicly traded company in July, raising $75.7 million in its initial public offering. Trulia announced in February it would pursue an IPO. Shuman declined to comment on the company's progress toward an IPO.
Since February, Trulia has rolled out several new site features and offerings: