By SUSAN GALLEYMORE
Forty-three men have served a total of 56 terms in the Oval Office. With Presidents Day around the corner — on Monday, Feb. 20 this year — and an election ahead, let's take a look at what this nation's top commanders in chief over the past 40 years have called home.
President Barack Obama
The Obamas purchased a 6,199-square-foot, two-story single-family home at 5046 S. Greenwood Ave., in Chicago's Kenwood neighborhood, in June 2005 for $1.65 million — $300,000 less than the asking price.

President Obama's Chicago home, at 5046 S. Greenwood Ave., in February 2008. Photo courtesy of Rachel Freundt. Copyright 2012.

At about the same time, businessman and Obama campaign supporter Antoin "Tony" Rezko and his wife, Rita, purchased a vacant lot adjoining Obama's property for $625,000, the full price. Obama purchased a portion of that lot six months later from Rezko for $104,500.
(After a federal investigation culminated in Rezko's conviction for corruption, Obama explained to the Chicago Sun Times, "I regret that while I tried to pay close attention to the specific requirements of ethical conduct, I misgauged the appearance presented by my purchase of the additional land from Mr. Rezko.")
The Obamas' Greenwood Avenue home is currently estimated to be worth approximately $1.19 million.
NEXT: George Walker Bush
George Walker Bush
After George Walker Bush and Laura Bush departed the White House, the couple returned to Preston Hollow, the same neighborhood the family lived in while Bush was governor of Texas. This time, their single-story, 8,501-square-foot home at 10141 Daria Place, nestled among trees and secured by gates, backs up to a sprawling estate ranked No. 1 on D Magazine's list of 100 Most Expensive Homes in Dallas and valued at $39.14 million — owner Tom Hicks' holdings include baseball's Texas Rangers, hockey's Dallas Stars, and the Liverpool Football Club.
Scion of the Bush dynasty and the Kennebunkport estate (see details below), former President George W. Bush was born in Connecticut, although he made Texas his home state. He married schoolteacher Laura Welch shortly after he purchased a modest 2,406-square-foot home in Midland, Texas, in 1977.
The family, with twins Jenna and Barbara, lived here until 1985, when Bush moved to Washington, D.C., to work on his father's presidential campaign.
In 2000, a year before he took office as the nation's 43rd president, Bush bought a 1,500-acre ranch for an estimated $1.3 million after a profit of $14.3 million in the sale of the Texas Rangers. Laura Bush said of Prairie Chapel Ranch, outside of Crawford, Texas (also dubbed the "Western White House"), "I want George and I to be able to grow old here."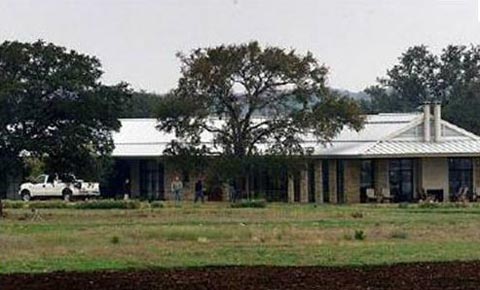 The 4,000-square-foot, environmentally sustainable Prairie Chapel Ranch house, designed by architect David Heymann, is constructed from local limestone, sports tin roofing, and uses geothermal pumps and underground cisterns to collect rainwater. Photo/Grant Hammond of GrantHammond.com


A welcome sign on entering Crawford, Texas. Laura Bush says of the ranch outside Crawford, "I want George and I to be able to grow old here." Photo/Susan Galleymore (2005)
NEXT: William Jefferson "Bill" Clinton
William Jefferson "Bill" Clinton
President Bill Clinton's birthplace and childhood home is celebrated by the Clinton Birthplace Foundation, which preserves his childhood history in Hope, Ark. Hope's "Clinton Loop" is an auto tour route marked with signage.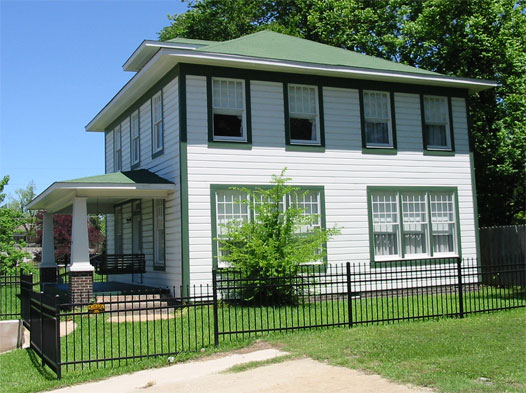 Bill Clinton birthplace home, at 17 S. Hervey St. in Hope, Ark. Photo courtesy of J. Williams via Wikimedia Commons.
After Clinton and wife Hillary departed the White House, the couple moved into their Chappaqua home at 15 Old House Lane before Hillary ran for a New York senate seat. With an estimated value of $1.3 million, the five-bedroom Dutch Colonial offers 1 acre and a front door that is 60 feet from a public road.
The Clintons have been house hunting in the same county, Westchester, and in 2010 were reportedly considering this home in Bedford Hills: the 20-acre Clover Hill Farm. The home has 7,000 square feet of space, including five bedrooms, a fireplace in the master bedroom, a wood-paneled library, stone patios, a wine cellar, his and her bathrooms and dressing rooms (hers is two stories), a heated pool and pool house, two guesthouses, an artist studio, stables, pastures, a dressage ring, and a koi pond.
According to online real estate site Zillow, the home had a list price of $13.99 million in December 2008, was sold for $7.8 million in March 2011, was again listed for sale at about $6 million in July 2011, and sold for about $5.5 million in October 2011.
In the summer of 1975, Clinton and Hillary Rodham purchased a home together in Fayetteville, Ark., and were married in the home later that year.
NEXT: George Herbert Walker Bush
George Herbert Walker Bush
The Bush family compound is situated on Walker's Point (originally Point Vesuvius) in the town of Kennebunkport on the Atlantic Ocean in southern Maine. The summer home of George H. W. Bush, the 41st U.S. president, the estate was purchased in the late 19th century by St. Louis banker George H. Walker, and the mansion was built in 1903.
Passed to Dorothy Walker Bush and her husband Prescott Bush, the estate has been a Bush family retreat for more than a century.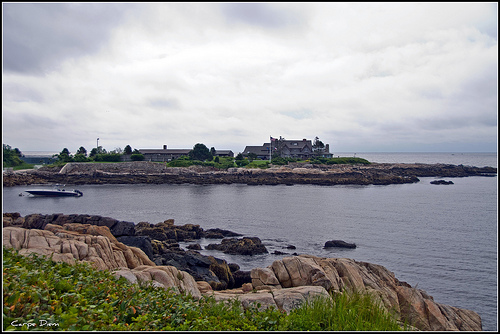 Guests at the estate near Kennebunkport, Maine, include British Prime Minister Margaret Thatcher and Soviet President Mikhail Gorbachev. Flickr photo/Tony the Misfit

George H. W. Bush and his family lived in a house at 1412 W. Ohio Ave., in Midland, Texas, that is now open to the public, "celebrating the lives of two presidents and two first ladies." Photo/The George W. Bush Childhood Home.
NEXT: Ronald Reagan
Ronald Reagan
Nancy Reagan still owns the home Ronald Reagan purchased in 1989 for $3 million at 668 St. Cloud Road, in the Bel Air section of Los Angeles. Today, while it is not for sale, the value of the three-bedroom, six-bathroom, 1.27-acre, 7,192-square-foot home, built in 1954, is estimated at $3.85 million.
As his second term as California governor was coming to an end, Reagan purchased "Tip Top Ranch" on Nov. 13, 1974, for about $527,000 (which equates to about $2.35 million in today's dollars).
Rechristened "Rancho del Cielo" (Spanish for "Ranch in the Heavens"), this was the Reagans' home for nearly 25 years — and the "Western White House" for eight years. Here, the Reagans hosted Queen Elizabeth II and Prince Philip in 1983, Gorbachev in 1992, and by that time Lady Margaret Thatcher in 1993.
After leaving the presidency in 1989, the Reagans moved to the Bel Air home and kept the ranch as a retreat. The Young America's Foundation purchased Rancho del Cielo in 1998 to preserve it as it was when President Reagan owned it.

Aerial view of the 688-acre ranch with a circa-1872 adobe house (center) with "Lake Lucky" (right), and the barn (center, partially hidden) for the horses. Photo/Wikimedia Creative Commons
NEXT: James Earl "Jimmy" Carter Jr.
James Earl "Jimmy" Carter Jr.
Jimmy Carter and his wife, Rosalynn, still live in Plains, Ga., where Carter was born on Oct. 1, 1924. He grew up in the nearby community of Archery, Ga.
He married Rosalynn Smith after graduating from the Naval Academy in Annapolis in 1946; their children are John William, James Earl III, Donnel Jeffrey, and Amy Lynn.
A naval officer for seven years, Carter resigned his commission and he was discharged from the Navy on Oct. 9, 1953, to run the family business after his father, James Earl Carter Sr., died in July 1953. By the time he was elected governor of Georgia in 1970 he was a successful and wealthy peanut farmer.
This 39th U.S. president made his first bid for the office in 1974; he was elected and served from 1977-81.

Photo courtesy of Jerry Battle and Jimmy Carter National Historic Site (National Park Service, U.S. Dept of Interior).
NEXT: Gerald Rudolph "Jerry" Ford Jr.
Gerald Rudolph "Jerry" Ford Jr.
Currently for sale, Gerald Ford's former ski-in/ski-out estate at 65 Elk Track Court in Beaver Creek, Colo., is offered at $9.85 million. It features more than 9,500 square feet, seven bedrooms, 11 bathrooms, and an indoor swimming pool, and was built in 1983 on a 0.79-acre lot. The home first sold a few months after Ford's death in December 2006.

Photo/StovallStudio.com
The home was listed at $14.9 million in August 2008 and returned to the market with a nearly $13 million list price in February 2010, according to a Zillow Blog report.
A second Ford home just came on the market, too. At $1.7 million, the ranch-style home offers 6,316 square feet, with five bedrooms, six bathrooms, two offices, and pool and entertainment area on 1.37 acres at Thunderbird Country Club golf course in Rancho Mirage, Calif. Zillow Blogger Laura Vecsey writes about the home, "With some of the well-worn furniture still in the home, it's clear the place was used often."
Gerald Ford, born Leslie Lynch King Jr., grew up in Grand Rapids, Mich., and was a star football player for the University of Michigan. He ran for the first of 13 terms as member of the U.S. House of Representatives after he returned from serving in the U.S. Navy during World War II. He married Elizabeth "Betty" Bloomer Warren in 1948, served as Richard Nixon's vice president from 1973-74, and was the 38th U.S. president from 1974-77.
To residents of Beaver Creek, President Ford was an avid skier known simply as "Jerry."
NEXT: Richard Milhous Nixon
Richard Milhous Nixon
Before winning the White House in 1968, Richard M. Nixon had lived in a 12-room apartment at 810 Fifth Ave., in Manhattan, N.Y., where Nelson A. Rockefeller was a neighbor. Nixon sold the apartment for a reported $326,000
After his resignation, the Nixons purchased a home at 142 E. 65th St. in Manhattan. Their eldest daughter, Tricia, said of it, "I love the house. It wraps its arms around you." Richard and Pat Nixon lived here for fewer than three years.
In 1981 they bought a million-dollar modern house in Saddle River, N.J., and sold it in 1982 for about $2.5 million to the Syrian ambassador to the United Nations.
Richard died on April 22, 1994, in New York City, at 81.

Photo/Bob Fairbanks
Members of the public visit what was the Nixons' primary home, "La Casa Pacifica," on Del Presidente Avenue in San Clemente, Calif. The Spanish-style stucco home, which features 12 rooms, a red-tile roof, and sits on 3.5 walled acres, with stunning views of the Pacific Ocean, was known as yet another "Western White House."
Susan Galleymore is a freelance writer in California.
CORRECTIONS: The original version of this article contained errors and has been updated with corrections. A total of 43 men have served 56 terms in office as president; former President Richard M. Nixon died April 22, 1994; and Bill Clinton and Hillary Rodham bought a home together in Fayetteville, Ark., in 1975 and were married in that home later that year. We apologize for the errors.
Other Inman News articles: