Editor's note: On March 30, Inman News opened its headquarters to a full day of real estate technology demonstrations. This first-ever Demo Day featured 24 participants. Inman News and sister site InmanNext will be highlighting some of the participants' technologies in upcoming coverage.
Company name: 
Cartavi
Company website:
http://www.cartavi.com/
Revenue model/cost:
Freemium model.

Free version: Document storage up to 1 gigabyte and three unbranded document storage areas called "transaction rooms" for document management and sharing.

Basic version: $10 per month or $99 per year; 10 gigabytes of secure document storage; unlimited inbound faxes; 100 outbound faxes/month; unlimited, branded transaction rooms; and e-signature integration with DocuSign.

Premium version: $20 per month or $199 per year. Includes all features in basic plan plus up to 20 gigabytes of document storage and up to 200 outbound faxes.

Intended audience/users: 
Everyone involved in a real estate transaction, including real estate agents, brokers, attorneys, inspectors, loan officers and title insurance professionals.
Key features:
1. Cloud-based document storage.
2. Ability to create transaction rooms to store, manage and share documents pertinent to a particular transaction.
3. E-signature integration with DocuSign.
4. Mobile access via mobile applications for mobile devices running Apple or Android operating systems.  
Launch date:
2011
Company summary:
Cartavi lets real estate professionals create virtual "transaction rooms" where they can store and manage documents digitally and invite others involved to view and sign those documents.
"The process of buying real estate is very document intensive," said Glenn Shimkus, co-founder and CEO of Cartavi. A transaction also involves multiple players that change with every deal, Shimkus added, including buyers, sellers, real estate agents, brokers, attorneys, title companies, inspectors and lenders.
Cartavi helps real estate professionals simplify the transaction process. It allows users to "create, store, share, sign and archive" documents, said Shimkus.
Users can upload templates of frequently used documents, such as disclosures or contracts, and add documents as needed to transaction rooms, invite others to view the documents, and tailor who does and does not have access to a particular document or set of documents. Users can also receive notifications when another user has seen or signed a document.
"Just because documents are in a room doesn't mean everyone sees them," Shimkus noted.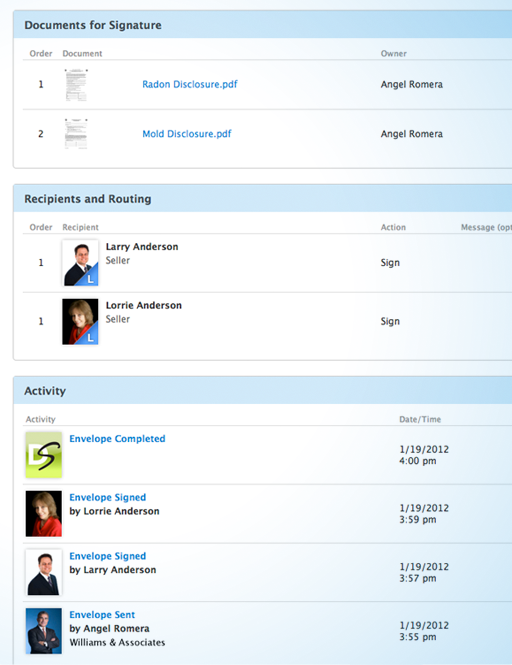 All Cartavi users get a dedicated email address and inbox, and paid users get a fax number, so others can send users documents via email or fax and users can then add those documents to a transaction room.
Shimkus noted that many real estate practitioners still work with faxes despite the growing adoption of paperless technologies. During a recent speaking engagement for an audience of real estate professionals, Shimkus said he posed the question, "How many (of you) had to send or receive a fax in the last month," and "80 percent of the hands went up."
Users can access Cartavi from any iPhone or Android smartphone as well as the iPad tablet. The platform will be available on Android tablets in the next four to six weeks, Shimkus said, and the company has reported a surge in use of its iPad app that exceeds the growth of its smartphone apps.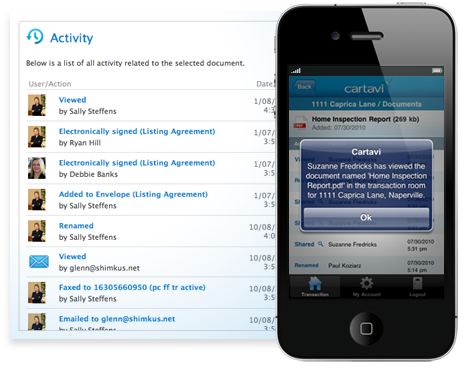 Cartavi's user base includes thousands of subscribers including brokerages and multiple listing services, and has been growing at a rate of 25 percent per month since the platform's official launch last summer, he added.
See related article: