One of Canada's largest real estate brokerages was forced to refer website visitors to its franchisor's national website Friday after its own website's property search capabilities became entangled in a copyright dispute with a former service provider, Seattle-based Estately Inc.
Estately co-founder and CEO Galen Ward said his company powered listings searches for Vancouver, Canada-based Sutton WestCoast Realty for three years. In November, he said, the companies agreed to end their relationship, and that Sutton WestCoast would have until the end of March to transition to a new site.
Ward said that when Sutton WestCoast launched its new property search capabilities with a new vendor last week, the company appears to have made use of Estately's intellectual property, including images and HTML, CSS and JavaScript code.
"The site was not merely a near-perfect clone of Estately from November 2011, it was a clone that uses our code and copyrighted materials," Ward alleged in a blog post.
Sutton WestCoast did not respond to requests for comment.
Ward said that after first attempting to resolve the problem by phone, Estately sent Sutton WestCoast a cease-and-desist letter. When that got no results, Estately notified the brokerage's online service provider that Sutton WestCoast's alleged use of Estately's copyrighted material was unauthorized.
A provision of the Digital Millennium Copyright Act shields online service providers from liability if they respond to notifications of claimed copyright infringement by removing disputed material uploaded by their users when they are notified by the party claiming to hold the copyright.
Ward said Sutton WestCoast's online service provider responded within 36 hours, and took down the allegedly infringing materials.
Visitors who attempted to search for properties on Sutton WestCoast's website Friday were informed that the search portion of the website was "offline for updates," and to visit Sutton.com, the national search site of the brokerage's franchisor, Sutton Group Realty Services Ltd.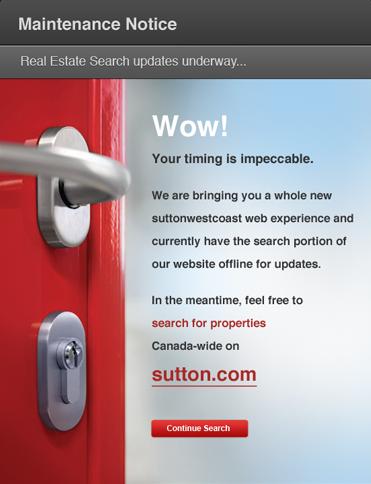 Screen shot of the message displayed Friday to visitors attempting to search for properties at http://search.suttonwestcoast.com.
Sutton WestCoast can dispute Estately's notification of claimed copyright infringement by filing a counternotice with its online service provider contesting Estately's copyright claim. If Sutton WestCoast files a valid counternotice, the online service provider must restore the disputed material unless Estately files a lawsuit.
Ward said he is hoping that Sutton WestCoast will pursue a "solution that doesn't use our copyrighted material and is original and not derivative of our website, and our code, and our intellectual property."
Estately is a licensed real estate brokerage in Washington, California, Illinois, New York and Georgia.
In addition to Sutton WestCoast, Estately formerly powered listing searches for Seattle-based brokerage Findwell.
Although Ward said Estately has not ruled out getting back into the business of providing search capabilities for other brokerages, at the moment it has no brokerage clients.
Ward said Estately hosted Sutton WestCoast's previous website on its servers, and owned the copyright to it.
Before it was taken down, Ward alleged "most" of the coding of the new Sutton WestCoast search site was "largely verbatim" to Estately's, including the functionality, look and feel.
"You can't run a book through a thesaurus generator, clip out a few words, and call it your own book," Ward said.