WASHINGTON — Thousands of Realtors gathered around the Washington Monument today in a demonstration of the National Association of Realtors' political clout.
NAR — fourth on the Center for Responsive Politics' "Heavy Hitters" list of top political donors, with $41.9 million in political donations since 1989 — upped its game last year, approving a $40-a-year dues increase for its nearly 1 million members to raise $80 million in "soft money" for political advocacy at the local, state and federal level this year and next.
Although one poll showed more than 80 percent of Realtors opposed a dues increase, NAR leadership said the move was necessary because the Supreme Court's decision in Citizens United v. FEC would open the floodgates for independent campaign expenditures, and NAR would have to step up spending to maintain its influence.
On this sunny mid-60s spring morning, an estimated 15,000 Realtors gathered for a "Rally to Protect the American Dream," drawing attention to the trade group's political goals.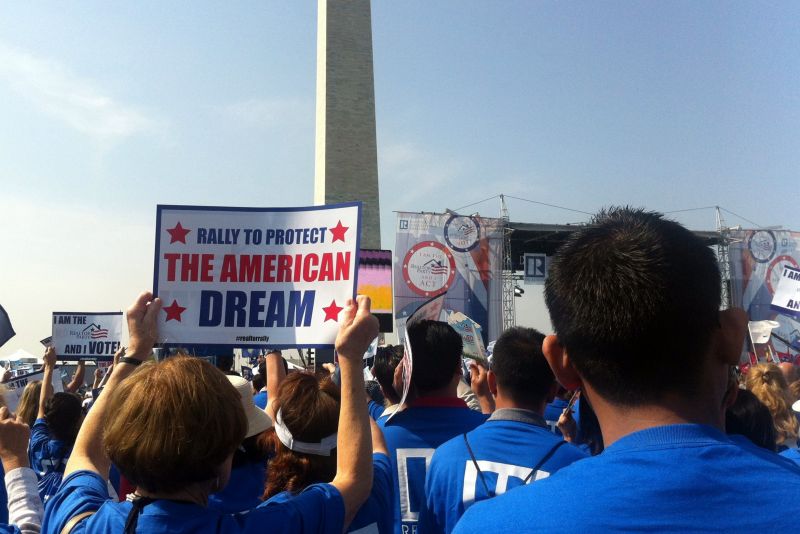 Realtors gathered at the Washington Monument. Photo by Paul Hagey.
As lawmakers gear up to tackle the budget deficit — a task that could entail some combination of spending cuts and tax increases — NAR is opposed to changes that would limit or undermine the ability of homeowners to claim interest paid on their mortgages as tax deductions, or reduce the $500,000 capital gains exemption for couples selling their home.
NAR is also voicing positions on mortgage finance — including the future of Fannie Mae and Freddie Mac — financing for the National Flood Insurance Program, and appraisal issues.
"Homeownership is the cornerstone of the freedom of our country," longtime NAR ally Sen. Johnny Isakson, R-Ga., told a cheering crowd of Realtors attired in water-blue NAR midyear T-shirts. This sentiment was echoed again and again by the speakers from the podium.
"It's a time like no other," said Michael Kelly, director of government affairs for the New York State Association of Realtors. Kelly said he was concerned about possible modifications to the mortgage interest deduction.
As NAR President Moe Veissi exhorted the Realtor crowd that "you are the architects of the American Dream," Richmond, Va.-based Realtor Sue Nerrie said she's concerned about a proposal by regulators to require 20 percent down payments on mortgages in order for them to be exempt from risk retention requirements.
"When you have a strong real estate, you have a strong economy," Nerrie said.
Joe Peterson, an associate broker from Wyomissing, Pa., came to D.C. Wednesday just to attend the rally; it's a one-day trip, he said. He said he's supported NAR's political action committee, RPAC for 36 years. Right or wrong, he said, political action committees get you a voice at the table.