BlockAvenue, a neighborhood-info tool that launched this fall and focused on New York City, Boston and Washington, D.C., has a new look that makes online conversations and the site's map-centric design more prominent.
The update marks another step for the service before it's marketed to brokers and agents as a forum to promote their local knowledge, said BlockAvenue founder and CEO Anthony Longo.
"Our focus will be with real estate professionals, as there is a very natural fit for for brokers and agents to leverage our platform to broaden there marketing reach and share their in-depth knowledge on 'locations' for little to no cost," Longo said.
With the update, when zoomed to block level, the entire left half of the screen is now made up of reviews. A pop-up box at the top prompts users to "Rate Your Block," or participate by commenting in two new categories — "Local Talk" and "Report a Problem."
At higher zoom levels, circles with letter "grades" hover over blocks on the map that reflect their attractiveness as determined by an algorithm that considers reviews, crime info, amenities and other data. More data makes the circles darker; less data makes them lighter.
The right half of the screen displays a Google Map populated with thumbnail images of reviewers hovering over the site of their reviews. Pins show the location of different amenities. When users decide to write a review or add content (after establishing their profile via Facebook), a movable green dot allows them to specify an exact location on the map.
Google Maps anchors the site, and with this update BlockAvenue now integrates Street View, which displays Google's street-level photography of an area. For example, when a user clicks on a reviewer's pinpointed square, the left half of the screen switches to a Google Street View of the location above the reviewer's note of it, giving the user an on-the-ground perspective of the neighborhood.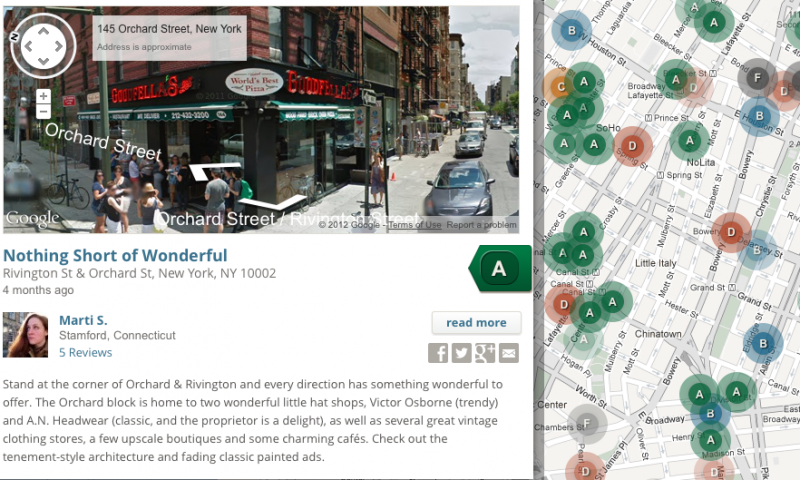 Screen shot of Google Street View and a portion of the associated map.
The split-map view was a design solution allowing user reviews to be more fully integrated into the neighborhood search experience, Longo wrote in a blog post describing the update.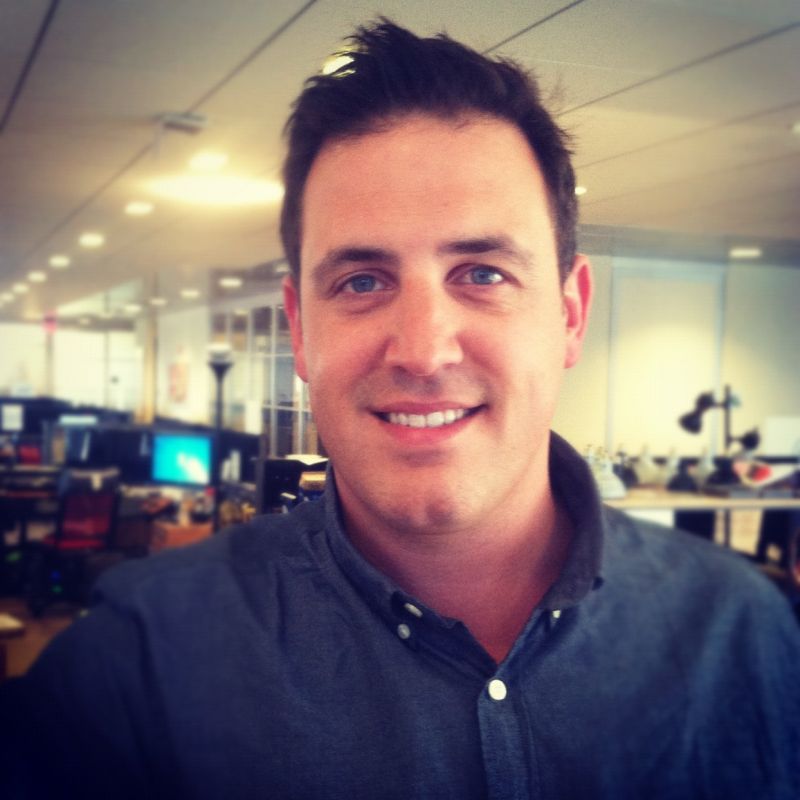 Anthony Longo
Users can also now post content anonymously, though they are still required to log in to Facebook to do so. Longo writes that he was conflicted about allowing the anonymous feature because it might facilitate fake reviews and spam, but said the increased engagement was worth the extra effort that will be required to guard against abuse.
Most of BlockAvenue's users are active in the three large metros — New York City, Boston and Washington, D.C. — where it launched, but data is available in most cities across the nation. Starting next year, Longo said, BlockAvenue is looking to expand to have a presence in the largest metros in the U.S.
Neighborhood profiles and local content have been a popular niche for real estate recently.
This week, neighborhood review site StreetAdvisor signed up two of real estate franchisor Re/Max's largest franchises to its new service that serves up its content on brokerages' branded sites.
Last month, short-term rental coordination site Airbnb launched a neighborhood review tool in seven cities around the world, including those in New York, San Francisco and Washington, D.C.
And Walk Score, which launched as a commuting information-focused website, recently introduced a crowdsourcing neighborhood feature that allows users to create custom neighborhood tours, among other info.