There's been a rash of social profile aggregation services being adopted in real estate business scene over the past couple weeks.
Certainly these kinds of services have had an enduring popularity in general, but lately a new crop has entered the usual mix.
What are social profile aggregation services? They're simply websites that ask for access to as many of your social profiles as you're willing to give them. Then they scrape in the content you're already giving away to social media sites and use that to populate a sort of social landing page.
I say "sort of social" because there really isn't actual interaction that occurs on these sites. Content that's often distributed in a social context — such as on Twitter or Facebook — is removed from that context and baked into the social aggregator's landing page.
Like aggregation services of all types, the problem that social profile aggregators solve is primarily self-inflicted. Some people are using so many social tools to interact with people, they find themselves at a loss when trying to figure out where to direct others to find them.
That's sort of the surface problem anyway. Instead of saying "Follow me on LinkedIn or Twitter or Facebook or Foursquare or Moosejuice or whatever" and crowding out a business card with all of those bits of socio-digital ephemera, a user of a social profile aggregator can just put the one address out there and let the chips fall where they may.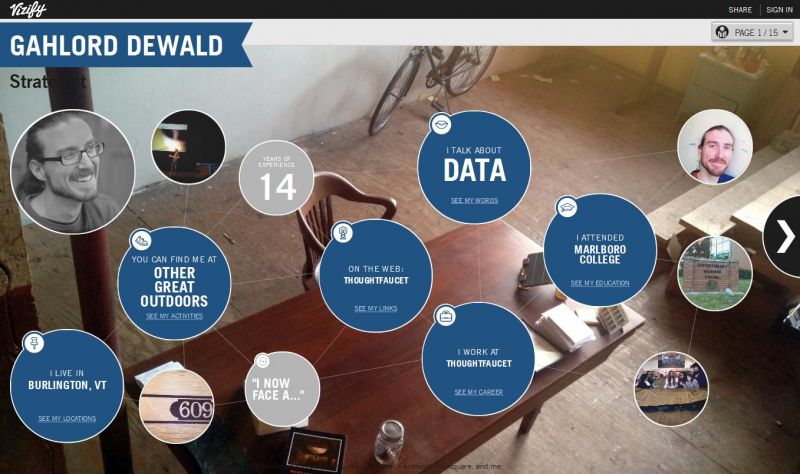 Screen shot of Gahlord Dewald's profile on Vizify.
When you dig a little deeper though, it's often just kicking the can down the road. Avoiding a decision about how and where to effectively be helpful to a customer — all in the name of reaching more customers — is a strange but common phenomenon.
Instead of making a choice about where to be attentive and helpful for customers, marketers try to "engage the customer on their own terms" or "fish where the fish are."
And that's how we get social profile aggregators. In design and function these sites are pretty much robot-focused. They grab data from your social stuff and slap it into some sort of design that either looks plain or fancy or whatever — usually pretty nice though — and then it's up and running.
I suspect the chances are slim that anyone ever goes to one of these without the owner of the profile directing people to go there. We won't know really because these kinds of sites don't have analytics. They might have some sort of "follower" count, but the likelihood of that being a mashup of your actual social followers and not really the Web traffic to the profile is also high. It's sort of the equivalent of asking how many people saw your Yellow Pages ad back in the day.
I recently gave in and signed up for RebelMouse, a social profile aggregator that's currently enjoying a resurgence of interest among the real estate crowd. These things are so "set-it-and-forget-it" that one of my friends who had had a RebelMouse profile for some time said he had to log in to the service simply to remember what the heck it was when I signed up for it.
So before I go on I want to be extra clear: There's not a lot of intrinsic value in being on these things. They get access to your aggregated social graph and they give you the equivalent of a sign on a bus stop bench. This is in exchange for you not having to make a decision about how and where you want to be helpful to customers.
Now that I've got that out of the way, here are the reasons you might want to set up some of these social profiles:
Claim your domain. Yes, this is like extortion but you'll want to be sure your competitors don't try to lock up http://meaninglessprofiles.com/your-company.
Backlinks. Oops, did I say that out loud? Don't get terribly excited — these are not high-value backlinks. They're just above link farm.
Reputation management. One more profile site to rank into page one of Google for your name.
Procrastination. You can put off making a decision about how and where you help customers and continue to spread yourself as thin as possible.
There is one social profile aggregator I kind of like, just so this whole column doesn't end up as a rant. I like vizify.com — even though I hate that they had to have such a screwy name (at least it isn't RebelMouse — can you imagine putting that on your business card?).
Vizify takes a slightly different tack from most social media profile aggregators in that it encourages you to curate the content. So instead of barfing everything into a single page, Vizify picks and chooses a few interesting tidbits from your profiles and dresses them up in a nice and fun interface. Nice typography, pictures and so on. You can see mine at vizify.com/gahlord-dewald