Real estate recruiting can be fraught with frustrating rejection. Cold calls to agents often result in curt "No, I'm happy" responses and a swift click ending the conversation.
A real estate startup based in the Denver area aims to turn that pattern on its head with a new website that connects brokers to agents who are looking for another place to hang their license: RealtyConnection.com.
"As a managing broker, recruiting is the one thing I had to do more than anything and the thing I hated the most," said Dan Gerlock, co-founder and CEO of Realty Connection. He is a former district sales manager for ZipRealty and a former co-leader of the Gerlock Team at Coldwell Banker Residential Brokerage.
Realty Connection participated in Start-Up Alley at Real Estate Connect New York City last week. The company launched its website about a month ago.
The site allows brokerages to post company profiles, complete with video, at no cost, providing additional tools to paid subscribers. Agents can browse companies, compare their features and compensation plans, and send brokers anonymous messages through the system.
The site is free for agents, although they must register in order to view company compensation plans and features. Agents are given an alias in the form of a number when they register, allowing them to remain anonymous for as long as they like.
Brokerages that pay a monthly subscription fee can contact agents and see messages from agents who have contacted them, and view lead analytics such as how many clicks their company profile has gotten, who has clicked on their profile, what other companies the brokerage has been compared to, and how many transactions an agent lead has closed.
Brokerages will pay $299 per month, although Realty Connection is currently running a promotion announced at Real Estate Connect that provides access to the service for $199 per month with coupon code 3J510E83E. The code expires at midnight on Jan. 28.
Realty Connection also displays advertising from real estate-related service providers, such as contractors, title agents and mortgage brokers, on the site. Advertisers pay $99 per month and also receive lead analytics.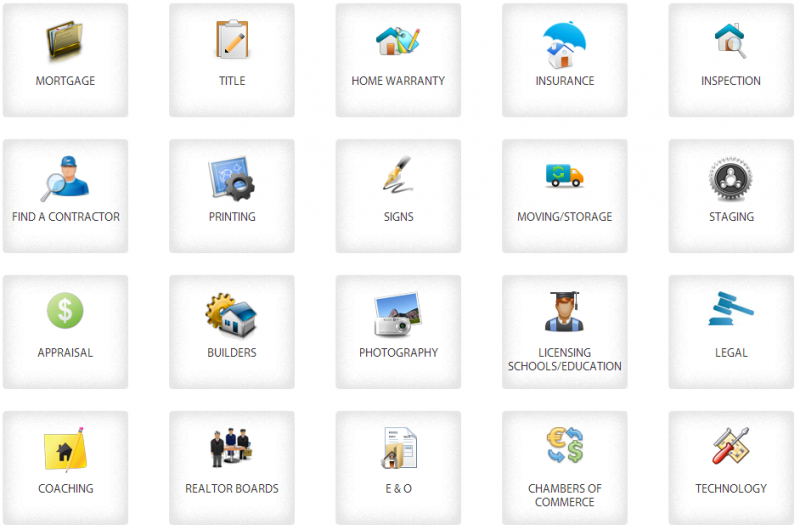 Screen shot of service provider types on RealtyConnection.com.
The cost for brokerages is a bargain compared to the $30,000-$50,000 a year they often pay recruiters, said Linda Michelsen, the company's co-founder and chief financial officer.
"Realty Connection is like Match.com for Realtors," she said. "It gives the companies an opportunity to talk to people that actually want to talk to them and gives the agents an opportunity to check out companies without the sales pitch."
As part of their company profiles, firms can include their logo, contact information, social media links, video, live chat buttons, company photos and graphics, management bios, their compensation and fees, the technology they offer, a list of their partners, their training calendar, and announcements.
A company snapshot lists the owner's years of experience, the company's total transaction sides and volume in the past year, the company's average purchase price and the average commission. The profile can also include reviews from a firm's current agents. An "Apply Now" button invites agents to contact firms.
Agents can search for companies in a given area and filter them by characteristics such as company split, monthly fee, transaction fee, franchise fee, number of agents, and average closings per agent. They can also filter by company type, niche, branding, leads and support.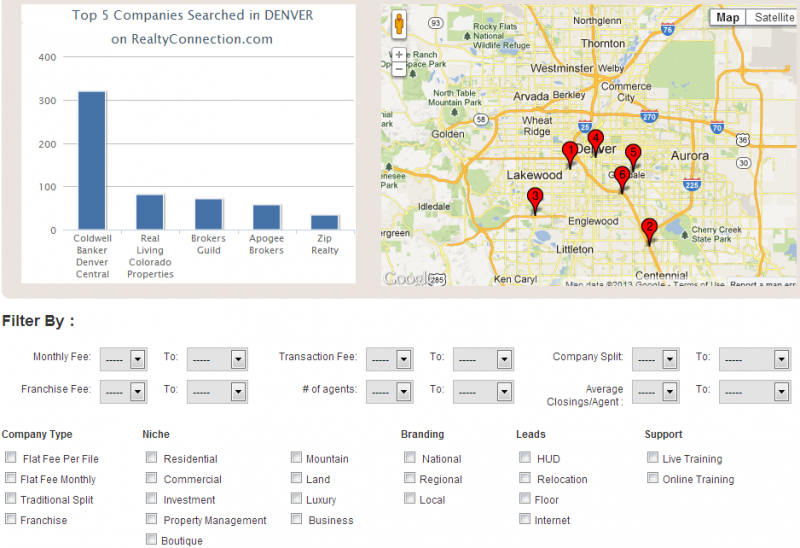 Screen shot of company search on Realty Connection.
A comparison calculator allows agents to compare the compensation plans of up to three companies. Agents can enter information for their activity in the past year and ask themselves, "What would I have made had I worked for a different company?" Michelsen said.
She cautioned, however, that agents shouldn't make their ultimate choice based on compensation alone.
"Before you make a decision, set up an appointment with the managing broker; see if you like the culture, see if it's a good fit," she said.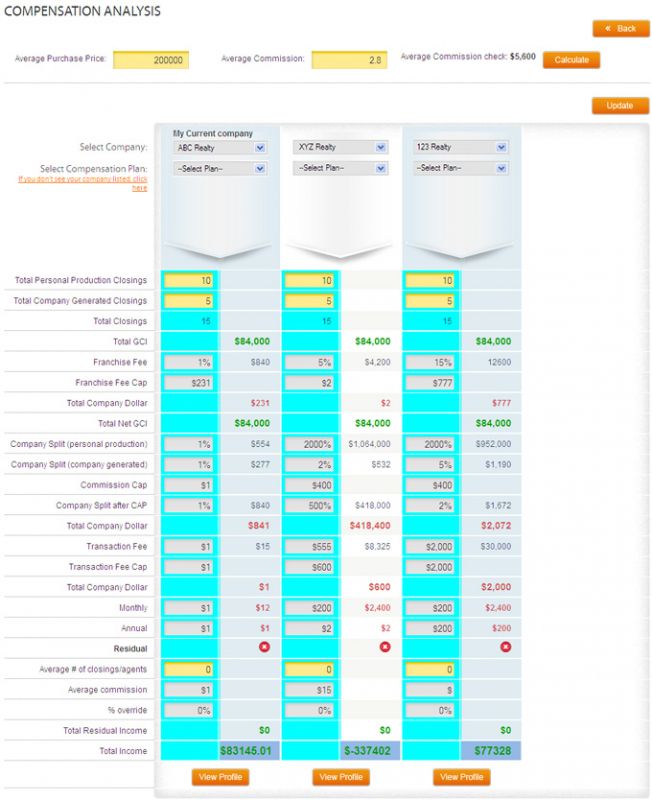 Sample screen shot of Realty Connection's comparison calculator. 
Realty Connection currently has companies listed in the Denver area only, though the website is designed to scale nationally.
"(Companies) are setting themselves up all over the nation," Michelsen said.
Once five companies have signed up in any city, Realty Connection will start marketing specifically to agents in that city through e-campaigns, text blasts and social media, Gerlock said.
The company has also partnered with Kaplan Professional Schools to promote Realty Connection to their real estate students as a way to find where they'll hang their hat after they've completed their education.
Realty Connection may attract newbie real estate agents but also disgruntled top agents, Michelsen said.
"About 650 Realtors a month change companies in Denver," she said.