Another thin week for economic data, but plenty going on and patterns are forming.
The dominant one is positive expectation for the economy: some is legitimate, although hope-based; some is illegitimate, salesmen mostly on Wall Street; and some is a form of habit, that sooner or later we'll enter an old-fashioned cyclical recovery.
President Obama's inaugural falls into the third group, affirming his approach since first elected: the economy requires some attention, but it is a distraction from more important things. In a speech five times as long as this column, the inaugural included the word "economy" once, "jobs" twice, and "prosperity" once.
The surprise datum on Tuesday: sales of existing homes slid 1 percent in December. Financial markets were briefly jolted by the absence of ramp-up. However, the many who are certain that housing will drive a strong and typical recovery went into sputtering and unseemly defense of their positions.
Housing in general is  better, but I don't see the cyclical locomotive. Rebounds underway in previously dead markets get a lot of press, but the 9 percent price gain in Phoenix last year after a 42 percent, 5-year decline… no choo-choo. The U.S. is a big place with some genuine hot spots (the San Francisco Bay Area), but heavily outnumbered by soggy ones.
The housing hopeful think demographics will drive the show, new households and pent-up demand. But immigration is down by at least 1 million per year, the U.S. birth rate has fallen as not since the Depression, and doubled-up households, or kids home… still are.
The count of seriously delinquent loans dropped last year from 4.4 million to 3.7 million, a lot, but still a lot. Many argue that the big deal in a housing recovery is the contribution of "residential investment" to GDP, hoping next year for a 1 percent to 2 percent add, but it's not the most important thing. By miles and miles, prices are most important.
Rising prices of homes produce the wealth effect, stop underwater walkaways and short sales, and restore net worth even to the 30 percent free-and-clear owners.
My back yard — Colorado's Front Range — is a perfect example of headwinds slowing the locomotive, and why some national data is not as it appears. The most inaccurate single measurement of housing is its price. There is no way to reach a real-time weighted average value of 100 million unique dwellings.
Financial market types were wrong all the way down, overstating decline, and are going to overstate improvement in an extended recovery. Despite diligent efforts by several outfits, it is impossible to adjust price for changes in the mix of sales, especially during market turns. All data is based on homes that have sold — in any year barely 5 percent of the total stock — and inferring the value of the other 95 percent.
The most dramatic national shift in distressed sales in the last year has been away from foreclosure and toward short-sale. The former sell at deeper discounts than the latter. Voila: prices are rising. A little, but no Little Engine That Could.
Here in affluent Boulder County, population 300,000, the Federal Housing Finance Agency (FHFA) found prices rising 1.91 percent last year. Our unit sales were 4,000 a year from 2009 through 2011, 40 percent off prior normal (we had no Bubble). In 2012 we bounced to 5,000 sales, inventory at an all-time low.
Anyone on the ground knows that prices in the best spots and lower ranges here ran up 5 percent or more. But with few distressed sales past or present, foreclosure or short, we have no statistical price-pop, and our actual price rise is under-measured.
In huge Denver Metro, 2.5 million people, FHFA has prices up 2.88 percent last year. Short sales there rising over foreclosures, distressed sales way off from peak, and prices appear to be rising faster than in a better market in nearby Boulder.
Colorado has the sixth-lowest delinquency rate in the U.S. If our off-the-bottom 2012 is better than nearly anyplace… we are the locomotive? Few here would say so.
Hopes for construction and sales are too high, and existing-home prices too low and not moving up fast enough.
The steepest grade facing this train is, of course, credit. We cannot have a normal-looking housing recovery without normal credit, coal for the firebox. No coal, no steam. Fannie and Freddie are handing out clinkers one at a time.
My friend Bill McBride, inspired author of www.calculatedriskblog.com , is one of the housing believers and argues his case well. He may be right, but not, yet, as his charts testify. Nothing is more important to watch.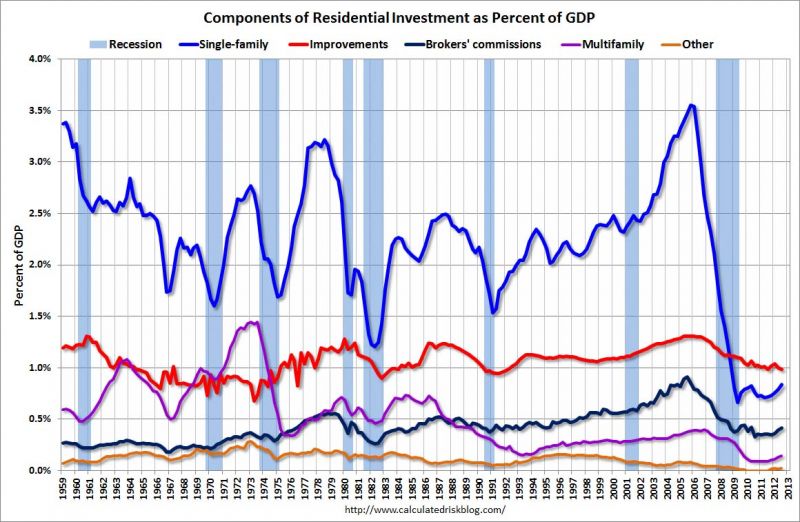 Source: Calculated Risk blog.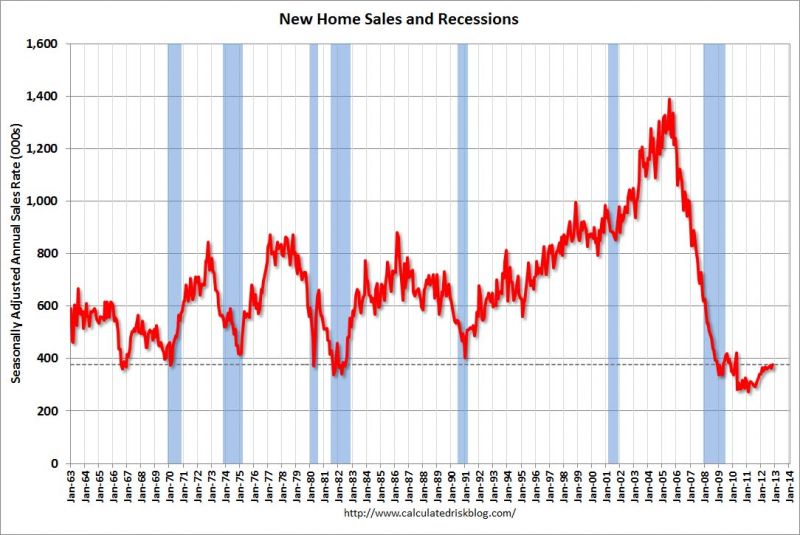 Source: Calculated Risk blog.