For-sale listings inventory plummeted in January to a six-year low, according to a monthly report from Realtor.com, with all but three of 146 metros tracked by the listing portal posting annual declines.
In January, an average of 1.48 million homes were listed for sale, a 16.5 percent decline from January 2012 and the lowest total since Realtor.com began tracking national inventory data in January 2007, the report said. The report tracks inventory and list prices for active MLS-listed single-family homes, condos, townhomes and co-ops.
The national median list prices held steady at $187,000, up 0.8 percent from a year ago, with median list prices increasing in 71 markets, remaining the same in 24 markets, and declining in 51 markets during that period.
"Whether this shows a continuation of the nascent housing recovery into 2013 will depend on a variety of factors, including the strength of the overall economy, the cost and availability of mortgage credit, consumer expectations regarding future housing prices, and the success of continuing efforts to stem the flow of new foreclosures," the report noted.
For the last six months in a row, the number of markets experiencing annual declines in median list prices has increased, which demonstrates that many local housing markets are still struggling, the report noted.
At 108 days, the median age of inventory was down 9.24 percent from a year ago and 2.7 percent from December.
Annual change in listings, inventory and median list price
| | | |
| --- | --- | --- |
| Data point | Percent change from year ago 2012 | January 2013 |
| Number of listings | -16.47% | 1.48 million |
| Median age of inventory (days) | -9.24% | 108 |
| Median list price | 0.80 | $187,000 |
Source: Realtor.com
"My guess is inventory has bottomed, and I expect more inventory will come on the market in areas that have seen recent price appreciation," wrote Bill McBride, in a post on his blog at Calculated Risk, about Realtor.com's January inventory data.
Listings inventory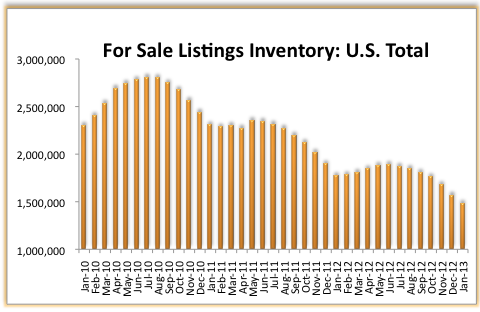 Source: Realtor.com