Editor's note: This post explores a marketing tactic submitted by broker Brian Kim, the most recent winner of #madREskillz, a weekly Inman News Twitter competition. Every Thursday, Inman News invites real estate professionals and companies to tweet offbeat marketing tricks using the tag #madREskillz. After reviewing the submissions (and retweeting many in the process), we select two finalists and put them to a vote on Facebook. Then we feature the winner in a story.
If someone told you, you could wiggle your brand into 1,000 households for $100, would you believe them?
Agent Brian Kim of Group BK, a real estate team part of Edgewater, N.J.-based broker Group Twenty 26, said he only has to drop a dime to cover all costs associated with pushing a marketing flier to one household.
Winner of the latest #madREskillz, Kim said he pulls it off by selling ad space to local businesses on the back of his marketing fliers and then sending those fliers through a discount mailing service that he claimed many agents are clueless about.
He shakes his head when he sees the cash that some brokers shell out to poke leads through snail mail.
Many disseminate their marketing materials using commercial bulk mail. A marketer may lower rates using commercial bulk mail by obtaining a mailing permit and paying an annual mailing fee, sorting their mail by ZIP codes for the Postal Service and delivering the mail to the post offices where they hold a permit.
Others send out marketing materials piece by piece, paying full postage price.
But Kim said he is able to get much more bang for his buck by using a third option: the U.S. Postal Service's "Every Door Direct Mail" (EDDM) service.
The service, which features an online tool, enables him to blanket entire mail routes with his fliers. The cost to reach one household usually clocks in at about 16 cents, he said. Another advantage of EDDM over other mailing methods is that it enables him to send materials that are as large as 15 by 12 inches, he said.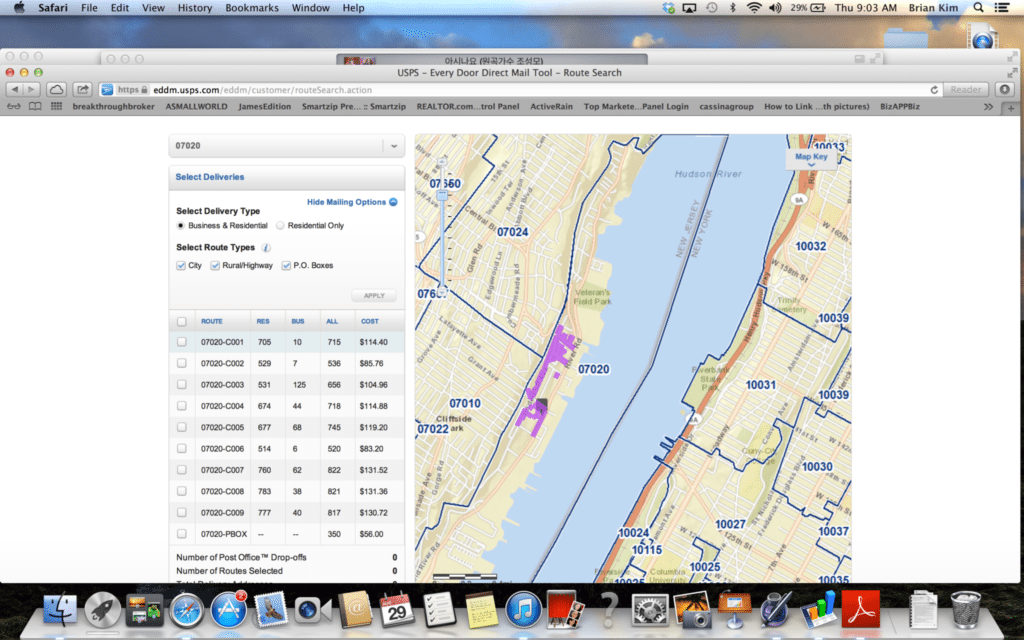 A screen shot taken by Brian Kim of the U.S. Postal Service's EDDM tool. Kim uses EDDM to blanket mailing routes in Edgewater, N.J., like the one highlighted in the image above. 
"I'm extremely surprised and shocked every time I come across a colleague that doesn't know about it," Kim said. "But a lot of agents are still using the conventional method of sending out postcards or just buying a commercial bulk rate permit."
Adding in printing fees, the cost of reaching one household using EDDM comes out to 30 cents.
But if Kim plays it right, he pays only a third of that. The broker typically splits mailing and printing costs three ways by selling two ad spots on the back of the flier to local businesses within his "farm area," the area he targets with an EDDM campaign.
While many agents spend as much as $1 to hit one household, Kim claims he pays only 10 cents using his marketing approach.
In the past, Kim has partnered with mortgage companies, contractors and painters for the campaigns.
"I like to partner with businesses that are noncompeting but similar … so we can all benefit," he said.
Kim said businesses are willing to allow him to hog the entire front side of the flier but pay the same as Kim because he does all of the legwork for the campaigns.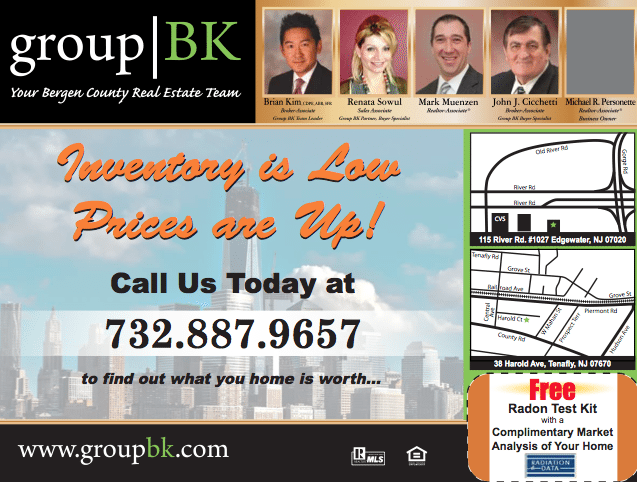 A draft of a flier that Brian Kim intends to send through EDDM. On the back of the final version of the flier, ads from two local businesses are slated to appear.