Trulia is taking a crack at bringing more order to the New York City rental market, rolling out a customized search experience today that's designed to eliminate duplicate listings by catering to the market's unusual structure.
In most rental markets, landlords or property managers pay brokers to bring them renters. But in New York City and a handful of other markets with large demand and inventory, they generally don't. Instead, brokers usually make money by charging renters for their services, and landlords and property managers pay nothing.
"It's a situation that's created in New York because it's a perfect storm: huge volume of consumers and huge volume of inventory," said Pierre Calzadilla, senior manager of Trulia's rental team.
That's spawned an "open market," where listings are largely up for grabs. In such a system, many brokers may represent the same listing, but the only one who gets paid is the broker who secures a tenant. Consequently, many agents post the same listings, resulting in a mountain of duplicates that can confuse and frustrate prospective renters.
New York City's chaotic rental scene has spawned a number startups headed by entrepreneurs determined to make apartment hunting in the Big Apple easier than it was for them. Urban Compass, Blocksy, Apartable and RentHop are just a few of them.
In rolling out the Trulia Open Markets feature, the listing portal is attempting to tackle the problem in several ways. First off, the portal eliminated 50 percent of its New York City rental listings, according to Calzadilla. Why? Because they were fakes or duplicates.
Second, it's nixed the option to manually upload listings. Instead, Trulia only accepts inventory directly from brokerage and real estate investor listing feeds. As a result, opportunistic agents can no longer cannibalize listings they find online by tweaking some of their content, like their addresses, and reposting them.
"What we did was — it's very simple: You have to have a feed to Trulia. You have to give us a real address," Calzadilla said.
Only people searching listings in the NYC boroughs of Brooklyn, Manhattan and Queens will be able to use the new interface for now, but Trulia said it expects to expand it to cover Harlem and the Bronx by the end of the month. The listing portal also said it plans to introduce the interface to other rental markets similar to NYC's later this year.
He added that some go-getters have already complained about the change.
"They're telling us, 'Hey, I used to change my apartment number and get my name out there,'" he said. "And we're like, 'Yeah, that's what were trying to stop.'"
But that won't squelch duplicate listings alone. Landlords and property managers typically feed their listings to several brokerages, so different brokerages often feed the same listings to Trulia.
To deal with that, Trulia has added a mechanism that consolidates all would-be duplicate listings into one listing that displays all the agents or brokers who are representing it. Consumers can toggle between the agents and brokers to decide on which one they'd like to use.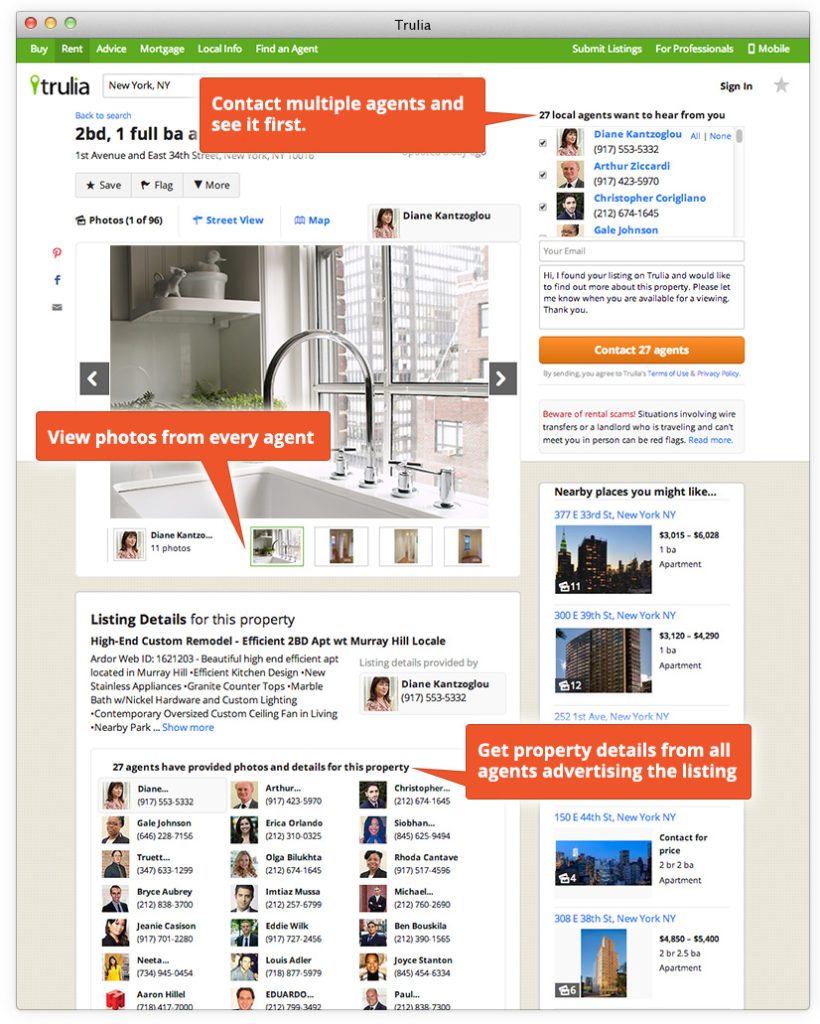 The last step Trulia's taken to improve the user experience for New York City renters is to indicate on its rental search results pages whether a listing is fee or no-fee, and how many (if any) "No-Fee Agents" are representing the listing.
"No-Fee Agents" represent a small minority of agents who earn money like rental agents usually do in other markets: by charging landlords or property managers for finding them tenants.