As economists had expected, the latest employment numbers from the Bureau of Labor Statistics show that with the U.S. adding 217,000 jobs in May, the number of people in the workforce has finally surpassed pre-bust levels, to a new all-time high.
Unemployment is still higher than most would like — 6.3 percent by the most commonly employed measure, and higher by others. The so-called U-6 measure, which includes 7.3 million people working part time because that's all they can find, stood at 12.2 percent, notes Calculated Risk blogger Bill McBride.
Long-term unemployment remains a key problem, McBride says — 3.374 million unemployed workers have been on the hunt for a new job for more than 26 weeks. But overall, "this was another solid employment report," the widely followed blogger wrote.
McBride says he'll be retiring what some readers have called the "scariest jobs chart ever," which he's been running to show the severity of the downturn, "until the next recession."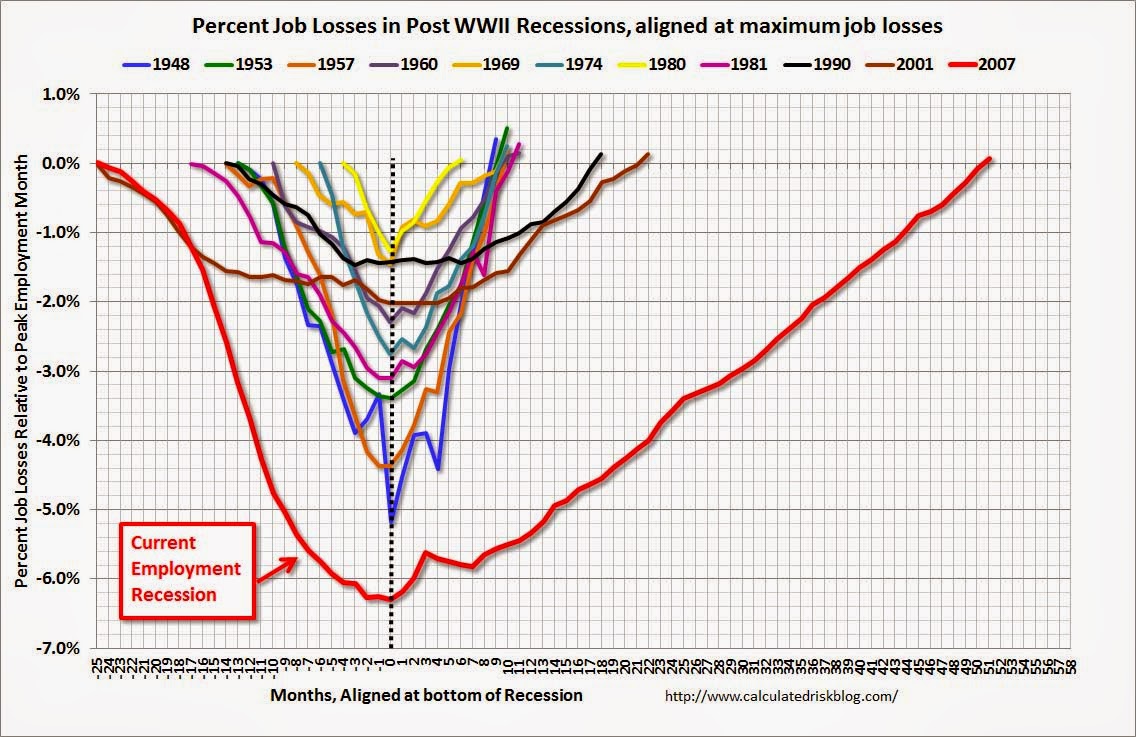 The "scariest jobs chart ever," from calculatedriskblog.com.
Fannie Mae Chief Economist Doug Duncan says today's employment report "paints a picture of steady job creation and supports our view that the setback in the economic expansion during the first quarter was temporary, with the economy poised to grow to more than 3 percent on an annualized basis in the current quarter."
Duncan characterized the growth in employment as "steady, yet unspectacular" and said what we've seen so far is not expected to be a "game changer" for the housing market. What housing needs, he said, is a boost in consumer confidence — which probably depends on stronger income growth.
Fannie Mae will release its May National Housing Survey next week, and Duncan said the consumer fundamentals coming in so far "have not been encouraging enough to change our expectation that 2014 home sales will post the first drop in four years."