Freddie' Mac's Primary Mortgage Market Survey showed:
30-year fixed-rate mortgages (FRMs) were unchanged from last week, averaging 3.87 percent with an average 0.6 point. A year ago, the 30-year FRM average was 4.14 percent
15-year FRMs averaged 3.08 percent with an average 0.5 point, down from last week's 3.11 percent. One year ago, the 15-year FRM average was 3.23 percent.
The five-year Treasury-indexed hybrid adjustable-rate mortgage (ARM) average was 2.96 percent this week with an average 0.5 point, up from 2.9 percent last week. One year ago, the five-year ARM average was 2.93 percent.
The one-year Treasury-indexed ARM average was 2.59 percent this week with an average 0.2 point, up from 2.5 percent last week. Last year, the one-year ARM average was 2.4 percent.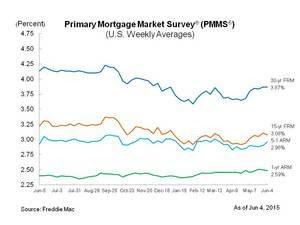 "Mortgage rates were little changed for the week following mixed economic data before bond yields began moving higher Wednesday afternoon," said Freddie Mac's deputy chief economist, Len Kiefer, in a statement. "Although real GDP growth was revised down to a negative 0.7 percent annualized rate, the Institute for Supply Management reported a modest growth in the manufacturing sector in May. If the Wednesday surge of Treasury yields persists, the impact on mortgage rates is likely to result in a bout of affordability shock to many housing markets across the country."
The Mortgage Credit Availability Index (MCAI) reported by Mortgage Bankers Association showed:
The MCAI increased to 122.6 in May, up 0.5 percent. (The index was benchmarked to 100 in March 2012.)
Of four component indices, the Conventional MCAI and Conforming MCAI saw the greatest easing; both were up 1.2 percent over the month.
The Government MCAI was up 0.1 percent.
The Jumbo MCAI decreased 0.1 percent.
"Credit availability eased somewhat in May, largely as a result of increased availability of cash out refinance loans and greater availability of FHA 203(k) home improvement loans," said Mike Fratantoni, MBA's chief economist, in a statement.
The just-released 2014 National Association of Realtors Member Profile showed:
Realtors closed one less transaction in 2014 on average and made nearly $2,000 less when compared to 2013.
A typical Realtor closed 11 transactions last year and achieved a median gross income of $45,800.
On average, Realtors with more than 16 years of experience earned $68,200 and closed 13 transactions. For these members, repeat business accounted for 40 percent of their activity and referrals for an additional 24 percent.
Income also varied by license type, with members licensed as brokers earning the most, $65,300. In 2013, this figure stood at $66,300. Median earnings for sales agents decreased $1,100 from 2013 to $33,900.
Email market updates to press@inman.com.