Freddie Mac's Primary Mortgage Market Survey results
The 30-year fixed-rate mortgage increased slightly over last week's 3.84 percent to 3.89 percent, which is a slight decrease over last year's 4.10 percent.
The 15-year fixed-rate mortgage was reported at 3.09 percent, up slightly from 3.06 percent last week and down from last year's 3.24 percent.
The 5-year adjustable rate averaged 2.93 percent this week, up from 2.90 percent last week and down slightly from 2.97 percent last year.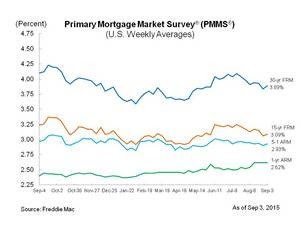 Zillow Negative Equity Report for Q2 2015
The negative equity rate in the U.S. dropped below 15 percent in the second quarter of 2015.
Nearly 20 percent of condo owners were underwater, most notably in cities such as Chicago, Orlando and Las Vegas.
7.4 million homeowners were underwater at the end of the second quarter of 2015, down from when figures were at their worst at 15 million.
RealtyTrac's released its second annual U.S. Natural Disaster Housing Risk Report:
43 percent of U.S. homes and condos, or an estimated market value of $6.6 trillion in property, are in counties with a high risk or very high risk for at least one type of natural disaster.
California, Florida, New York, New Jersey and North Carolina have the most homes in high to very high risk counties for overall natural disasters.
The 10-year home price growth is stronger in areas of low natural disaster risk, but home values are higher in counties with high risk.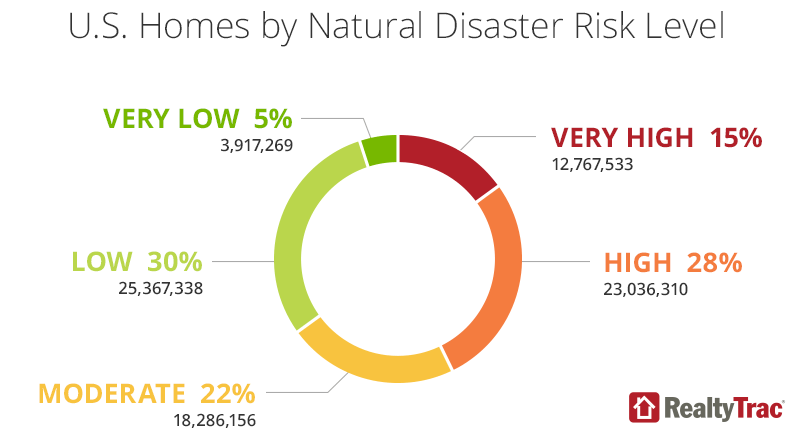 We'll add more market news briefs throughout the day. Check back to read the latest.
Yesterday's market news:
The U.S. Census Bureau of the Department of Commerce Residential Construction:
Residential construction spending increased on a monthly basis by 1.1 percent bringing it to a seasonally adjusted annual rate of $380.8 billion in July.
Residential construction spending increased in July 2015 by 15.8 percent over July 2014.
New residential multifamily construction decreased on a monthly basis by 2.2 percent but increased annually in July by 21.2 percent.
30-year fixed mortgages according to Zillow Mortgage Rate Ticker:
The 30-year fixed mortgage rate is currently up eight basis points from last week to 3.75 percent.
The 15-year fixed home loan is currently 2.92 percent.
The biggest change in mortgage rates was 10 basis points in Florida bringing the current 30-year fixed rate to 3.81 percent.
Send market reports to press@inman.com.