The ultimate aim of any real estate agent is to dominate one's market totally on search engine results pages, become the dominant brand and, if possible, a monopoly.
But in building that real estate Internet marketing empire, care must be taken so that you don't end up building an empire that will collapse at the slightest provocation.
What's the benefit of building an empire that will go crumbling down at the slightest quake? It's all just a waste of money and time, plus an unnecessary headache.
Building a solid marketing empire requires that you implement solid real estate marketing ideas that are rooted firmly in digital marketing.
But in this article, I will not only show you how to build a stable real estate Internet marketing strategy but also one that will last forever.
How to establish a real estate Internet marketing empire that will last forever
1. Use lead bait to generate leads

What are you waiting for? Close the female leadership gap today.
How one leader believed in herself to make a massive change, and how you can, too
READ MORE
A lead bait is a lead generation strategy where you offer something of great value to your website visitors in exchange for their contact details for follow-up and nurturing.
That extra value is something that will help your visitors enhance their buying or selling decisions.
Using real estate lead bait is the best way to build your email list that you will then nurture to sales.
The advantage of lead bait is it generates leads with interest in either buying or selling a home.
Examples include a free homebuying course or webinar.
2. Organic ranking is the answer
As more than 92 percent of homebuyers now use the Internet to search for homes, positioning yourself in front of these Web surfers is key to your marketing success.
How do I position myself in front of 92 percent of Internet homebuyers?
One way to do so is to rank organically. Ranking organically means you have to optimize your website for search engines (SEO).
What is SEO? SEO simply means search engine optimization, which involves a directed effort in manipulating website rankings or placement to achieve a higher placement in search engine results pages.
What is organic ranking? Organic rankings are the listings that appear on search engine results page because they are relevant to the searched term as opposed to an advertisement (paid listing).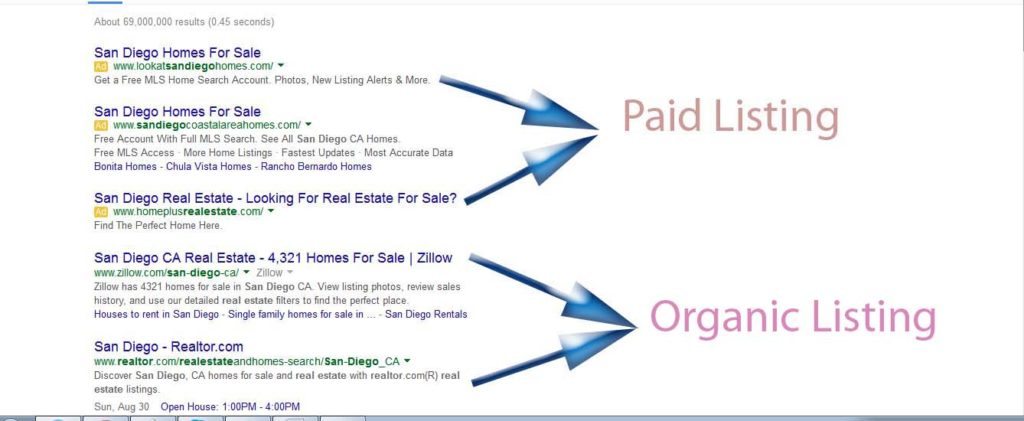 3. Think PPC as an alternative
If your website is new and not yet ranked well on Google, or you are simply lazy or don't have the time to start driving targeted visitors to your website, then pay-per-click advertising is the way to go for you.
4. Think white hat SEO not black hat SEO
What is white hat SEO? According to webomedia, "In search engine optimization (SEO) terminology, white hat SEO refers to the usage of optimization strategies, techniques and tactics that focus on a human audience opposed to search engines, and completely follows search engine rules and policies."
Webomedia also says, "In search engine optimization (SEO) terminology, black hat SEO refers to the use of aggressive SEO strategies, techniques and tactics that focus only on search engines and not a human audience, and usually does not obey search engines' guidelines."
Have you ever been in this scenario where you put in all your efforts or resources in gaming Google and achieved the desired results for a short while?
Then you wake up one morning to discover all your efforts and resources have gone down the drain because Google has found your schemes and penalized you because of your notorious activities — been there?
Frustrating, right? Yes, it's really frustrating, and I don't wish you go through that trauma because I have been there, and it wasn't a pleasant experience.
To avoid going through that bad experience, do purely white hat SEO and avoid black hat or anything that will trigger one of big G's hammers.
Also when hiring an SEO expert to do your site, avoid those who come cheap. If you go with them, what you will get in return will be cheap and valueless links that will do nothing but kill your site rankings and reputation.
5. Avoid those gigs on fiverr.com
Avoid those gigs on fiverr.com that promise thousands of links for just $5. It might come cheap, but they are a monstrous virus that will wipe out your entire marketing effort.
Avoid them like a plague because they will sell you valueless links that will end up hurting your site.
6. Diversify your marketing efforts
Because of the changing nature of Google's algorithm, what works today might not work tomorrow. And if your ranking method is outlawed by Google, it might significantly affect your site rankings.
So to avoid all those headaches, mix up your marketing efforts, and don't be entirely dependent on Google to lay the golden egg.
So in case your site was penalized for any reason, you will not be stranded.
7. Monitor your backlinks
Whether you outsourced your SEO efforts to experts or you're doing it yourself, make sure you monitor your backlinks to know the following:
If your site is being attacked by negative SEO
How will you tell if your site is a prime target of negative SEO if you are not monitoring your backlinks on a daily basis? Monitoring your backlinks will ensure you know quickly when your site is being a target, and you can quickly disavow those links before they cause any damage to your site's rankings and reputation.
To know if your SEO expert is doing it the right way
Outsourcing your SEO marketing efforts to experts is a way to relieve yourself of a huge workload and to concentrate on the areas of your expertise — showing listings and following up with prospects.
But if you don't monitor the kind of backlinks your SEO experts are building, how will you know they are building valueless links — links that will end up hurting your site's reputation and rankings.
So to prevent that from happening, you should monitor the kind of links your SEO experts are building. Fire them if you discover they are building links of low value, and hire a new one who will correct the mistakes of the old SEO expert you hired.
8. Hire SEO experts to take over your SEO marketing efforts
There is no way you will be as efficient and profitable, especially in the long run, if you are a real estate agent trying to manage SEO, too.
Hiring an SEO expert will free valuable time that you can channel into other areas of your marketing expertise.
Stay tuned for "17 ways to build a powerful online real estate marketing empire: Part 2" tomorrow.
Ibemere Obinna is a real estate agent and a digital marketing expert. He blogs about real estate digital marketing and SEO on his blog, realtymarketingtool.com.