Overall, the housing market has transitioned into a buyer's market; however, there are 20 "hot" markets where the seasonal slowdown has not been as strong in September, according to realtor.com.
Eleven of these 20 markets are in California, with metros in Michigan and Texas accounting for a combined five hot locales.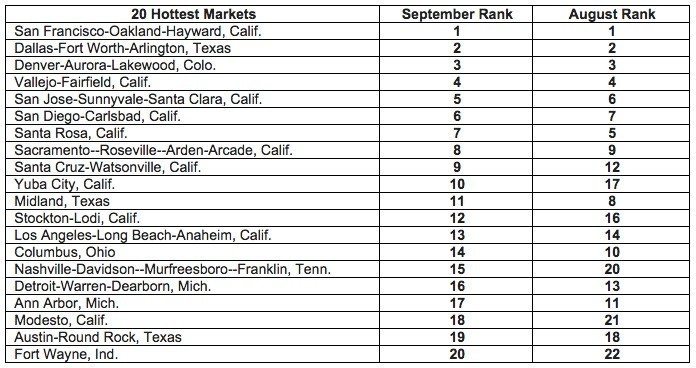 Hotness was determined by realtor.com based on number of views per listing on its site and the median age of inventory in each market.
Hot California markets include:

Build a business platform to make an impact
See how two top agents support a cause that's close to their hearts
READ MORE
San Francisco (1)
Vallejo-Fairfield (4)
San Jose (5)
San Diego (6)
Santa Rosa (7)
Sacramento (8)
Santa Cruz (9)
Yuba City (10)
Stockton (12)
Los Angeles (13)
Modesto (18)
The cities typically include satellite metros — for example, the San Francisco market also includes Oakland and Hayward.
Realtor.com points to the state's continued tight supply and turbo charged economy as reasons for its domination of the list. Additionally, frustrated buyers who have not been able to find a home so far remain active, supporting continued strength in sales across much of Northern and Southern California.
Other top markets outside of California included Dallas-Fort Worth (2) and Denver (3).
Midland (11) and Austin (19) represent other "hot" Texas markets.
Seasonality has apparently yet to affect Michigan, as Detroit (16) and Ann Arbor (17) both made the list.
"Sellers across all these markets continue to see listings move much more quickly than the rest of the country," said Jonathan Smoke, Chief Economist for realtor.com.
Fort Wayne, Indiana and Modesto represented markets new to the hotness list in September. Yuba City and Nashville saw the biggest month-to-month jumps, with Yuba moving seven spots to 10th. Nashville moved from the 20th spot to the 15th.
"Buyers who are open to a fall or winter purchase should find some relief with lower prices." – Jonathan Smoke, Chief Economist, realtor.com
Overall, listing inventory on realtor.com peaked in September and listings are now staying on the market longer. The median age of inventory sits at 80 days, which is up 6.7 percent from August. In September, median list price has also decreased 1 percent from August to $230,000.
"The spring and summer homebuying seasons were especially tough on potential buyers this year with increasing prices and limited supply," Smoke said. "Buyers who are open to a fall or winter purchase should find some relief with lower prices and less competition."