Editor's note Oct. 8, 11:40 a.m. PDT: BuildZoom has reinstated its blog post that outlined the discrepancies between realtor.com and Zillow listings after reviewing its data and methodology. It has updated its study to ensure geographic boundary differences between the portals do not affect its data or findings.
Editor's note Oct. 7, 11 a.m. PDT: The BuildZoom blog post that outlined the discrepancies between realtor.com and Zillow listings has been pulled due to issues with methodology and data.
BuildZoom, a website whose mission is to "bring accountability into the world of home remodeling," is holding online real estate marketplace Zillow Group accountable for what it suggests are "data quality issues in Zillow's database" — and Zillow's legal team is acting quickly to squash the company's allegations.
In a blog entry posted to its website yesterday titled, "What Zillow Doesn't Want You To Know," BuildZoom questions "the discrepancy between the number and quality of listings available on the Zillow Group portals and on realtor.com" and alleges that "Zillow Group wants to keep the listing gap hidden."
Zillow has countered that BuildZoom's study is full of assumptions that fail to account for key differences between how each portal defines key geographic territories, and it has taken legal action.
And amidst this controversy is realtor.com, which agrees that BuildZoom's blog post "raises serious issues about the breadth and quality of Zillow's listings data."

The 6 features your luxury seller should upgrade
Getting a luxury home into selling shape is all in the details
READ MORE
BuildZoom's first volley
The trouble between BuildZoom and Zillow began in April, when BuildZoom decided to examine the impact of Move's ListHub, an MLS data aggregator and a major source for both Zillow and Trulia, terminating its contract with Zillow.
Zillow, in anticipation of this event, "scrambled to negotiate its own agreements with individual MLSs to obtain listings which it had previously obtained from ListHub," BuildZoom alleged. When BuildZoom compared the number of listings on Zillow the day before and the day after the ListHub agreement expired, it concluded that "the number of listings on Zillow and Trulia fell markedly overnight."
Meanwhile, realtor.com, which likely benefited from operator Move's decade-long relationship with the National Association of Realtors (NAR), saw steady growth in the number of unique visitors to its website — particularly after its acquisition by News Corp., when it surpassed Trulia to become the second-most popular portal, BuildZoom alleged.
But "we gave Zillow Group the benefit of the doubt by expressing our belief that it was well poised to obtain many more MLS agreements," BuildZoom said on its blog.
Zillow reacted swiftly to BuildZoom's allegations, issuing a cease-and-desist order to the company "on the grounds that we collected the information therein in an automated fashion that violated the portals' terms of service," BuildZoom stated in its blog.
"Fearing the implications of a lawsuit by a large corporation — regardless of the ultimate outcome — we obeyed the order by retracting the blog post," the company stated.
But it wasn't done with Zillow quite yet.
Comparing apples to soccer balls
BuildZoom encouraged readers of its blog post to make their own "apples-to-apples" comparison between the two portals' listings in different cities, conceding that it "does not have access to the actual number of listings in each city directly from either Zillow.com or realtor.com."
"Rather, the survey of the number of listings uses the same tools that a consumer visiting the portals would be using," BuildZoom stated.
Nevertheless, on Oct. 2, Zillow served the company with another cease-and-desist order, alleging that BuildZoom was "once again using Zillow data for commercial purposes in violation of our Terms of Use." Zillow requested that BuildZoom remove its blog post, charts and data by 5 p.m. on Oct. 5, but as of press time, the blog post remained active.
It may be impossible to make an "apples-to-apples" comparison between the two portals' listings. In fact, it may actually be more like comparing apples to soccer balls, as the search parameters used in surveying the number of each portal's listings in each city may differ greatly in some areas.
"There are also many distinct differences between Zillow Group and other real estate websites, making it impossible for an outsider to be able to do any kind of accurate analysis of our listing database," Woolley said. "This 'study' is full of assumptions from a company with no actual knowledge of the situation."
Woolley went on to say, "Due to the complexities of the real estate industry, there is no one site that has all the listings. We have worked incredibly hard to build relationships with MLSs and brokers across the country, and we continue to add more direct feeds weekly, to ensure we have the best, most accurate and timely listings available for the millions of buyers and sellers visiting Zillow Group's websites and mobile applications every month."
'What buyers and agents need to know'
Attempting to circumvent Zillow's cease-and-desist order by manually recording the number of listings on Zillow.com and realtor.com for the core cities of the 51 largest metropolitan areas, BuildZoom undertook another study in September.
Releasing its conclusions first to reporters under embargo, then publicly making them available on its blog on Oct. 5, BuildZoom alleged that in 30 of the 51 cities, Zillow had more than 20 percent fewer listings, and in 15 of the 51 cities, Zillow "is behind more than 60 percent!"
What's more, in some large, hot real estate markets such as Los Angeles, New York and Phoenix, Zillow provides more listings than realtor.com, but "while this may indicate the absence of some listings from realtor.com, it may also reflect data quality issues in Zillow's database, such as incorrect listing details or duplicate or expired listings," BuildZoom suggested.
"At least superficially, the numbers appear to support realtor.com's claim of having superior data, but does realtor.com's advantage matter for Zillow Group?" the company stated in its blog post.
"As long as Zillow Group continues to draw substantially more traffic than realtor.com, agents and brokers will continue to feel compelled to advertise on its portals. As a result, Zillow Group revenue is less sensitive to its listing coverage than one might think.
"Yet the danger remains that consumers will eventually recognize the discrepancy and flock to realtor.com or elsewhere in search of more comprehensive and accurate listings. If this happens, agent and broker dollars will follow."
Why is a company that serves to connect homeowners with licensed contractors questioning the accuracy of real estate listing portals? BuildZoom said the takeaway for homebuyers, Realtors and investors "is that the number of listings being provided still varies widely from city to city," but in an interview with Inman, BuildZoom Chief Economist Issi Romem discussed the company's other objective in publicly criticizing Zillow.
"We're not trying to antagonize Zillow. We want to get our website's name out there," Romem said.
"We're looking to improve our name recognition and get more business for our website. We figured real estate agents and brokers would see this story at a time when it is a high likelihood that they may need to remodel homes. They are great prospective customers, and we hope they come to our website and mention our name to their clients."
realtor.com's take
Language on realtor.com's own website states that its listings, derived from more than 900 MLSs across the country, updates every 15 minutes and may be listed by the same brokerage for sale in multiple MLSs, with varying levels of detail. "This means a single home can have one or more listings on realtor.com," realtor.com warns users.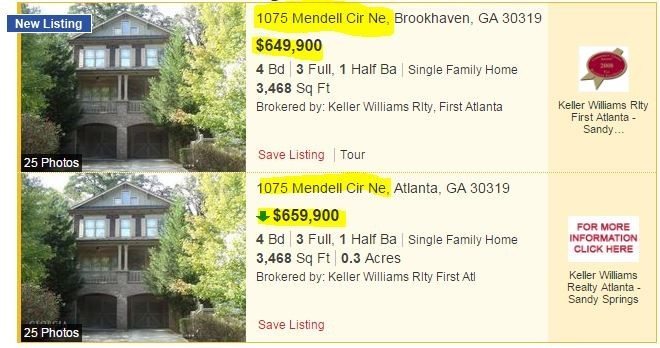 For its part, realtor.com is not saying much. In response to the melee, the company issued this brief statement: "We believe the article raises serious issues about the breadth and quality of Zillow's listings data, and it is important for consumers to understand what they are getting — and not getting — when they visit Zillow."
Realtor.com declined to comment on the methodology it uses to define geographic territories.
Romem said realtor.com has not contacted BuildZoom, which has "intentionally avoided contacting realtor.com in order not to create the impression that we have a conflict of interest with them."
"We're not trying to antagonize Zillow. We want to get our website's name out there." – Buildzoom Chief Economist Issi Romem
So what does BuildZoom intend to do going forward?
"It depends on how the legal actions play out. We don't want to get into a lawsuit if we don't need to," Romem said.
This is not the first time that the accuracy of Zillow's estimates have been questioned — and as the debate over the democratization of real estate property data persists, it's unlikely to be the last. Publications including The Wall Street Journal and Fortune have taken Zillow to task over how close its estimates (or "Zestimates") come to actual sale prices.
In addition, the National Community Reinvestment Coalition (NCRC) filed a complaint in 2006 with the Federal Trade Commission (FTC), alleging that Zillow was "intentionally misleading consumers and real estate professionals to rely upon the accuracy of its valuation services, despite the full knowledge of the company officials that their valuation Automated Valuation Model (AVM) mechanism is highly inaccurate and misleading."
The FTC later elected not to investigate the accusation, and the NCRC withdrew its complaint.
Another unlikely comparison
Interestingly, there are some similarities between elements of BuildZoom's business model and that of Zillow. Zillow has property data on more than 100 million homes across the country, including data on homes that are not currently listed for sale; BuildZoom has listings for 3.5 million licensed contractors, of which about 100,000 have signed up as customers. Zillow's data comes from a variety of sources, including publicly available data and information from some MLSs; BuildZoom culls together its database from state-level information on licensed contractors.
Zillow's Premier Agent program gives agents extended visibility, not just on its website, but also across its mobile apps and on Yahoo! Real Estate. BuildZoom's revenue was based on a subscription model that gave some contractors higher priority on listings, but according to Romem, the company recently began phasing in a "low-commission program" under which contractors agree to pay BuildZoom a 2.5-percent commission fee on completed projects, "so that instead of focusing on getting as many leads as possible, we are incentivized properly on both sides to see a project completed to a homeowner's satisfaction," Romem said.
BuildZoom assigns a "score" to each contractor listing to give consumers a sense of its performance and abilities — reminiscent of Zillow's "Zestimate" home valuation model, or estimated market value of a home, although BuildZoom's contractors may be disappointed to find out that Zestimates do not take into consideration certain home-specific factors such as remodeling.
But any similarities between the companies end there. By comparison, BuildZoom is a relatively small startup, having launched in 2013 while participating in Y Combinator, a venture-capital entity that provides seed money and other assistance to startups in exchange for 7-percent equity in the company. In October of last year, the company raised a second, $2.15-million round of financing, and now has offices in San Francisco and Oklahoma City, as well as a small office in Manila, "where we have two coders," Romem said.
BuildZoom attached its name to another well-known company late last year, when Co-Founder David Petersen created a profile on the dating app Tinder for a robber he said stole $30,000 worth of computers and gadgets from BuildZoom's office in San Francisco. According to media reports, after Petersen posted the thief's photo alongside the words, "I rob offices in SF, $5,000 reward for identifying me," someone contacted the company with a photo and name of the suspect.