Residential real estate in Southern California continues to rebound.
Month over month numbers surprisingly improved from August to September
Annual home price gains seen at all price points.
In new data released by CoreLogic, residential real estate purchases in sunny Southern California saw a small uptick over this August, and a big spike over the same month last year.
In September 2015, 21,350 new and existing houses and condominiums changed hands in Los Angeles, Riverside, San Diego, Ventura, San Bernardino and Orange counties.
That's an increase of 0.4 percent from the 21,257 properties that sold in August 2015.
In terms of year-over-year increases, only 18,874 properties sold in September of 2014, 13.1 percent less than sold last month.
Sales have climbed on a year-over-year basis since February for a total of eight consecutive months. That streak is matched only by a similar string of gains recorded in late 2012 to early 2013.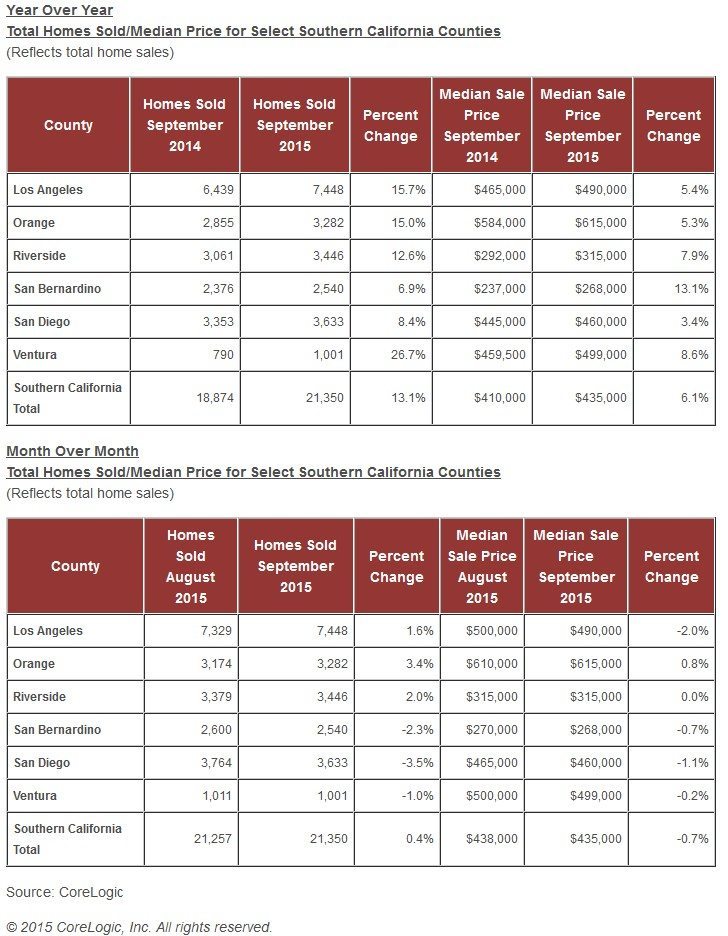 Compared to September's past, this year's numbers are approaching two high-water marks for the month.
In 2009, 21,539 sales were recorded, just 189 more deals than this September. This sum is rapidly approaching the 23,365 September average computed back to 1988.
According to CoreLogic's Andrew LePage, a research analyst for the firm, it's unusual to see a sales gain between the months of August and September. "On average," said LePage, "sales have declined nearly 10 percent between those two months over the past quarter century."
LePage offers an explanation as to why September saw the increase that it did: He suggests that the market did not have enough inventory available in the heart of summer, so buyers are now catching up.
Throughout the Southern California region, the median sale price dipped slightly month-over-month, but grew in annual terms. In August 2015, sellers on average reaped $438,000 on a sale; a seller in September 2015 received 0.7 percent less, or $435,000.
That still beats September 2014's median price of $410,000. Year-over-year results remain strong, with a string of 42 consecutive months of gains.
This market saw its peak median of $505,000 in March, April, May and July of 2007.
In all price categories, year over year sales bumped upward. The smallest sales gain came in the below $500,000 segment, with a 8.1 percent increase. Over that price point, sales increased by 20.2 percent. Homes valued at $800,000 or more sold at a 18.9 percent faster clip, and million dollar properties rose 19.5 percent.
Also of note:
Every Southern California county experienced year-over-year declines in REO sales in September 2015. This category represented 3.9 percent of sales in the region, less than the 4.3 percent in September of last year.

Short sales continue to creep downward from their January 2012 peak of 20.6 of total sales.

Every Southern California county experienced year-over-year declines in short sales in September 2015, with the total in the region for that month at 2.9 percent.

Purchases by absentee buyers are still strong, with that category of purchaser scooping up 21.3 percent of home sold.

A strong 21.2 percent of September home sales were made to buyers who paid cash.

The median sale price of $615,000 in Orange County was the closest to its pre-crash peak of $645,000, which was recorded for June 2007.