Even the most well-funded industry players can have a difficult time building popular property search websites.
HomesForSale.com, operated by the largest U.S. brokerage, NRT, has been taken down and is slated to relaunch sometime in 2016.
HomesForSale.com attracted fewer than 6,000 visits in September, according to Experian Marketing Services.
America's largest brokerage, NRT, has taken down its much-anticipated national listing portal, HomesForSale.com.
The site's hiatus suggests even the most well-funded industry players can struggle to build websites that catch on with consumers and may serve as a portent for initiatives such as the Broker Public Portal.
What happened?
Consumers never started visiting HomesForSale.com — launched in February by Realogy-owned NRT — as often as the real estate firm might have liked.
Now, when prospective buyers land on the site, they encounter an image of a half-opened door bearing the message: "We'll be reopening our doors soon."
NRT has put the website on ice, informing visitors that "HomesForSale.com is taking a break, but we'll be back in 2016."
NRT told Inman that the listing portal has yielded significant "testing value and learnings" that the company has been applying to its broader online marketing initiatives, but the company declined to comment further.
It is not unusual for listing portals to founder — but they generally don't have the backing this one did. NRT is the brokerage wing of real estate franchising giant Realogy and has over 42,000 agents operating in more than 40 major large U.S. metros.
NRT operates more than 700 offices in the U.S. under the Coldwell Banker Real Estate, ERA Real Estate and Sotheby's International Realty brands. It also owns and operates Citi Habitats, The Corcoran Group and ZipRealty.
"One can only speculate on why NRT decided to put the project on hiatus but it wouldn't make much sense if the project were meeting their objectives," said Russ Cofano, who has previously served as the senior vice president of industry relations at realtor.com operator Move Inc. and the CEO of Missouri Realtors.
The history
When HomesForSale.com launched, Realogy said the site was "part of NRT's broader lead generation strategy to cast a wider net and reach more consumers via organic search."
That strategy apparently did not pay off.
"Based on the tepid traffic, they would likely be looking at a different strategy to drive traffic, but in any event, it seems to show that using only organic sources to generate any significant amount of users in an already crowded national space can be extremely difficult, if not impossible," Cofano said.
Asked why NRT had shelved HomesForSale.com, Dan Barnett, senior vice president of marketing at NRT, cast the website as a fruitful learning experience.
"By design, the site has generated significant testing value and learnings that we have been applying to our broader NRT online marketing initiatives," he said in a statement.
"The [research and development] value of that initiative proved very productive as NRT continues to invest in new and exciting online marketing strategies."
NRT did not respond to specific questions about why it had taken down the website, and Realogy spokeswoman Kathy Borruso said Realogy "had no additional responses for your article beyond" Barnett's statement.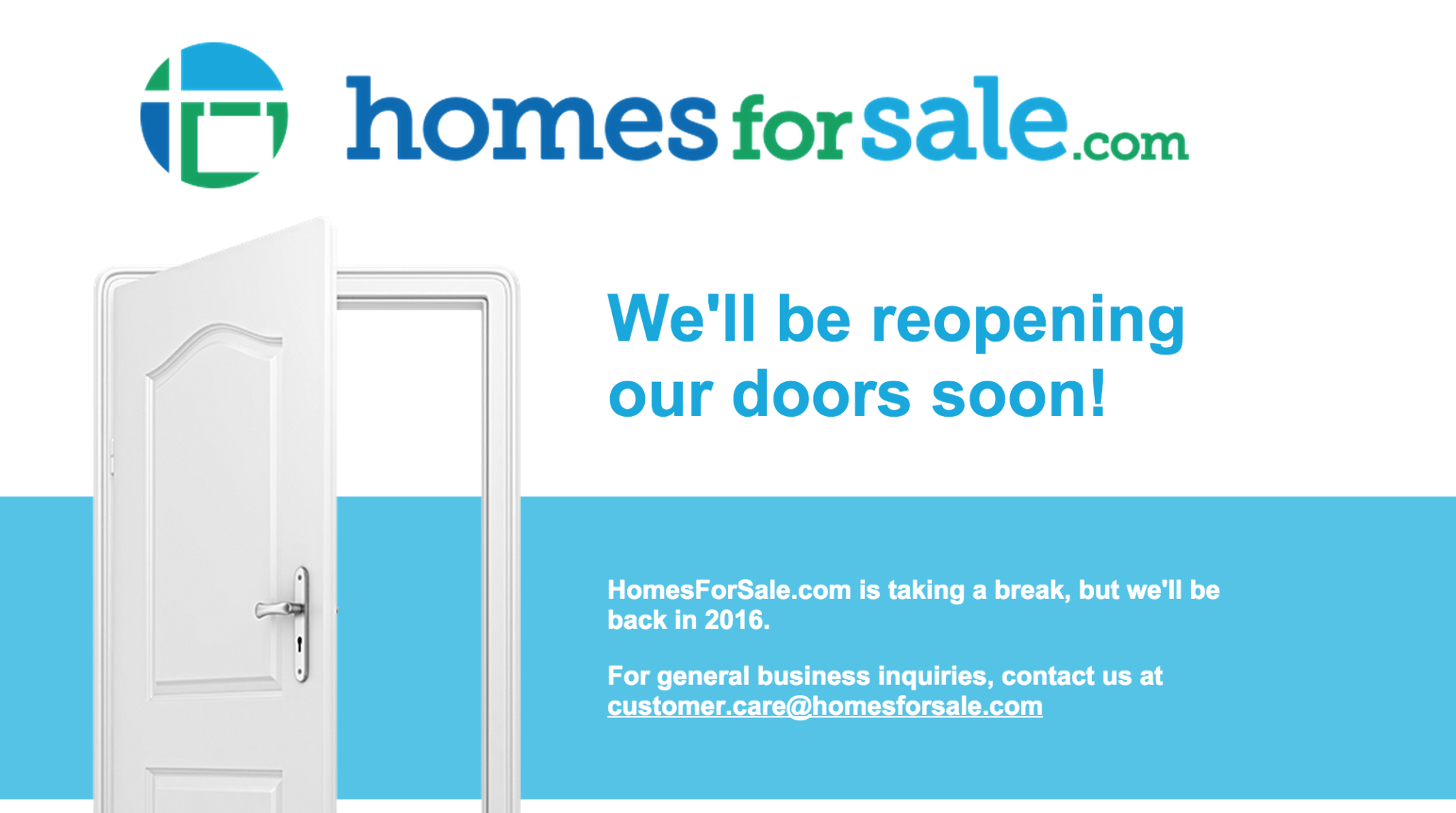 Not your average brokerage listing portal
NRT launched HomesForSale.com as a way to generate and feed leads to its agents in exchange for referral fees. Since the website was operated by a brokerage, HomesForSale.com was able to pull listings directly from multiple listing services (MLSs) through Internet data exchange (IDX) feeds.
That meant that the website could, at least in some markets, serve up more comprehensive and accurate sets of listings than property search sites that lacked direct listing feeds from MLSs.
HomesForSale.com also provided instant home value estimates, an unusual move for a brokerage in an industry that has traditionally looked on instant valuations with distaste.
Lackluster results
But these features don't appear to have produced the desired results. The listing portal received less than 6,000 page views in September, according to Experian Marketing Services' Hitwise online intelligence tool.
As that lead-generation strategy failed to gain traction, Realogy invested in another brokerage-operated portal, Estately, at some point in 2015.
Realogy has said that it will tap Estately, which Experian said attracted 2.86 million visits in September, for leads to feed to its agents in exchange for referral fees. Realogy also currently milks ziprealty.com to that end, having acquired ZipRealty in 2014 (click here for more on real estate M&A).
A cautionary tale? 
The lackluster start for HomesForSale.com shows that even the most well-funded industry incumbents can struggle to field websites that are able to reel in visitors off third-party listing portals — such as Zillow and Trulia, which attract tens of millions of visits every month.
And it may be a cautionary tale for the Broker Public Portal, a national listing website under development by a coalition of brokerages and MLSs.
Asked how the Broker Public Portal (BPP) would avoid the same fate as HomesForSale.com, Victor Lund, a partner at WAV Group, said that the portal would benefit from the MLSs' reputation as the most accurate source of listings and from building a mobile app that integrates into client-management tools that are part of every MLS system.
"When an agent configures a search for their client in the MLS, the search results the client sees will be displayed on the BPP," he said.
WAV Group provides consulting services to BPP.
"To be sure, there is a great opportunity here, but there is no chest-beating. It will be hard," Lund added.
"The good news is that we have the support of over 111 companies representing about three-quarters of the industry behind this."
Cofano said he thought the industry players working on the Broker Public Portal would be "paying close attention" to HomesForSale.com's hiatus.
"At the end of the day, without very deep pockets supporting user generation, agent support and buy-in will be key to the success of any national brokerage related website," he said.