Check Inman every day for the daily version of this market roundup.
Mortgage rates:
Home equity rates:
Thursday, March 3:
Freddie Mac Primary Mortgage Market Survey:
Rates for 30-year fixed-rate mortgages averaged 3.64 percent with an average 0.5 point for the week ending March 3, 2016.
This is up from last week, when the average was 3.62 percent.
It's down from a year ago, when the average was 3.75 percent.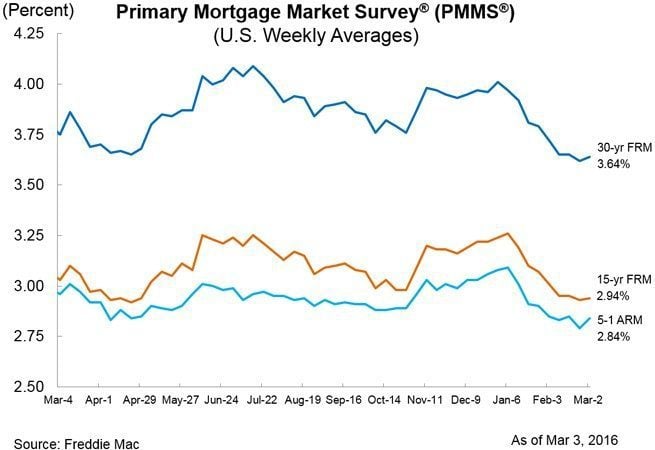 Mortgage Bankers Association's Mortgage Credit Availability Index (MCAI) for February 2016:
The MCAI was unchanged month-over-month at 123.8 in February.
Of the four component indices, the Conforming MCAI saw the greatest loosening (up 1.0 percent) over the month.
The Government MCAI was up 0.6 percent).
Wednesday, March 2:
Ten-X Real Estate "Nowcast" for February 2016:

Low-cost, high-impact marketing with video
How one broker showcases her culture and retains top talent
READ MORE
Existing home sales for February will fall between a seasonally adjusted annual rate of 5.23 and 5.58 million sales.
This sales number is down 1.3 percent month-over-month.
However, it is up 10.4 percent year-over-year.
Mortgage Bankers Association's Weekly Applications Survey:
The Market Composite Index, which measures loan application volume, decreased 4.8 percent on a seasonally adjusted basis week-over-week.
On an unadjusted basis, the Index increased 7 percent week-over-week.
The Refinance Index decreased 7 percent week-over-week, and the refinance share of mortgage activity decreased to its lowest level since January 2016 — 58.6 percent of total applications — from 61.0 percent the previous week.
Tuesday, March 1:
U.S. Census Bureau's January 2016 Construction Spending:
Spending on private construction was at a seasonally adjusted rate of $831.4 billion.
This is 0.5 percent above the revised December estimate of $827.3 billion.
Residential construction was $433.2 billion in January, the same month-over-month as December.
CoreLogic's January 2016 Home Price Insights Report:
Home prices rose 1.3 percent month-over-month.
Home prices rose 6.9 percent year-over-year.
This is the 47th month of consecutive year-over-year increase, but the returns are no longer double-digit.

Monday, Feb. 29:
National Association of Realtors Pending Home Sale Index (PHSI) for January 2016:
The PHSI declined 2.5 percent to 106.0 in January.
This is 1.4 percent above January 2015 (104.5).
The index has increased year-over-year for 17 consecutive months, but January's gain was the second-smallest.
Black Knight Financial Services' Home Price Index for December 2015:
The home price index in the U.S. was $253,000.
This is down 0.1 percent month-over-month.
However, the index is up 5.5 percent year-over-year.