We'll add more market news briefs throughout the day. Check back to read the latest.

Fannie Mae's Q1 2016 Mortgage Lender Sentiment Survey:
Lenders reported that purchase demand decreased significantly during the past three months.
Refinance mortgage demand was expected to increase significantly in the next quarter.
On net, lenders reported tightening of credit standards for government loans for the first time since Q3 2014.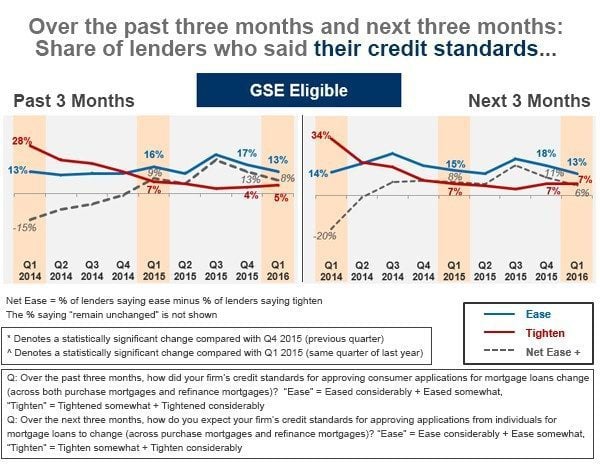 Mortgage rates:
Home equity rates:
Yesterday's most recent market news:
U.S. Department of Housing and Urban Development/U.S. Census Bureau's February 2016 new residential sales:
Sales of new single-family homes were at a seasonally adjusted annual rate of 512,000.
This is 2.0 percent higher than January but 6.1 percent below the February 2015 estimate.
The median sales price of new homes sold in February 2016 was $301,400; the average sales price was $348,900.
Black Knight Financial Services' First Look at February 2016 mortgage data:

What to look for in a results-driven real estate team
For senior real estate advisors Richard Silver and Jim Burtnick, partnering brings a breadth of knowledge and a balance of skills
READ MORE
The total U.S. loan delinquency rate was 4.45 percent, down 12.57 percent month-over-month and 15.93 percent year-over-year.
The total foreclosure pre-sale inventory rate was 1.30 percent, down 0.64 percent month-over-month and 24.59 percent year-over-year.
The total foreclosure starts were 84,300, up 17.25 percent month-over-month and 9.20 percent year-over-year.
Mortgage Bankers Association's Weekly Applications Survey:
Mortgage applications decreased 3.3 percent week-over-week on a seasonally adjusted basis.
The refinance share of mortgage activity decreased to 53.9 percent of total applications from 55.0 percent the previous week.
The average contract interest rate for a 30-year fixed-rate mortgage with conforming loan balances decreased to 3.93 percent from 3.94 percent the previous week.
Email market reports to press@inman.com.