Although the ideal mortgage payment from a bank's perspective is no greater than 28 percent of your gross monthly income, the cost of homeownership eats up a much larger income slice for residents in the 75 most populous U.S. metros.
Those in Newark, New Jersey, spend the largest proportion of income on homeownership costs, with mortgage payments, taxes, insurance and utilities fees accounting for over 78 percent of their budget, according to a recent post from Estately based on a U.S. Census Bureau American Community Survey.
Miami (72 percent), Los Angeles (60 percent), New York (58 percent) and Oakland (55 percent) complete the top five priciest rankings for homeownership costs as a percentage of median household income.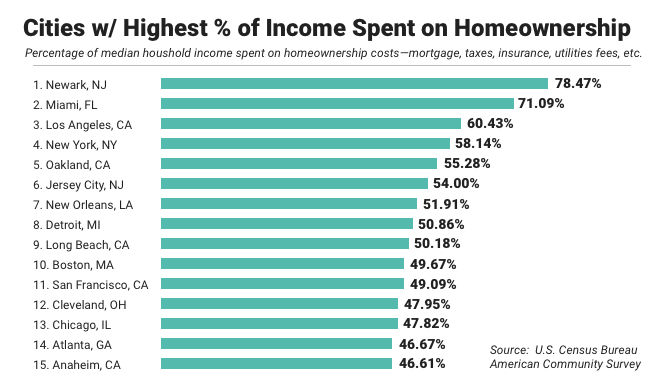 "Geographically, out of the 75 most populous U.S. cities, the ones where people spent the highest percentage of their income on homeownership were in California and the New York metropolitan area, while the least costly were in the Midwest and Texas," Estately wrote. "Generally, lower income cities tended to rank higher on the list, while higher income cities ranked lower."

What's in it for you? How real estate organizations boost your business.
See why associations like AREAA can benefit you both professionally and personally
READ MORE
Only two cities fell into below-28 percent mark: Fort Wayne, Indiana, (26.0 percent) and Plano, Texas, (27.9 percent).
Anchorage, Alaska, and Lincoln, Nebraska followed closely behind the most affordable cities, hovering a little above 30 percent.
See the complete rankings list below to find out what percentage of income homeowners are shelling out in your city.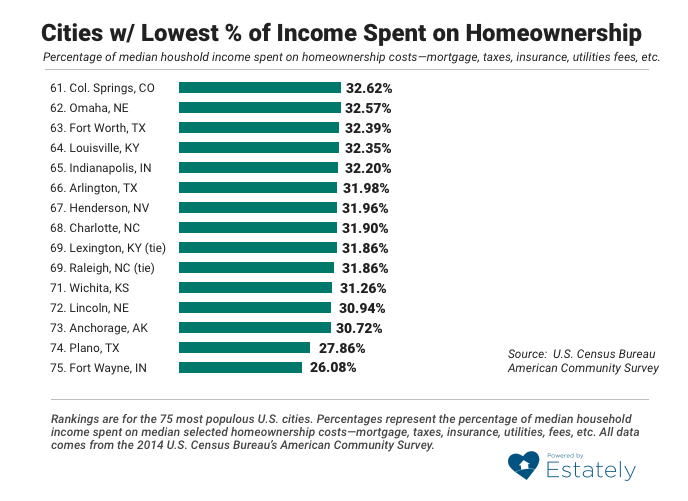 Complete rankings
1. Newark, New Jersey — 78.47%
2. Miami — 71.09%
3. Los Angeles — 60.43%
4. New York — 58.14%
5. Oakland, California — 55.28%
6. Jersey City, New Jersey — 54.00%
7. New Orleans, Louisiana — 51.91%
8. Detroit, Michigan — 50.86%
9. Long Beach, California — 50.18%
10. Boston — 49.67%
11. San Francisco — 49.09%
12. Cleveland — 47.95%
13. Chicago — 47.82%
14. Atlanta — 46.67%
15. Anaheim, California — 46.61%
16. Cincinnati — 46.44%
17. Milwaukee — 45.58%
18. Santa Ana, California — 44.08%
19. Fresno, California — 43.57%
20. San Diego — 43.25%
21. Stockton, California — 42.13%
22. Tampa, Florida — 41.51%
23. Dallas — 41.35%
24. St. Louis — 41.24%
25. Seattle — 41.10%
26. Sacramento, California — 40.89%
27. Baltimore, Maryland 40.72%
28. Washington, D.C. — 40.25%
29. San Jose, California — 40.17%
30. Philadelphia — 39.98%
31. Portland, Oregon — 39.88%
32. Honolulu — 39.50%
33. Riverside, California — 39.43%
34. Memphis, Tennessee — 39.17%
35. Tucson, Arizona — 38.92%
36. Houston — 38.89%
37. Minneapolis — 38.62%
38. Austin, Texas — 37.99%
39. St. Paul, Minnesota — 37.85%
40. Toledo, Ohio — 37.52%
41. Buffalo, New York — 36.91%
42. Denver, Colorado — 36.88%
43. Greensboro, North Carolina — 35.84%
44. Jacksonville, Florida — 35.72%
45. Las Vegas, Nevada — 35.71%
46. Phoenix — 35.68%
47. Kansas City, Missouri — 35.46%
48. Columbus, Ohio — 35.14%
49. Nashville, Tennessee — 34.83%
50. Bakersfield, California — 34.47%
51. Albuquerque, New Mexico — 34.32%
52. Tulsa, Oklahoma — 34.18%
53. Mesa, Arizona — 33.67%
54. Corpus Christi, Texas — 33.26%
55. El Paso, Texas — 33.09%
56. Aurora, Colorado — 32.99%
57. Oklahoma City, OK — 32.91%
58. Pittsburgh — 32.90%
59. San Antonio — 32.85%
60. Virginia Beach, Virginia — 32.70%
61. Colorado Springs, Colorado — 32.62%
62. Omaha, Nebraska — 32.57%
63. Fort Worth, Texas — 32.39%
64. Louisville, Kentucky — 32.35%
65. Indianapolis — 32.20%
66. Arlington, Texas — 31.98%
67. Henderson, Nevada — 31.96%
68. Charlotte, North Carolina — 31.90%
69. Lexington-Fayette, Kentucky — 31.86% (tie)
70. Raleigh, North Carolina — 31.86% (tie)
71. Wichita, Kansas — 31.26%
72. Lincoln, Nebraska — 30.94%
73. Anchorage, Alaska — 30.72%
74. Plano, Texas — 27.86%
75. Fort Wayne, Indiana — 26.08%