National home prices appreciated 5.7 percent.
Oregon home prices saw the highest increase at 11.7 percent year-over-year.
Florida ranked second at 11.2 percent.
The Federal Housing Finance Agency (FHFA) announced that national home prices have once again increased. The increase, a slight 1.3 percent since the last quarter, brought year-over-year growth to 5.7 percent.
"Historically speaking, the greatest determinants of local price growth tend to be unemployment, income growth, inventory of homes available for sale, the amount of developable land and construction costs," said Andrew Leventis, supervisory economist at FHFA. "Interest rates are also important, but unlike the other factors, they tend not to vary much by geography."
The states with the highest appreciating home price were Oregon, Florida, Washington, Nevada and Colorado. The data has been compiled since 1991, and in that time Colorado's home prices have increased 278.32 percent — more than any other state. (Note: Home prices in Washington D.C. have increased 358.77 percent.)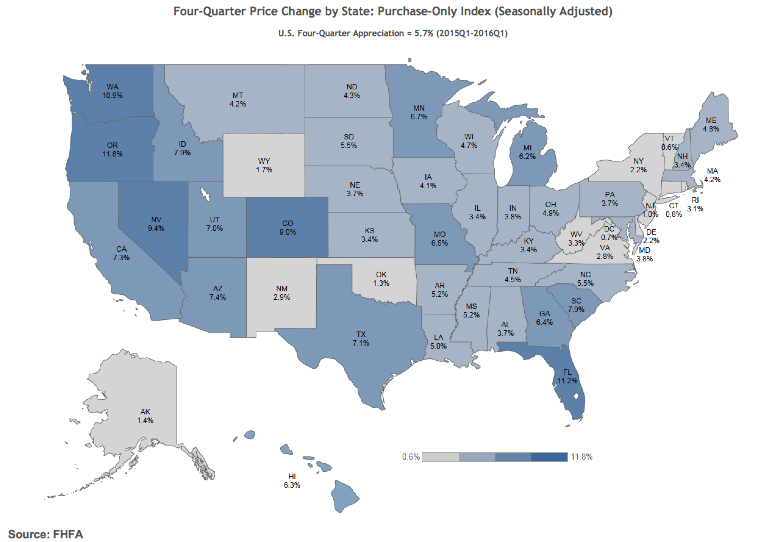 "Income growth is relatively robust in the states with the fastest appreciation. Other than that — and the fact that most are in the West — conditions in each state tend to vary," Leventis said.
Out of the 100 most populated metro areas in the United States, the West Palm Beach-Boca Raton-Delray Beach market in Florida increased the most annually at 16.7 percent.
Baltimore, Maryland and Washington D.C.
Baltimore's growth of 3.15 percent over the past year is great in terms of trajectory, but it failed to meet the growth level of the previous quarter.
Home prices in D.C. and the surrounding metros of Alexandria and Arlington increased 4.24 percent year-over-year. Washington D.C. has experienced the most growth in home appreciation since FHFA began collecting data.
Chicago
According to Quicken Loans' Home Price Perception Index, Chicago residents overvalue their homes by nearly 3 percent. Home prices in Chicago are increasing, if only slightly more than the optimism of its residents. Homes prices in Chicago, Naperville and Arlington Heights (the coverage area) increased 3.96 year-over-year.
Houston
Although home prices in Houston have increased 4.18 percent since last year, the recent slow down in home sales is causing some worry. Home prices are actually slightly down since the last quarter, but a 16.7 percent boost in new listings could begin to turn that around.
Los Angeles
The steady rise of Los Angeles home price appreciation, and California overall, could be a significant factor in the current inventory issues California is facing. With that said, L.A. homes saw an increase of 8.43 percent since April 2015 and a 2.06 percent rise since the previous quarter.
Miami
Opposite of California's major market views, Miami residents tend to overvalue their homes, according to Quicken Loans. Since last April, though, home values have steadily increased 9.6 percent, and the Miami metropolitan area has watched its home prices appreciate 236.49 percent since 1991.
New York City
The New York City metropolitan area includes Jersey City and White Plains. Homes in these markets only appreciated 1.09 percent over the year, and even dropped 0.25 percent since the last quarter.
San Francisco
The Bay Area is always hot. According to a recent RentCafe post, rent prices in San Francisco are projected to jump 10.5 percent. On that note, home prices appreciated nearly 7.5 percent since last year. The growth, however, was less than the previous quarter by 4.59 percent.