Steady job creation over the past five-plus years, unattractive rent costs and the anticipation of a mortgage rate increase are propelling homebuyers into the spring market at a faster rate than expected, according to the National Association of Realtors (NAR).
NAR's pending home sales in April reached their highest level in over a decade, with gains in contract signings across all major regions except the Midwest, which experienced a small decline in activity.
The pending home sales index (PHSI), a forward-looking indicator that tracks homes sales in which a contract is signed but the sale has not yet closed, increased 5.1 percent to 116.3 in April from an upwardly revised 110.7 in March.
April 2016's PHSI stood at 4.6 percent above where it was in April 2015 (111.2), marking 20 consecutive months of year-over-year index gains.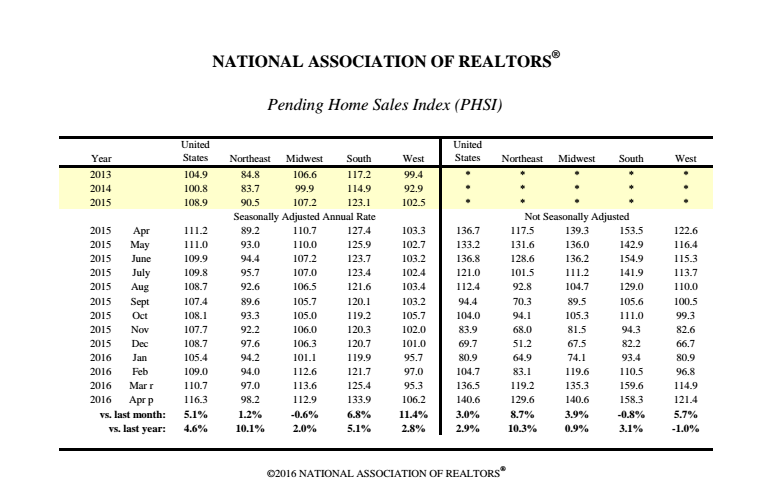 What to look for in a results-driven real estate team
For senior real estate advisors Richard Silver and Jim Burtnick, partnering brings a breadth of knowledge and a balance of skills
READ MORE
"The ability to sign a contract on a home is slightly exceeding expectations this spring even with the affordability stresses and inventory squeezes affecting buyers in a number of markets," said NAR Chief Economist Lawrence Yun. "The building momentum from the over 14 million jobs created since 2010 and the prospect of facing higher rents and mortgage rates down the road appear to be bringing more interested buyers into the market."
According to Freddie Mac, mortgage rates have held steady at below 4 percent since for 16 of the past 17 months since December 2014. (July 2015 was the only exception, at 4.05 percent.) Yun foresees rates hovering there for now, though he's accounting for the possibility that inflation could surprise the market with a sudden increase.
"Along with rent growth, rising gas prices — and the fading effects of last year's cheap oil on consumer prices — could edge up inflation and push rates higher," NAR wrote in a press release.
Existing home sales and prices
Yun also predicts existing-home sales to climb above earlier estimates of around 5.33 million to 5.41 million, a 3 percent rise since 2015. This is based first quarter existing-home sales, which had their best performance since 2007 (5.66 million) and were boosted another 1.7 percent in April.
In addition, "after accelerating to 6.8 percent a year ago, national median existing-home price growth is forecast to slightly moderate to between 4 and 5 percent," NAR wrote.
Regional breakdown
The West experienced the largest jump in April pending home sales with an 11.4 percent increase to a PHSI of 106.2, a year-over-year gain of 2.8 percent.
The South followed with a 6.8 percent increase to a PHSI of 133.9, a 5.1 percent increase since April 2015.
In the Northeast, the PHSI rose 1.2 percent to 98.2. While this may appear to be a modest increase month-over-month, it represents an over 10 percent year-over-year gain.
While the index decreased slightly in the Midwest (0.6 percent to 112.9), it's still 2 percent above April 2016.