We'll add more market news briefs throughout the day. Check back to read the latest.
First American's Real House Price Index (RHPI) for May 2016:
Real house prices are 19 percent lower than they were in 2000.
The RHPI was unchanged in May 2016 from April 2016.
The RHPI increased 0.4 percent from May 2015 to May 2016.
Black Knight Financial Services' May 2016 Home Price Index:
The home price index in May was $263,000, up 31.7 percent from market bottom and 1.8 percent below the June 2006 peak.
Mountain states accounted for eight of 10 top-performing metro areas.
All states and metros experienced positive price movement in May, and six large states and 15 large metros hit new price peaks.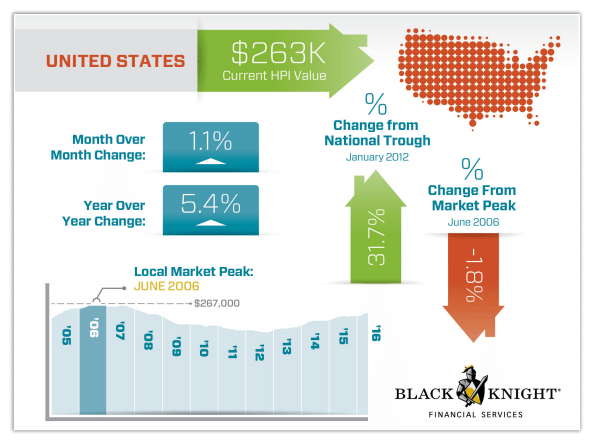 Mortgage rates:
Home equity rates:
Most recent market news:
Campbell/Inside Mortgage Finance HousingPulse Tracking Survey for June 2016:

Is technology getting in the way of your success?
A commentary by EXIT Realty Corp. International CTO, John Packes
READ MORE
Non-distressed properties sold in June were on the market for an average of 6.8 weeks.
Non-distressed properties sold in June received an average of 2.3 offers.
First-time buyers comprised 40.2 percent of purchases in June.
Email market reports to press@inman.com.