San Francisco neighborhoods that still offer a glimmer of affordability are seeing home sales rising above the area's pricier neighborhoods, according to the most recent Paragon Real Estate Report.
On a year-to-date basis based on data collected through September 20, house and condo sales in the Bay Area are broken down by districts and neighborhoods.
District 10, which includes Bayview, Excelsior, Portola, Crocker-Amazon and more, had the largest number of unit sales of all the neighborhoods in San Francisco, according to the report. With a median home sales price of $833,000 ($631 per square foot), there were a total of 288 home sales year-to-date in the area.
Following closely behind is District 2, made up of Sunset, Parkside and Golden Gate Heights. Here, there have been a total of 270 home sales in the year so far. This neighborhood is pricier than District 10, but still much more affordable than areas like District 7, District 5 and District 4 West, Paragon says.
The highest median home sales price was in District 7 — Pacific Heights, Presidio Heights, Cow Hollow and Marina — which was $4.5 million at $1,411 per square foot. This area had the smallest pool of home sales year-to-date, at 73 sales.

What's in it for you? How real estate organizations boost your business.
See why associations like AREAA can benefit you both professionally and personally
READ MORE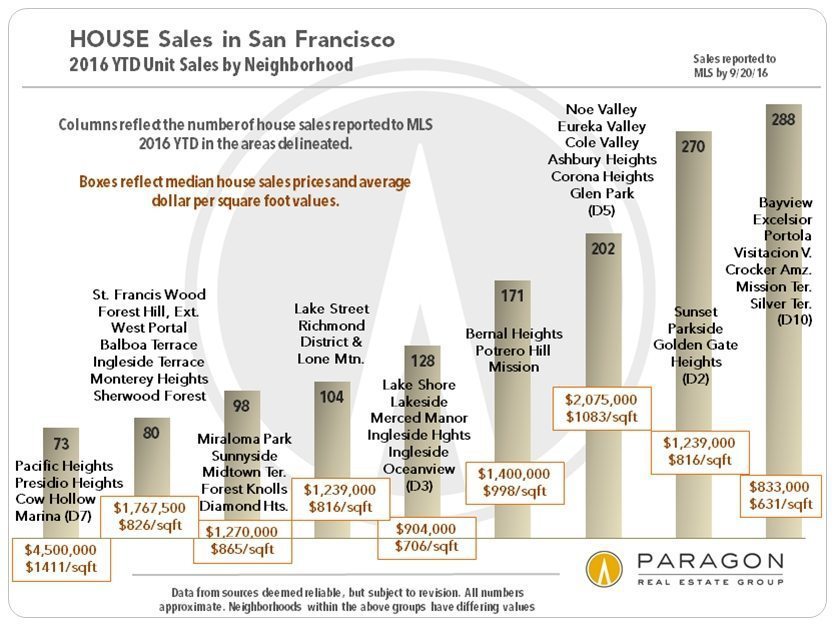 Pacific and Presidio Heights are known to have the largest average house size of all the San Francisco neighborhoods, the report shows, with an average 4,495 square footage. Excelsior and Portola have the smallest square footage, at 1,409 on average.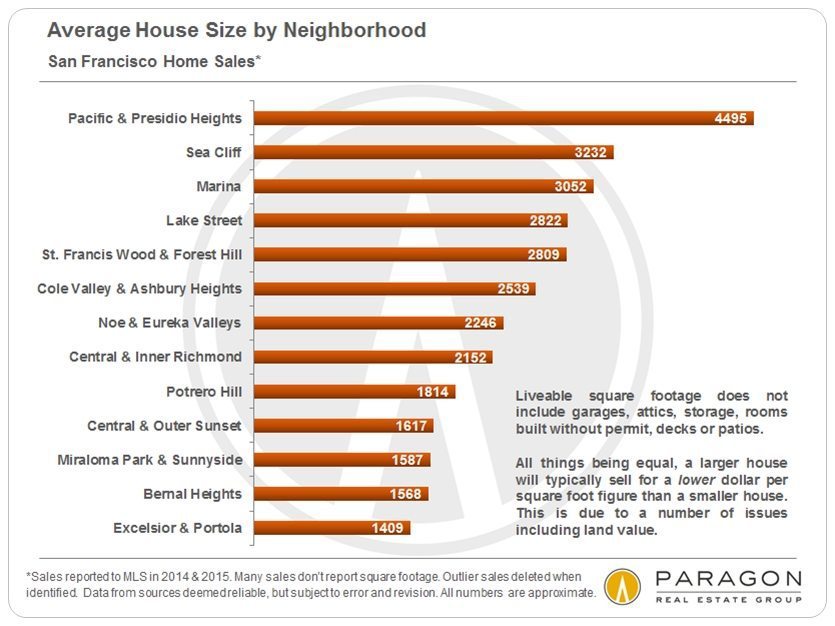 According to the report, the biggest markets for the luxury housing market are Noe, Eureka and Cole valleys (D5), and Pacific and Presidio Heights and the Cow Hollow-Marina area (D7). These luxe markets have an average price per square foot of $1,102 and $1,442, respectively. While the Russian, Nob and Telegraph Hills area (D8) is more expensive, the number of sales are much smaller.
Broken down by luxury price point, the District 5 area had the largest pool of home sales in the $3 million to $4.99 million price range, at 34. In District 7, there were eight home sales at or above $10 million.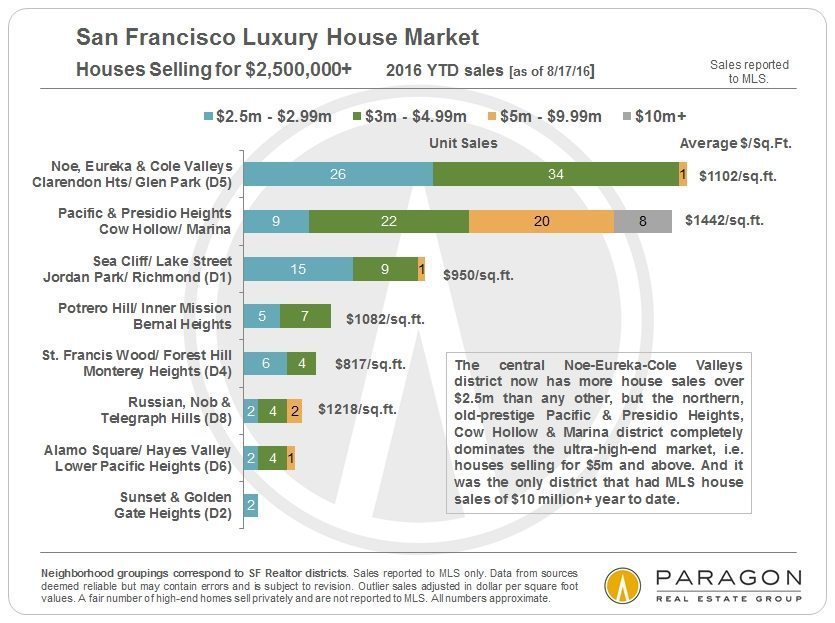 The South Beach, Yerba Buena, Mission Bay, SoMa area had the highest price per square footage for condos, at $1,421.
This area had two sales year-to-date above the $5 million mark and the largest pool of luxury condos for sale in general, with 59 in the $1.5 million to $1.99 million range, 21 condo sales in the $2 million to $2.99 million range and eight in the $3 million to $4.99 million range.