Last month, the National Association of Realtors (NAR) painted an increasingly dismal picture about the housing market that included tightening inventory, skyrocketing existing-home sales and a prediction that first-time buyers would continue to be blocked from homeownership due to the aforementioned issues.
But, this month's report revealed a silver lining thanks to first-time buyers, who reached a 34 percent share, which has been unseen since 2012.
In September, existing-home sales rose 3.2 percentage points to a seasonally adjusted annual rate (SAAR) of 5.47 million — up from a downwardly revised 5.30 million in August. After a slight gain last month, September sales are at their highest pace since June and are 0.6 percentage points higher than a year ago.
All regions experienced an uptick in sales, and distressed sales fell to a new low.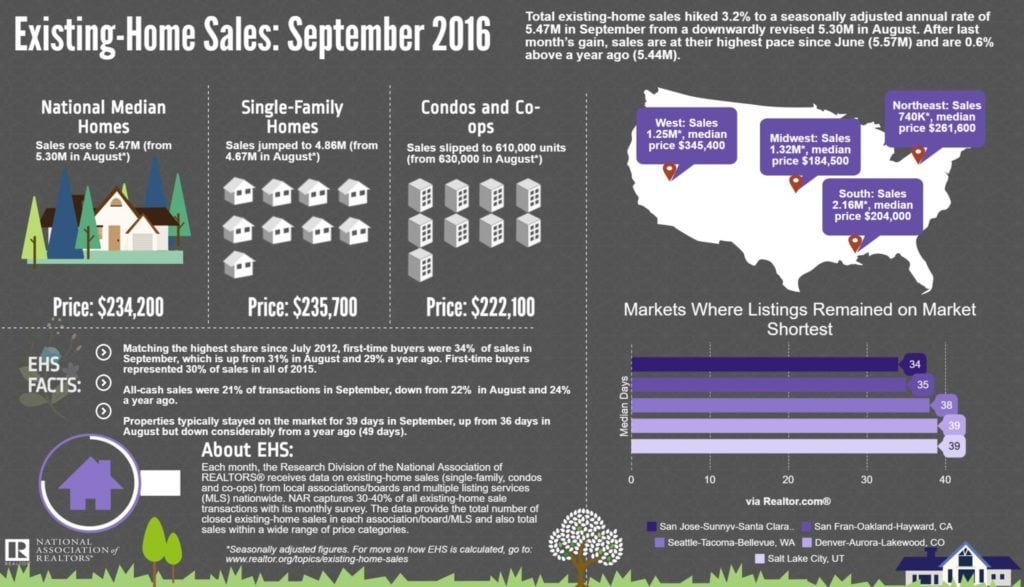 4 unconventional marketing tactics that really work
Two top agents share their ideas on how to market outside the box
READ MORE
Inventory, affordability not scaring first-time buyers
The median existing-home price for all housing types in September rose 5.6 percentage points to $234,200, which marks the 55th consecutive month of year-over-year gains.
Meanwhile, total housing inventory experienced a small 1.5 percentage point spike to 2.04 million existing homes available for sale, but it's still 6.8 percentage points lower than a year ago — the 16th consecutive month of year-over-year declines. Unsold inventory is at a 4.5-month supply, down 0.1 percentage points from August.
NAR chief economist Lawrence Yun says inventory is unlikely to turn around now since the seasonal decline in listings is about to kick in, but he finds hope in the boom of first-time buyers — the highest share seen since July 2012.
"There's hope the leap in sales to first-time buyers can stick through the rest of the year and into next spring," explained Yun in a press release.
"The market fundamentals — primarily consistent job gains and affordable mortgage rates — are there for the steady rise in first-timers needed to finally reverse the decline in the homeownership rate."
To keep the share of first-time buyers strong, NAR President Tom Salomone says Fannie Mae and Freddie Mac have a responsibility to ensure there's access to mortgage credit for creditworthy would-be homeowners.
"Unfortunately, overly burdensome fees at the GSEs are making homeownership difficult for moderate-income buyers. Fannie and Freddie can reduce the cost of borrowing while still protecting taxpayers, and we're hopeful they'll take these steps to ensure prospective buyers are able to enter the market," Salomone said.
Builder breakdown
Distressed sales, which include foreclosures and short sales, fell 4 percentage points — a 1-percentage point drop from August and a 3-percentage point drop from September 2015. Three percent of September sales were foreclosures and 1 percent were short sales.
Single-family home sales were at a SAAR of 4.86 million — a 4.1 percentage point month-over-month rise and a 0.6 percentage point increase from September 2015. The sales price for single-family homes increased by 5.6 percentage points to $235,700.
On the other hand, existing condominium and co-op sales declined 3.2 percentage points to a SAAR of 610,000 units, unchanged from last year. The median existing condo price was $222,100 in September — up 6.1 percent from 2015.
How did buying patterns vary across the country?
In the Northeast, existing-home sales jumped 5.7 percent to an annual rate of 740,000, unchanged from a year ago. Median price: $261,600, a 2.1 percent year-over-year increase.
In the Midwest, existing-home sales increased 3.9 percent to an annual rate of 1.32 million.
Median price: $184,500, a 5.9 percent year-over-year increase.
In the South, existing-home sales rose 0.9 percent to an annual rate of 2.16 million.
Median price: $204,000, a 6.6 percent year-over-year increase.
In the West, existing-home sales sprung 5.0 percent to an annual rate of 1.25 million.
Median price: $345,400, a 8.1 percent year-over-year increase.
Existing-home sales are based on transaction closings from MLSs and include single-family homes, townhomes, condominiums and co-ops.
Seasonally adjusted annual rates are used in reporting monthly data to help accommodate for seasonal variation; the annual rate for any given month represents what the total number of actual sales for a year would be if the pace for that month were maintained for a whole year.