Narrowly define your branding; "Riches are in the niches."
Offer "white glove" service.
Listen intently to your client's needs so you can uniquely take care of them.
Inman Luxury Connect 2016 was another spectacular and over-the-top real estate conference hosted by our friends at Inman. As was expected, the parties were lavish, the properties were exquisite and the speakers were top-notch.
For those of you who were unable to attend, here is a quick snapshot into the jam-packed day of learning.
From big picture to the listing next door: Where does the market stand?
(Sarah Garrity of Oppenheimer Funds)
Sarah Garrity immediately won the crowd by telling us how much better looking we are compared to her usual audience of financial advisers.
She spent the next 10 minutes giving us all a little perspective about the negativity currently surrounding politics, world population and investment strategies.
The Dow Jones Industrial Average has had a consistent growth scale for over 100 years — even during crazy times like World Wars.
In regards to population control, if the entire world lived as concentrated as Manhattan, we would all fit in the state of Texas. (Meaning we have plenty of space on this big earth.)
The two generations after baby boomers are actually larger and more influential than the boomers. (We still have plenty of people to sell homes to.)
Safety, literacy and standard of living are the highest they've ever been in the history of the world.
80 percent of millionaires inherited less than 10 percent of their net worth. (People are still motivated and working very hard.)
If you only invested when either a Republican or Democrat was president, your returns are significantly lower than staying in the market the whole time. Hating the government is not an investment strategy.
The high-net-worth individual: Who are they, and what do they want most?
(Michi Olson)
Michi Olson spoke primarily on the Chinese market of luxury buyers.
The Chinese, regardless of how wealthy they are, always want a deal.
They do not require you to speak their language. In fact, it can be seen as beneficial to partner with another real estate agent who speaks their language because the buyer feels like they have the best of both worlds on their team.
Find an escrow officer who speaks Chinese.
Bring your own translator so you know what is being said at all times.
One successful deal can turn into 10 because a satisfied Chinese buyer will refer all of his or her friends and associates to you.
Nailing luxury pricing: Setting clients' expectations
(Drew Mandile and Connie Blankenship)
Drew Mandile started his real estate career at 24 years old in 1973. Connie Blankenship has been in real estate for 14 years.
You need to be able to read someone in the first 11 seconds.
Take business at all price points.
Partner with a top luxury agent if you are new to luxury because you won't stand a chance against the top guys.
Don't allow your clients' emotional ups and downs affect you. You need to be the one who stays cool.
Be honest with your sellers about price even if they don't want to hear it.
The Playboy Mansion: How we got the listing and closed the deal
(Mauricio Umansky and Gary Gold)
All marketing material (full of creative ideas) was completed prior to going into listing presentation.
Complete collaboration between Mauricio Umansky and Gary Gold was key to getting the deal done.
Commission was not discounted.
Gold got into "Missile Lock" mode and even cancelled a vacation to close the deal.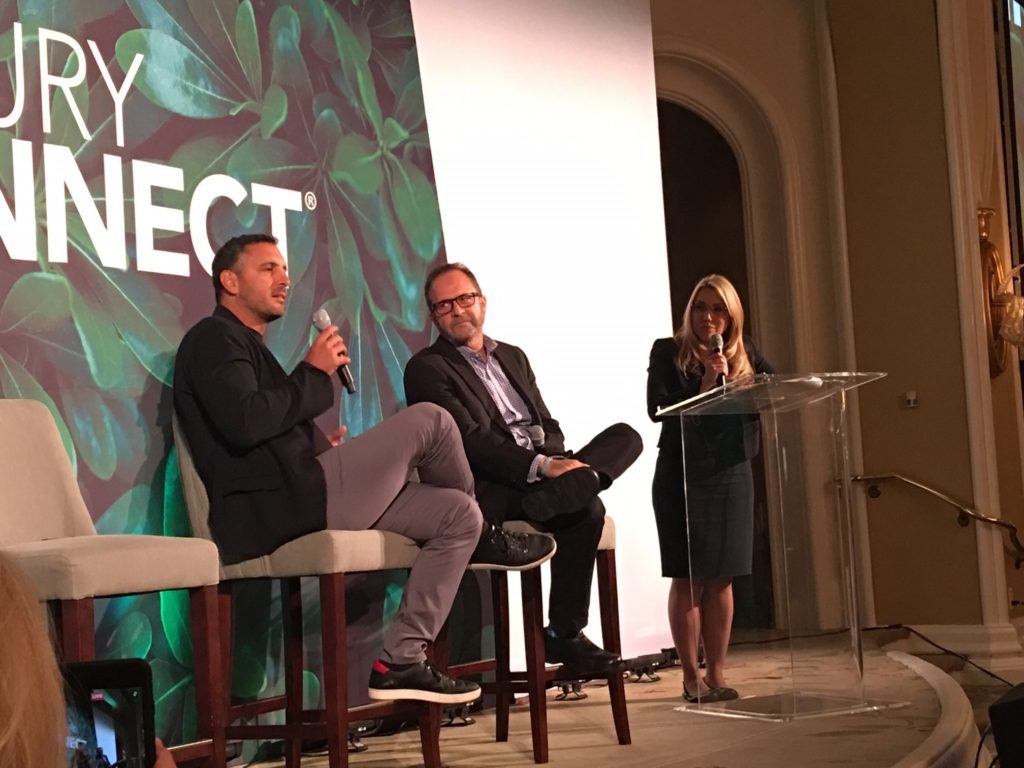 Waging war on discounters: How to hold the line on commissions
(Sally Forster Jones and Stephen Shapiro)
Answer four questions: Who are you? What do you bring? How are you different? What does all of that do for your client?
Goes for 6 percent commission (3.5 percent to listing agent, 2.5 percent to buyer's agent).
Provide specific marketing details to seller during listing presentation.
Sometimes you should walk away from a deal to you avoid branding yourself as an agent who will discount commission.
The listing agent and the seller need a relationship with "aligned interests."
Remind the seller that attorneys and accountants have a structure where the best charge more money.
7 superpowers of elite agents
(Sharran Srivatsaa)
Riches are in the niches
Reverse engineering
Verbal dexterity
Content machine
Social proof
Mindset of testing
1,000 true fans
How to hunt a whale in the desert
(Lawrence Altschul)
Listen to clients and provide a great level of detail.
Strive to build long-lasting relationships.
You never know who your next client is; treat everyone with dignity and respect.
How to tap into sports stars and celebrities
(Jennifer Lenz, Kofi Nartey, Nelson Gonzalez and Sue Firestone)
Celebrities have more handlers, so learn how to meet and deal with them.
Learn everything you can about these clients before you meet them.
Have expertise in a niche (ask yourself "Why am I the best?").
Create nation-wide connections.
Go through gatekeepers first.
Control discretion and media spin.
Marketing that works
(Ben Bacal and Paula Ansara-Wilhelm)
Only 4 percent of agents use video; get on it before everyone else does.
Buyers want video, sellers expect it and Google loves it.
Videos create "forever" content.
How a luxury brand is born: The making of the W Collection
(Brian Boero and Leigh Canlis)
Look to luxury brands such as Cartier for branding ideas.
Explore band identity outside of the box (don't just copy other agents).
Do more for your clients than expected; give the "white glove" experience.
Think Google: The luxury homebuyer
(Adam Fish)
61 percent of real estate visitors come from a mobile device (66 percent in luxury searches).
Make sure your website's text, pictures and page load speed is fast (two to three seconds).
Make sure your brand has very specific marketing for SEO purposes.
The hustle: A day in the life of a high-end agent/broker
(Aaron Kirman, Rochelle Atlas and Tim Smith)
Spend 90 percent of your day lead focusing on how to get more business.
Analyze how you are spending your time; it is on money making tasks or not?
Rochelle Atlas utilized drone footage to send to an out-of-town client to get a deal done.
Stay updated on your market so that you offer more than simply public stats. (Clients want to know more than just recent sales and listings.)
Join groups such as non-profit boards to expand network.
Independent success: How I started an independent brokerage
(Anothony Marguleas and Tami Pardee)
Anthony Marguleas branded in a way wherein he only took business over a certain dollar amount.
Tami Pardee's buyer agents and listing agents specialize and make over $250,000 a year.
Launching and maintaining your personal brand
(Branden Williams and Mia Trudeau)
Branden Williams had to overcome a bad reputation within his city.
Look toward other brands you respect and replicate them (Gucci, Ferrari).
Be meticulous about the detail in your marketing.
There you have it — the top takeaways from Luxury Connect. I hope you learned something. I know I did.
Dusty Baker is a high-volume real estate agent and established blogger.