Commissions remain higher in the U.S. than in any other wealthy country, according to a new study.
Conducted by a low-fee brokerage, the study was an update of a 2002 study conducted by independent economists.
The research suggests that the internet can drive down commissions.
In Sweden, homeowners typically paid a commission rate of 1.5 percent to sell a home in 2015, down from 5 percent in 2002.
Their Canadian counterparts spent 3 percent last year, less than the 4.5 percent they forked over in 2002. 
And the Germans? They shelled out 4.0 percent, compared to 4.5 percent in 2002.
But what about Americans?
They're still ponying up significantly more than other wealthy countries, typically paying 5.5 percent, down from 6 percent in 2002.
That's according to an update of a 2002 study released by Seattle-based, low-fee brokerage Surefield.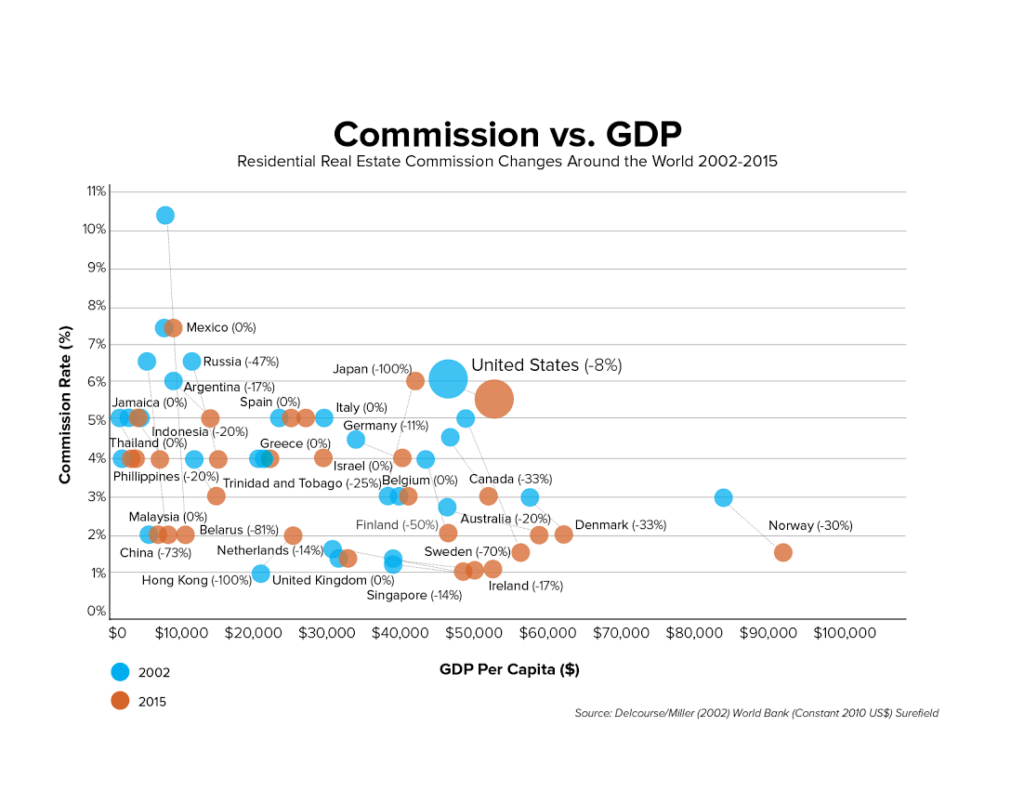 Surefield has every interest in convincing consumers that they overpay agents, so it may be tempting to dismiss the study out of hand.
But there are still at least three reasons to be aware of it:
The Wall Street Journal has covered the study, so don't be surprised if a potential client brings it up.

It builds on another widely-cited study that was conducted by economists, not a low-fee brokerage, in 2002.

And it appears to show that — as widely anticipated — the internet can drive down commissions.
2002 findings 
The original study, conducted by economists Natalya Delcoure and Norm Miller, looked at commission fees across 31 countries.
Typical commission rates were based on data "collected directly from brokers and industry experts" in each country and confirmed by attendees of two international real estate conferences; about half of those rates were obtained from One Realtor Place, a Realtor information website that was run by the National Association of Realtors (NAR) at the time, but it has since been taken down.
The headline finding was that commission rates in the U.S. are "abnormally high for a country as efficient as we presumed and as price competitive as we would like it to be."
"While differences were observed, we saw most industrialized countries at 5 percent or less, and most less industrialized countries were above 5 percent, the U.S. being an exception," the authors concluded.
They theorized that "greater reliability and the provision of more services" and high demand for agents from consumers might partly account for higher fees in the U.S.
But the most likely reason, they concluded, was "the interdependency of the traditional industry that has tended to reduce price competition and encourage imitative pricing."
That was a call-out of the U.S.'s real estate system of cooperative compensation, whereby a listing broker offers a commission to a buyer's broker for bringing a buyer to the closing table.
The updated study seems to bear out the thesis.
The only two countries where commissions increased from 2002 to 2015 — Japan (6 percent today, up from 3 percent in 2002) and Hong Kong (2 percent today, up from 1 percent) — also introduced buyer agency during that period, according to Surefield.
Surefield's update
But before we read too much into the update, first the caveats:
Unlike the original study, the update was conducted by Surefield, not independent economists. Surefield says it used the same methodology as the original study; however, because One Realtor Place is no longer operational, the update does not source rates from a NAR-sponsored information website.
Surefield is a rabble-rousing brokerage that charges a 1.5 percent listing fee to sellers while offering only $2,000 to buyer's brokers. U.S. listing brokers often charge between 5 and 6 percent, and half of that (which usually adds up to significantly more than $2,000) typically goes to a buyer's agent.
"Maybe if all countries had gone up to 12 percent commissions, I would not have bothered reporting the study, but we didn't have that issue!" said Surefield CEO David Eraker. 
Surefield consulted one of original study's authors, Miller, as well as Chad Syverson, a professor of economics at the University of Chicago. Both are paid advisers to Surefield.
How have things changed?
With that said, the update appears to confirm the key phenomenon uncovered by the original study — that U.S. commissions are abnormally high for a wealthy country. And it suggests that the internet holds the power to drive down fees.
Of the 32 countries surveyed, only Mexico (7.5 percent) and Japan (6 percent) — whose rate was 3 percent in 2002 before introducing buyer agency — had a higher rate than the U.S in 2015.
Commissions dropped in 18 countries of the 32 surveyed from 2002 to 2015. And where commissions fell, the average decrease was 32 percent. Japan and Hong Kong were the only countries where rates increased.
Technology has produced large savings in transaction costs for consumers in many countries where agents play an important role, but the U.S. "has been a peculiar exception to this," Syverson said.
"Even though homebuyers now play a larger role in finding and comparing potential homes, they have little to show for it in the form of reduced agency costs," he said.
The study showed five countries tied for the lowest commission at 1.5 percent. Four of those — Ireland, the Netherlands, Sweden and United Kingdom — were in Northern Europe.
Countries with commissions in the mid range for wealthy nations included Canada (3 percent, down from 4.5 percent in 2002), Belgium (3 percent, unchanged), Australia (2 percent, down from 2.5 percent) and Finland (2 percent, down from 4 percent).
After the U.S., wealthy countries with the highest commissions included France (5 percent — change unknown), Italy (5 percent, unchanged), Spain (5 percent, unchanged) and Israel (4 percent, unchanged).
Former and quasi-communist countries Belarus (2 percent, down from 10.5 percent), China (2 percent, down from 7.5 percent) and Russia (4 percent, down from 7.5 percent) showed some of the largest drops.
"The [U.S.] real estate industry and consumers would benefit greatly from the elimination of low-value-add, part-time agents and more reliance on knowledgeable agents doing more business transactions, but at lower fees," Miller said.
The industry has resisted pricing changes, the economist contends, because most consumers don't use agents very often and "accept prices that are mostly based on imitative pricing and cooperation, or silent collusion."
Miller said the U.S. real estate industry has not yet reached a tipping point — which he casts as inevitable — where firms "find it worthwhile to compete on price versus claims of faster sales or higher prices, neither of which is true."
Mark McLaughlin, the CEO of San Francisco brokerage Pacific Union, argues that the study "completely discounts, if not ignores, the intellect of the USA consumer."
Americans "have voted by their choices — they prefer trusted advice and most 'trusted' professionals operate on a platform of value creation, not discounted fees."