After months of seriously low housing inventory — which has affected affordability throughout the country — it looks like there's good news for buyers on the horizon.
According to the U.S. Department of Housing and Urban Development, October privately-owned housing permits were at a seasonally adjusted rate of 1,229,000 — a 0.3 percent month-over-month increase from September, and a 4.6 percent year-over-year increase from the October 2015 estimate of 1,175,000.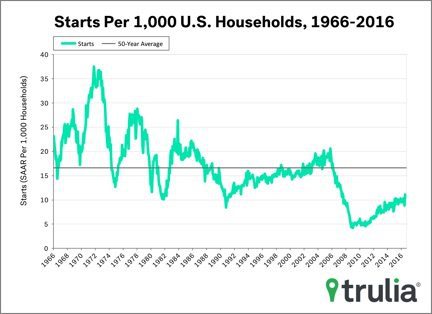 Single-family housing permits were at a rate of 762,000, a 2.7 percent month-over-month increase from September's revised rate of 742,000.
Construction starts were strong in October as well — privately-owned housing starts experienced a 25.5 percent month-over-month and 14.4 percent year-over-year increase to a seasonally adjusted rate of 1,323,000.
Single-family housing starts boomed to a rate of 869,000, a 10.7 percent month-over-month increase from September's 785,000.

Why you should never buy an email list
This seemingly easy fix is actually risky and hard to repair. Here's why.
READ MORE
Lastly, privately-owned housing completions rose 5.5 percent month-over-month and 7.2 percent year-over-year to a rate of 1,055,000. Single-family completions were at a rate of 749,000 — 3.9 percent above September's rate of 721,000.
National Association of Realtors Chief Economist Lawrence Yun says the report is just the message the housing market needs after a year plagued by low inventory.
"Housing starts soaring past the 1.3 million mark for the first time since 2007 is big and welcoming news. The choke point of the housing market growth potential has been the lack of supply," Yun said in a statement.
"The consequent tight inventory conditions has been pushing up home values to rise at a faster rate than income growth over the past four years. This in turn has hurt affordability and contributed to the homeownership rate dipping to a 50-year low.
"Now that supply is improving, future price growth should taper a bit. There is no oversupply threat and even more construction is still needed to help relieve housing shortage. Let's hope the rising construction activity continues," Yun concluded.
Trulia Chief Economist Ralph McLaughlin echoed the same sentiments in his statement, along with a prediction on how President-elect Donald Trump will impact future growth.
"A big question heading into 2017 is how homebuilders will fare under a Trump administration. While we think some of his broader economic policies might hurt builders, such as immigration and trade policies that could restrict both labor supply and raw materials, we also think he'll likely implement builder-friendly policies, such as infrastructure stimulus and financial sector reform," McLaughlin said.
"President-elect Trump could implement a number of policies to help push the number of starts toward their historical average, but there's a long way to go. Though Mr. Trump as discussed demand-side policies that would ease mortgage lending, such as Dodd-Frank reform, we encourage the President-elect to also focus on supply-side policies given inventory shortages across the country."
The metrics in the New Residential Construction report measure new, privately owned housing units, excluding manufactured (mobile) homes. The U.S. Census Bureau and HUD collect the data from the Building Permits Survey and from the Survey of Construction, which is partially funded by HUD.
The Building Permits Survey produces estimates of the number of permits issued for new housing units based on a mail survey of a sample of permit offices. The Survey of Construction produces monthly estimates of housing starts and completions; Census Bureau field representatives sample individual permits within a sample of permit offices and then interview the builders or owners who took out the sampled permits to obtain start and completion date, as well as sale dates and characteristics, such as size and number of bedrooms.
Field representatives also drive roads looking for new residential construction activity in land areas where building permits are not required.