We'll add more market news briefs throughout the day. Check back to read the latest.
Campbell/Inside Mortgage Finance HousingPulse Tracking Survey for October 2016:
Non-distressed properties sold during October had an average price of $297,300, based on a three-month moving average.
This is an 1.8 percent decline from the previous month and a 4.1 percent decline from the average price of $310,000 in August.
Prices in October were up by 3.4 percent year-over-year.
National Association of Realtors Existing-Home Sales for October 2016:
Total existing-home sales were at a seasonally adjusted annual rate of 5.60 million in October.
This is a 2.0 percent month-over-month increase from the upwardly revised rate of 5.49 million in September.
A year ago in October, the sales pace was 5.29 million.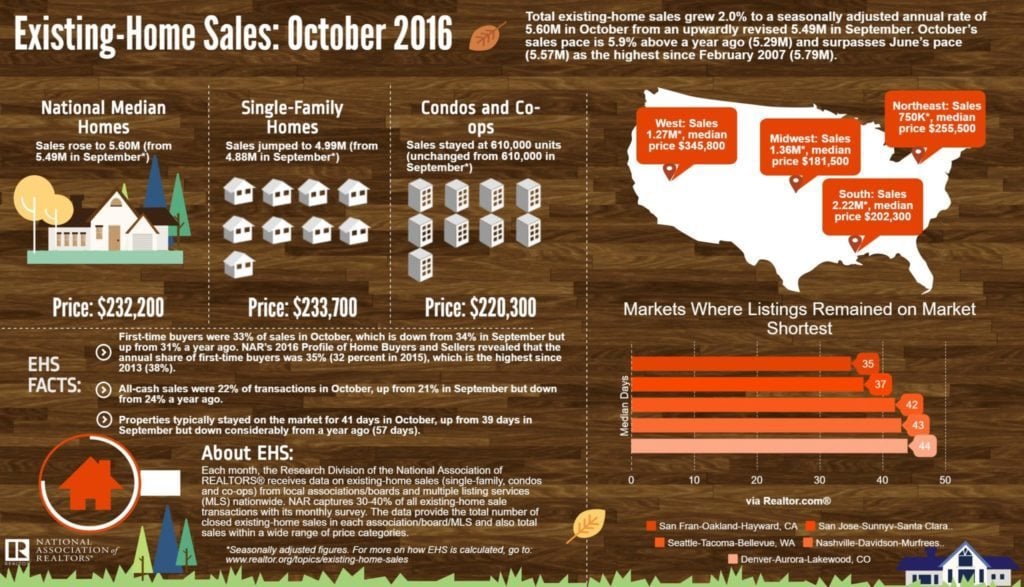 Mortgage rates:
Home equity rates:
Most recent market news:
First American October 2016 Potential Home Sales:

Episode 2 - Defining Success Through Failure
"Who am I? Why am I making these decisions? I came out of all that deciding who I was." - Gary Keller
READ MORE
Potential existing-home sales increased to a 5.9 million seasonally adjusted, annualized rate (SAAR).
This represents a 97.4 percent increase from the market potential low point reached in December 2008.
In October, the market potential for existing-home sales grew by 6.7 percent compared with a year ago, an increase of 376,000 (SAAR) sales.

Email market reports to press@inman.com.