An hour after President Trump was sworn in, HUD issued a letter indicating the suspension of FHA's annual mortgage insurance premium reduction.
The National Association of Realtors along with the California Association of Realtors both expressed their disappointment in the suspension, and its potential impact on homebuyers.
Real estate professionals could be experiencing delays for those clients who had planned closings around the Jan. 27 reduction implementation, but many are not overly worried about the impact of the suspension on their market.
Real estate professionals who had delayed closings to take advantage of the Federal Housing Administration's (FHA) annual mortgage insurance premium (MIP) cuts have to tell clients, "Just kidding."
Eleven days after FHA announced its plan to reduce MIPs by a quarter of a percentage point, and an hour after President Trump was sworn in, the Department of Housing and Urban Development announced in a letter that cuts were "suspended indefinitely."
In response to the news, real estate industry players who were optimistic about boost for low- to moderate-income buyers have expressed a range of disappointment, understanding and commitment to avoiding disruption for clients and lenders who were anticipating the reduction, which was set to take effect Jan. 27 before the suspension.
Many are also reflecting the sentiment of "no big deal — let's carry on."
National Association of Realtors: 'We're disappointed'
According to the National Association of Realtors (NAR), the MIP reduction would have prompted annual premiums to drop from 0.85 percent to 0.6 percent.
"Every time we cut the cost of mortgage insurance it means more borrowers meet the debt-to-income ratio required to purchase a home," NAR president William E. Brown said at the time.
Moreover, new borrowers who took out FHA-insured mortgages would have saved an average of $500 this year, HUD said.
Reacting to the MIP suspension news, Brown said in a statement: "According to our estimates, roughly 750,000 to 850,000 homebuyers will face higher costs and 30,000 to 40,000 new homebuyers will be left on the sidelines in 2017 without the cut.
"We're disappointed in the decision but will continue making the case to reinstate the cut in the months ahead."
The California Association of Realtors (C.A.R.), which had also previously indicated its support of the reduction, expressed concern for California homebuyers in particular.
"We hope HUD and the Trump administration will make it a priority to quickly review the reduction in the FHA mortgage insurance premium," said C.A.R. President Geoff McIntosh in a statement. "Homebuyers in California, who would have saved an average of $860 a year, will be negatively impacted more than any other state by the decision to not reduce the FHA premium.
In a comment thread about the news on a real estate Facebook Group, Compass Realtor Jorge Fernandez wrote, "It surely would have helped a segment of the population that would have been able to purchase. #ratios".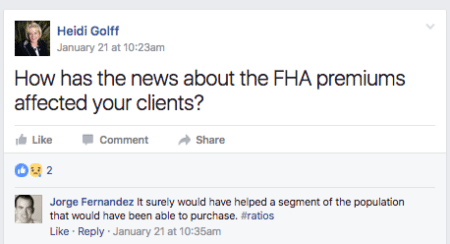 Agent Paul Holland had a different view, responding: "It could have helped a segment of the population sure, until the whole program fails and we have to bail it out again like we did in 2013. Let's think long term for all of America, not just help a few people in the short term."
Closing delays and other potential impacts
A big question is how real estate professionals and clients who had planned closings around the Jan. 27 MIP reduction will change course. Those who were newly qualified thanks to the cut may no longer be able to afford a mortgage, but those who were just snagging the lower rate (and still qualify at the higher rate) should still be able to move forward, albeit with some potential process disruption.
Redfin agent Karen Parnes shared with the Facebook group: "We delayed closing by a week for two clients so that they could get the lower rate. Now they [won't.]"
"…[Hopes] were up and it ended up being for nothing," she added.
Associate broker Jon Hegreness said he had a moment of panic upon hearing the news "for all of 5 seconds without thinking about the true implications or impacts."
"When I called the [buyer's] agent to start the conversation I was basically laughed at and told we were still fine. That was about the gist of it. They still qualify," Hegreness added.

President at Host Management Group Stefanie Hostetter noted that without a larger margin of dollars saved, the impact on buyers will be minimal, though it could affect where those who would have qualified for the cut spend their money.
"I think that it won't effect people buying as the [money] amount wasn't that much. However, maybe people won't purchase that brand new fridge or dishwasher to go with their new home," Hostetter told the group. "That extra $500-$900 per year per person would have increased spending on extra things. What Obama essentially did was give a 'tax break' through FHA for those that could've used it, and Trump gave that 'tax' if you will right back to them."
A number of real estate professionals also noted that if a buyer was making a purchase decision based on a reduction in MIPs alone, then that could mean they weren't quite ready to take on buying a home anyway.
Another main message from the industry was "we have bigger fish to fry," and other changes that could have a more sweeping effects.
Agent Rich Shearrow laid out the following as examples of "major impacts" on the Facebook thread:
Elimination of the lifetime MIP requirement;
Change in the methodology of the upfront insurance;
Increase in the FHA 203(b) Repair Escrow limits;
Revamp of FHA's Streamline 203(k) Rehabilitation Mortgage Insurance Program (the Department's primary program for the rehabilitation and repair of single family properties) draw-schedule regulations — which is the detailed payment plan for a construction project — "which would allow for more competitive bidding and/or terms on repairs/renovations," Shearrow said.
And in a separate thread on Inman Coast to Coast, Realtor and Associate Broker J D'Ann Faught added, "I think a bigger issue than the cut is life of loan PMI [private mortgage insurance] — would like to see that addressed before a rate cut. Or perhaps how student loans are considered for my clients applying for a mortgage."
Good for taxpayers?
The health of the FHA's Mutual Mortgage Insurance Fund, which pays FHA lenders when borrowers default on FHA-insured mortgages, has improved for four straight years, gaining $44 billion in value since 2012, according to HUD. The fund's capital ratio now stands at 2.32 percent of all insurance in force.
Ed Golding, principal deputy assistant secretary for HUD's office of housing, said in a statement at the time of the Obama administration's reduction announcement that, "We've carefully weighed the risks associated with lower premiums with our historic mission to provide safe and sustainable mortgage financing to responsible homebuyers."
However, Edward Pinto, co-director and chief risk officer for the International Center on Housing Risk, called the repeal of the MIP cuts "good news for taxpayers" as the suspension "will result in additional needed capital accumulation by the FHA."
"There is general agreement that the current 2 percent minimum standard is just that, a minimum," Pinto said in a statement.
He cites examples from the last session of Congress when both the Senate Banking Committee and the House Financial Services Committee offered up bills to raise that minimum to 4 percent, a sentiment that was also echoed in HUD's 2014 fiscal year report, according to Pinto.
"…When the FHA last lowered its premium in 2015, the result was to extend the time needed to accumulate 4 percent in capital. Just as important to taxpayers, suspending this price cut may well forestall the usual tit-for-tat responses from the FHA's tax-payer supported competitors — responses that only serve to fuel a race to the bottom."
In its letter, HUD addressed its commitment to "all parties" involved in the mortgage insurance programs, "especially our taxpayers."
What about the lending side?
The Mortgage Bankers Association (MBA) noted that lenders have already started preparing for the MIP decrease, and that any new policy should take minimizing disruption to borrowers and lenders into account.
The MBA, which earlier pledged its support for Trump's HUD secretary nominee Ben Carson, added "We recognize the Administration's need to examine the overall health of the insurance program and weigh that against the benefits of lowering mortgage insurance premiums."