We'll add more market news briefs throughout the day. Check back to read the latest.
Freddie Mac's Primary Mortgage Market Survey:
30-year fixed-rate mortgage (FRM) averaged 4.17 percent with an average 0.4 point for the week ending

Feb. 9, 2017.

This was down from last week when it averaged 4.19 percent.
A year ago at this time, the 30-year FRM averaged 3.65 percent.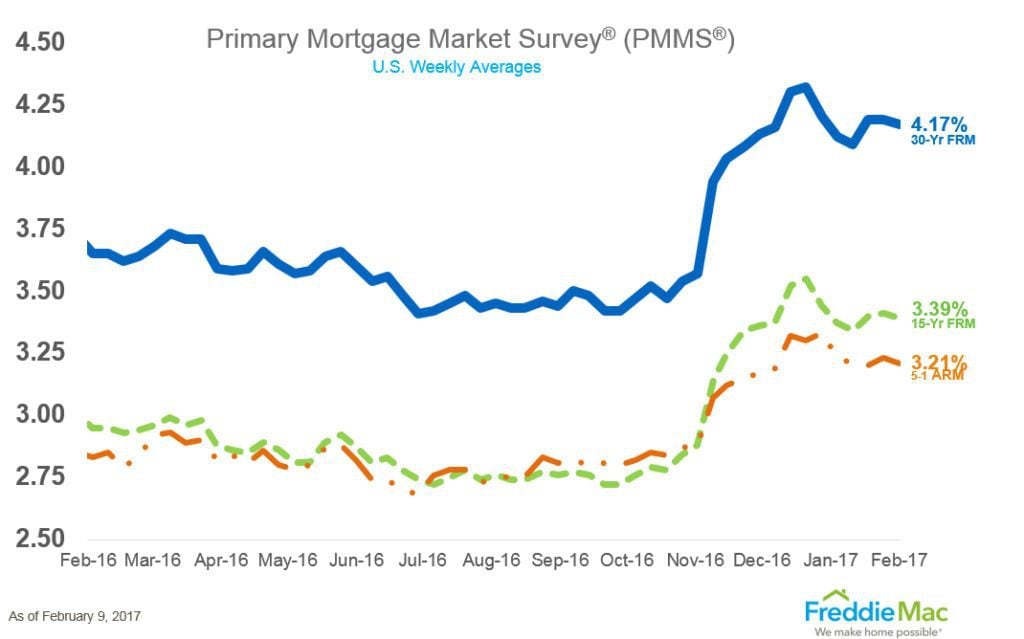 National Association of Realtors' quarterly sales pace report:
The median existing single-family home price increased in 89 percent of measured markets, with 158 out of 178 metropolitan statistical areas (MSAs) showing sales price gains in the fourth quarter of 2016 compared with the fourth quarter of 2015.
Twenty areas (11 percent) recorded lower median prices from a year earlier.
An average of 87 percent of measured markets saw increasing home prices, up from the averages in 2015 (86 percent) and 2014 (75 percent).
Attom Data Solutions Year-End 2016 Home Equity and Underwater Report:
As of the end of 2016, there were 5.4 million (5,408,323) U.S. properties seriously underwater — where the combined loan amount secured by the property was at least 25 percent higher than the property's estimated market value.
This is a decrease of more than 1 million properties (1,028,058) from a year ago.
The 5.4 million seriously underwater properties at the end of 2016 represented 9.6 percent of all U.S. properties with a mortgage, down from 10.8 percent at the end of Q3 2016 and down from 11.5 percent at the end of 2015.
Mortgage rates:
Home equity rates:
Most recent market news:
Mortgage Bankers Association's Weekly Applications Survey:

The Nanny Cam and other privacy issues in real estate
A can't-miss course takes on pressing new legal concerns for every agent
READ MORE
Mortgage applications increased 2.3 percent from one week earlier for the week ending February 3, 2017.
The refinance share of mortgage activity decreased to 47.9 percent of total applications, its lowest level since June 2009, from 49.4 percent the previous week.
The FHA share of total applications decreased to 11.9 percent from 12.1 percent the week prior.
Email market reports to press@inman.com.