We'll add more market news briefs throughout the day. Check back to read the latest.
National Association of Realtors' Existing-Home Sales for January 2017:
Total existing-home sales expanded 3.3 percent to a seasonally adjusted annual rate of 5.69 million in January from an upwardly revised 5.51 million in December 2016.
This is 3.8 percent higher than a year ago (5.48 million).
January also surpasses November 2016 (5.60 million) as the strongest month since February 2007 (5.79 million).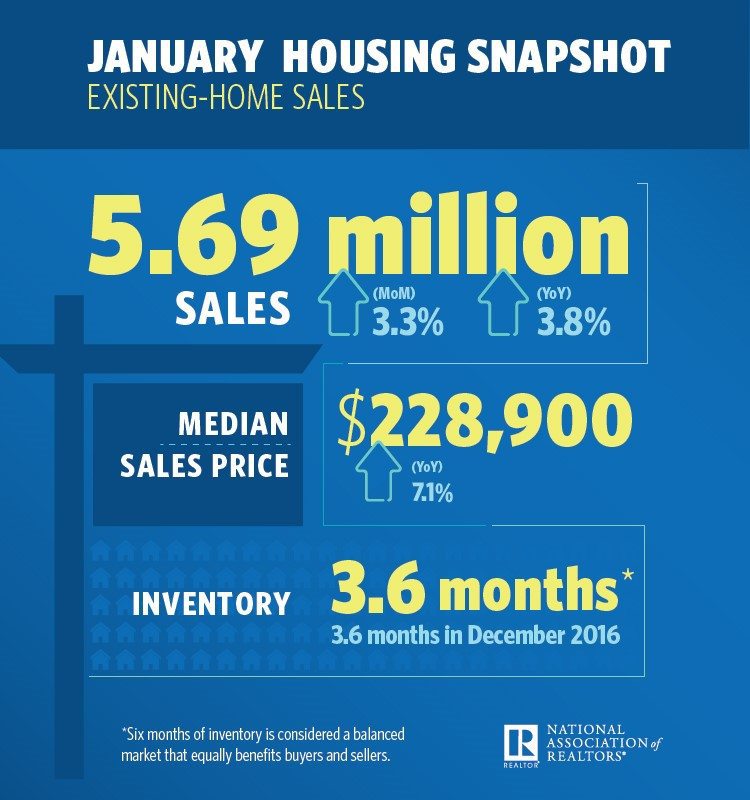 Mortgage Bankers Association's Weekly Applications Survey:
Mortgage applications decreased 2.0 percent from one week earlier for the week ending February 17, 2017.
The refinance share of mortgage activity decreased to 46.2 percent of total applications, the lowest level since November 2008, from 46.9 percent the previous week.
The average contract interest rate for 30-year fixed-rate mortgages with conforming loan balance increased to 4.36 percent from 4.32 percent.
CoreLogic Market Pulse Report for February 2017:
Home prices were up 7.2 percent in December 2016.
The cash sales share in October 2016 was 31.8 percent.
The distressed sales share in October 2016 was 7.7 percent.

Mortgage rates:
Home equity rates:
Most recent market news:

Future-proof your business using lead management strategies
Handle your growing lead database more effectively as homebuyers take more time to shop for real estate during this market shift
READ MORE
First American's Potential Home Sales Model for January 2017:
In January, the market potential for existing-home sales fell by 1.9 percent compared with a year ago, a decline of 107,000 (SAAR) sales.
Currently, potential existing-home sales is 328,000 (SAAR) or 13.8 percent below the pre-recession peak of market potential, which occurred in July 2005.
The market for existing-home sales is underperforming its potential by 0.2 percent or an estimated 9,500 (SAAR) of sales, which is the smallest performance gap in the last 18 months.

Email market reports to press@inman.com.