Colorado-based MLS Information and Real Estate Services now offers data visualizations powered by CoreLogic and Graphiq on each of their listings.
Colorado-based MLS Information and Real Estate Services (IRES) has become the first CoreLogic client to begin offering Graphiq data visualizations to homebuyers who use IRESis.com or ColoProperty.com for their home search journey.
"The public has access to more data than ever, but a lot of it can be difficult to understand," said IRES CEO Lauren Hansen of the new integration in a press release.
"We're helping Colorado brokers and homebuyers make better real estate decisions by visually representing complex data in a way that is clear and comprehensible. The data visualizations from Graphiq and CoreLogic are excellent for our purposes."
The data, taken from CoreLogic's analytics database, are turned into interactive visualizations that illustrate property lot size, tax and transaction information, local real estate trends such as home equity and home price indexes, school ratings, commute times and demographic breakdowns.
As the data is updated, the visualizations are updated immediately to reflect the most current information.
The visualizations can be accessed in two ways on each listing — by clicking the "More Property Details" button under the "General Features" tab or by clicking one of the options underneath the "Neighborhood" tab.
Although this update is consumer-facing, CoreLogic Director of Media & Public Relations Alyson Austin says agents can use these visualizations to better educate their clients and stay abreast to changing trends easier.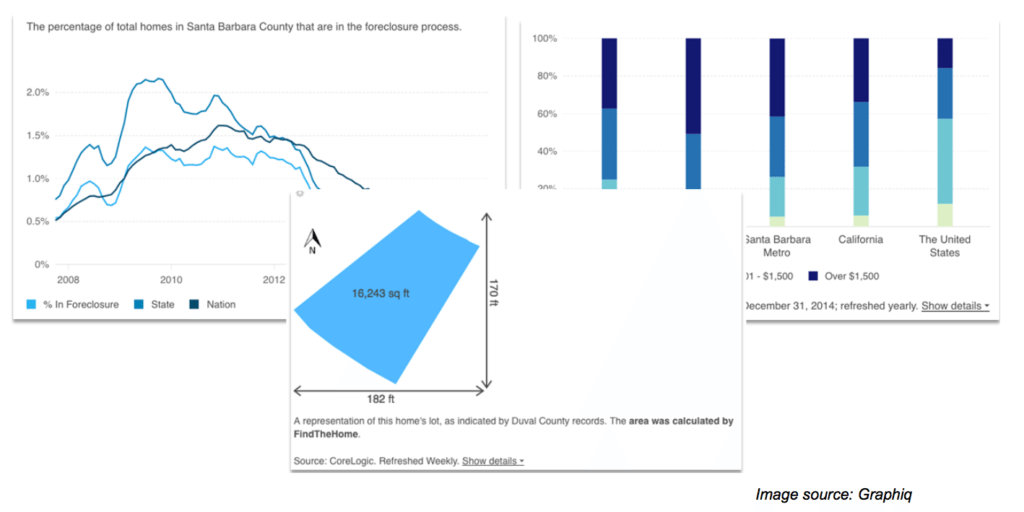 "The visualizations are geared towards providing important real estate information to end-users directly as well as to agents so they can inform potential homebuyers," she said in an email.
"Agents are expected to be knowledgeable about the local real estate market, having insight into specific neighborhoods and schools nearby and knowing the transaction history of a house," she added. "Therefore, the visualizations will benefit both end-users as well as agents."
Agents and homebuyers working and searching for properties outside of Colorado will be able to access Graphiq visualizations on CoreLogic's Matrix Multiple Listing Platform and Matrix Client Portal.
"Easy-to-understand information that offers unique property insights is fundamental to the CoreLogic mission," said Chris Bennett, general manager of Real Estate Solutions for CoreLogic, in a statement.
"Graphiq technology is advancing the industry by delivering the type of visual solutions modern consumers are clamoring for."