The industry is up in arms about Zillow displacing agents and brokerages, but the data doesn't support it.
Instant Offers is about giving consumers choice, expanding the existing lead marketplace and providing a new source of revenue with seller leads.


Over the past week, real estate has been dominated by news of Zillow Group's Instant Offers. The new program, which allows prospective homesellers to receive an instant offer on their home, has been covered across the industry and met with a largely negative reaction.
A thought provoking article in VentureBeat rhetorically wondered whether Zillow could "Uber-ize" the hundred-billion-dollar real estate brokerage business. The author claims that Zillow is well positioned to disrupt the industry and capture an even larger share of the brokerage market.
There's an immense amount of interest related to Zillow disrupting or displacing the traditional real estate industry structure. It's a huge opportunity, but one fraught with risk.
I'm going to approach this situation from two angles: first, my own time as head of strategy for a publicly listed multi-billion dollar business and, second, what the data tells us.
Instant Offers: offensive, defensive or opportunistic?
The key strategic question in all of this is whether Instant Offers is an offensive, defensive or opportunistic move by Zillow?
If Instant Offers is an offensive move and amounts to Zillow's first salvo against the real estate industry, it's a strange one. It's just too far removed from the endgame of displacing real estate agents. The risk doesn't match up with the reward.
Perhaps it's a defensive move against the rapid rise of Opendoor and its growing list of national competitors. With Opendoor raising over $300 million and valued at over $1 billion, it's difficult to ignore. But even a disruptive operation like Opendoor still needs to sell houses, and those houses will appear on Zillow. And with a 2 percent market share in the Phoenix market, it still has niche appeal — not exactly an existential threat to Zillow.
So, the most likely answer is that Instant Offers is an opportunistic move by Zillow. It wants to capitalize on the growing consumer demand for instant home offers and sees it as a new potential revenue stream whereby it can collect and monetize seller leads.
This fits well with Zillow's existing business model: It continues to operate as a marketplace, monetizes leads and sells those leads to real estate agents. It's a natural extension, rather than a radical disruption.
Real estate websites versus agents
Real estate websites around the globe have the same problem: a love-hate relationship with real estate agents, who happen to be their biggest customers. The top sites are fighting a constant battle to extract more money from their customers through regular price increases and value-added services.
On the other hand, real estate agents pay the sites for advertising, exposure and leads because of the clear return on investment, but do so begrudgingly and with a sense of fear. Most agents are afraid of these sites gaining too much power, continually raising prices and perhaps even replacing them with an online-only offering.
While real estate sites are best positioned to disrupt the real estate industry by displacing agents, they're also the least likely to do so because agents are their biggest customers and source of revenue.
Case in point: the Trade Me Property price rise. While I was at Trade Me, New Zealand's dominant horizontal, we initiated a modest price rise for agents. It was a change from an all-you-can-eat model with a flat subscription fee towards a pay-per-listing fee. It was not well-received.
Real estate agents across New Zealand were angry. They did not take kindly to a price rise and organized themselves around our rival and no. 2 on the market, the industry-owned realestate.co.nz.
The impact was a material narrowing of the traffic gap between both sites — arguably the most important factor for a real estate website (see network effects for more on that).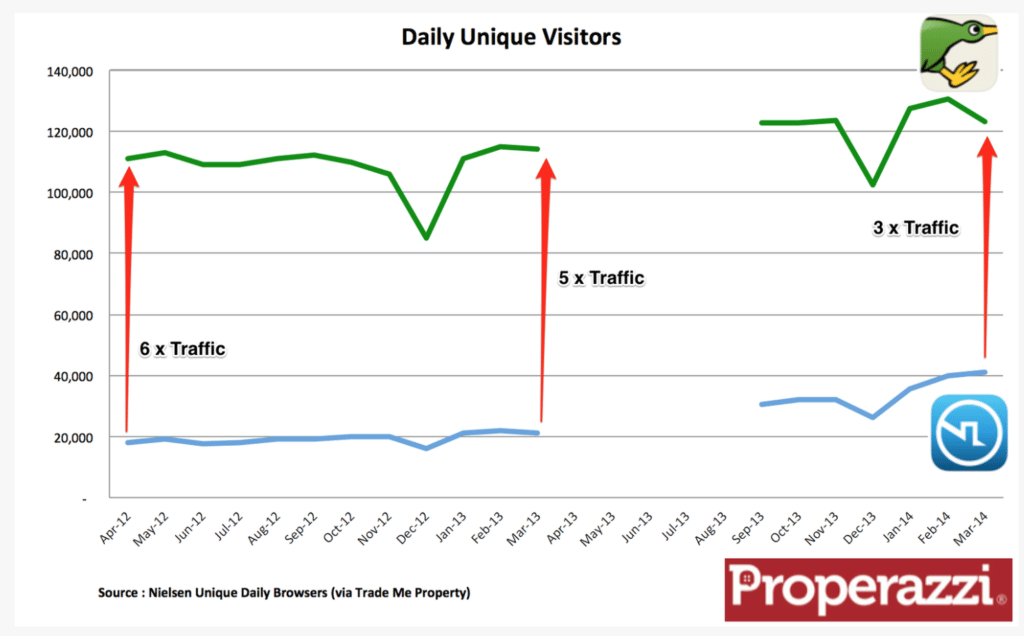 Source: http://properazzi.co.nz/insights/trade-me-property-vs-realestateconz-the-debate-continues
Trade Me Property's traffic lead dropped from five times to three times the traffic of the no. 2 rival. Increasing prices for real estate agents — let alone disrupting them — isn't easy.
(Zillow's traffic is approximately three times higher than realtor.com, its top competitor in the U.S.)
I believe there are a number of critical preconditions for a real estate website to truly disrupt real estate agents:
A monopoly on traffic. Ideally there is no major no. 2, but if there is, the top site needs to have a massive traffic advantage.
Revenue diversification. The less reliant the site is on revenue from agents, the better able it will be to withstand a revenue hit.
A strong brand. It should be well-known in the market and be seen as a leader in the field, the equal of any strong brokerage.
Online tools to disintermediate brokers. A portal needs to offer all the tools and capabilities that a brokerage offers, including CRM, document signing and management, marketing and promotional tools, lead capture and management, and inventory management.
Revenue diversification and risk
Most real estate platforms capture their revenue from agents. Whether spending their own money to promote themselves or buy leads, or spending their vendor's money to advertise a property, the agent controls the purse strings.
In the case of Zillow, around 70 percent of its revenue comes from real estate agents. While not surprising, it's still a big number that reflects little diversification. Furthermore, as we can see below, that number hasn't changed much over the past four years.
Zillow does not look like a business trying to diversify its revenue.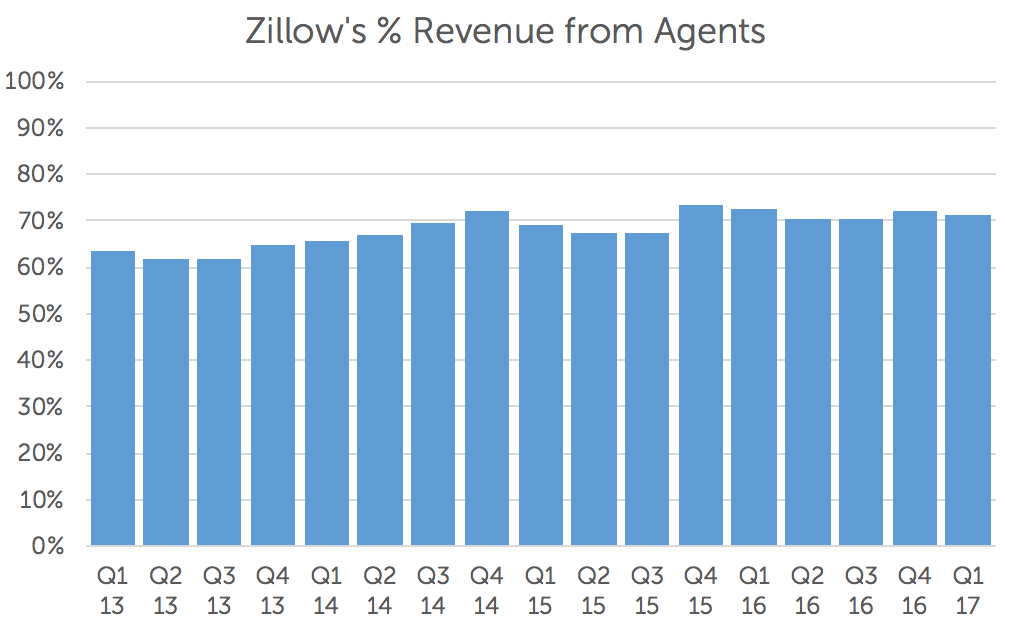 Zillow fully believes it is at the beginning of its journey, not the end. It sees plenty of runway left to grow its revenues even higher as more spending happens online.
In other words, Zillow is making a ton of money with its current business model and sees plenty of growth left. Why put that at risk by killing the goose that lays the golden eggs?
We can also see that Zillow's revenue share from agents is on par with its global peers. Most of the major players illustrated below receive between 65 percent and 75 percent of revenues from agents.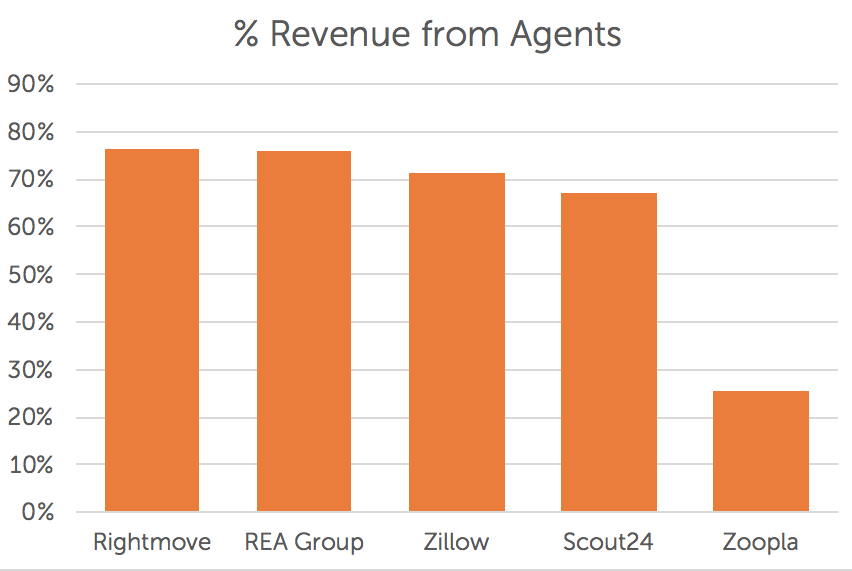 Zoopla, the single exception, has taken a proactive strategy to diversify its revenue streams and steer away from agents as a main source of income.
In 2015, it acquired uSwitch, a price comparison business, for £160 million and the acquisitions have continued at a brisk pace since then, all in an effort to expand along the value chain and become a one-stop-shop for consumers and real estate professionals.
Unlike Zillow, Zoopla looks like a business that is diversifying its revenue streams. With that clear strategy in place, revenue diversification has followed.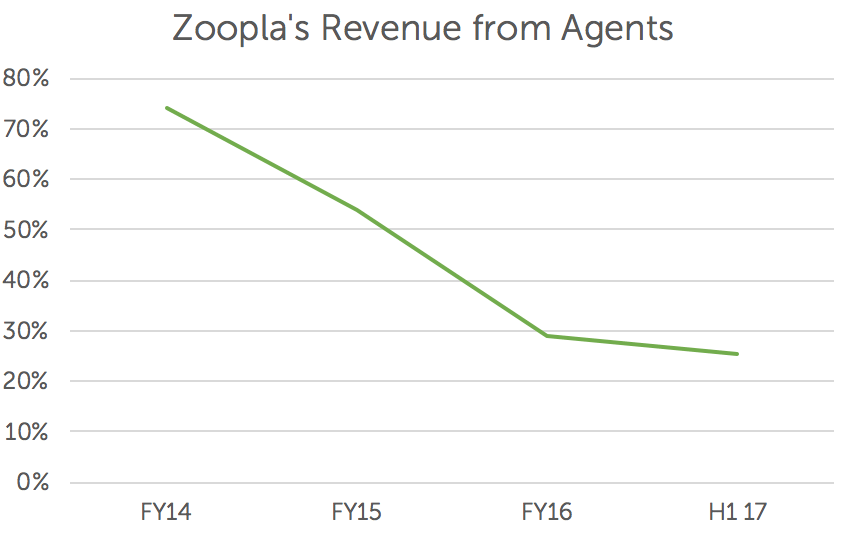 Of all the major real estate websites in the world, Zoopla is best positioned from a revenue diversification standpoint to disrupt the industry.
What Instant Offers is really about
Given what we know about its strategy and what the data shows us, I consider it unlikely that Zillow is making moves against the industry. The existing business is just too lucrative to put it all at risk.
Instant Offers is about giving consumers choice, expanding the existing lead marketplace and providing a new source of revenue with seller leads.
It's also just a test.
Zillow is not well positioned to make a big move against the industry. Its revenue is not diversified and there is a strong no. 2 on the market.
Regardless, Instant Offers should be intriguing to all of the major real estate websites around the world. It's capitalizing on a pro-consumer offering that can make these sites more valuable to consumers around the world.
I guarantee many people — myself included — will be watching this test with great interest.
Mike DelPrete is a consultant and principal with the AIM Group, where this article was originally posted.