Find a farm by asking yourself where you want to operate, what areas you know already and where you'll have the most (or least) competition.
Nurture your sphere with a combination of social media and email tactics, plus old-school ideas that work -- door-knocking and direct mail among them.
DENVER — "You might have heard pot is legal here, and that has really accentuated our low inventory situation." That's how Stacie Perrault Staub, broker-owner at West + Main Homes in Denver, opened up her joint session with Greg Eckler (broker-owner at Denver Realty Experts) at the Real Estate Webmasters Summit on Friday afternoon.
"Our buyers have nothing to look at, and it's really hard to get sellers to think about selling because they have nowhere to go and nobody wants to leave Colorado," she added.
That means brokers like Staub and Eckler are getting creative to get clients and find them homes. Here are some of the tactics they're using.
Find yourself a farm
Prospecting for listings involves two major factors, the Denver experts said: Nurturing your sphere and tending to your farm.
Some real estate agents might think that even considering a farm in a low-inventory market is counter-intuitive, Staub noted. "Agents are scattered all over the place because inventory's so low that you have to go where the money is; you have to take buyers wherever they want to go and take listings anywhere," she said.
However, ignoring the benefits of a farm is a short-sighted philosophy, she added. "I really believe — and I think statistics prove — that having a strong farm area and sticking with it really pays off in the long term. You guys know: This market is going to fluctuate and we're going to see changes," she said.
If agents already have an area where they know they like to operate, you can help them find focus with a farm by asking them to consider:
What are the boundaries of the area?
How many homes are included?
What's the mix of owner/occupants vs. non-occupying owners?
If your agents don't have a farm area, ask them these questions to get them thinking about where they might want to start homing in on homes.
Where was your last listing?
Where would you love to have your next listing?
Where do you sell the most homes?
Where do you live?
Who is your ideal client?
Where do they live?
Farming in Denver: A case study
Eckler explained how this might work in practice by discussing how he's crunched some numbers to determine whether an area would be an effective farm (or not).
First, he created some special boundaries for Denver neighborhoods so he could ensure he was getting accurate information — some agents might say a home is in Highland when it's actually in Sunnyside, so he needed to control those issues. He had a programmer marry his geocoded map boundaries to MLS address data to help him figure out which farms were most worth his time.
One neighborhood he studied was Stapleton.
In Stapleton, most homes are less than 10 years old. The majority of homes are priced between $400,000 and $600,000, the fastest-selling price range right now in the metro area.
What's not to love? Eckler looked at one more metric: How many agents seem to also be focusing on Stapleton, based on MLS data.
It's going to be tough to get a foothold in this market, he noted.
So Stapleton might be a challenge — what about City Park?
City Park is a smaller neighborhood, and the majority of homes in the neighborhood are attached. Eckler noted that most homes are at least 100 years old or less than 20 years old — a much bigger spread than in Stapleton. The average price point is from $300,000 to $500,000.
However, the number of agents who are paying attention to this neighborhood (especially compared to Stapleton) indicates a farm that would be much easier to scoop up.
Eckler also has an interactive tool on his website that lets buyers and sellers see a lot of the price point information and other data that he's curated, too.
Prospecting for buyers and sellers
"People respond to different types of prospecting, so you have to mix it up," noted Staub.
In years when the seller's market is really strong, she says it makes most sense to spend your prospecting time and money in the first and last quarters of the year, when you should be focusing on sellers.
In the second and third quarters of the year, focus on prospecting for buyers.
Facebook custom audiences
She discussed a strategy that she's been using: Creating a "custom audience" on Facebook for her farm.
Here's how it works: She gets together with her title company, who pulls a list for Staub that contains prospects in Staub's farm. "She doesn't just take a subdivision and go 'there's your list,'" she noted. "She really pays attention and thinks about who my ideal clients are."
When she has that list as a CSV file, "it's very, very easy to create a custom audience," Staub explained.
Facebook has created 15 identifiers they can use to identify a person. "As long as you have their first and last name and ZIP code, Facebook is all over it," Staub said.
There's a step-by-step process you can use to upload your farm's custom audience, and there you have it.
Once you've got your custom audience, it's time to "design a highly visual, effective ad targeting buyers or sellers."
Staub likes telling buyer prospects that she has all the listings in the neighborhood (but Zillow doesn't) and seller prospects that she can offer them a simple home valuation.
She's also a believer in forced registration. Eckler noted that offering a free giveaway of some kind via a squeeze page or landing page is another effective way to capture an email address and serve up ads to your prospect on Facebook.
Old-school tactics
Staub reinforces her Facebook spending with old-school tactics because they work, she said.
She suggests committing to a postcard campaign and sending them out once every two months. Breakthrough Broker is one free tool that offers targeted content for postcard campaigns.
And door-knocking is another tactic — not very fun to do, but very effective, she noted.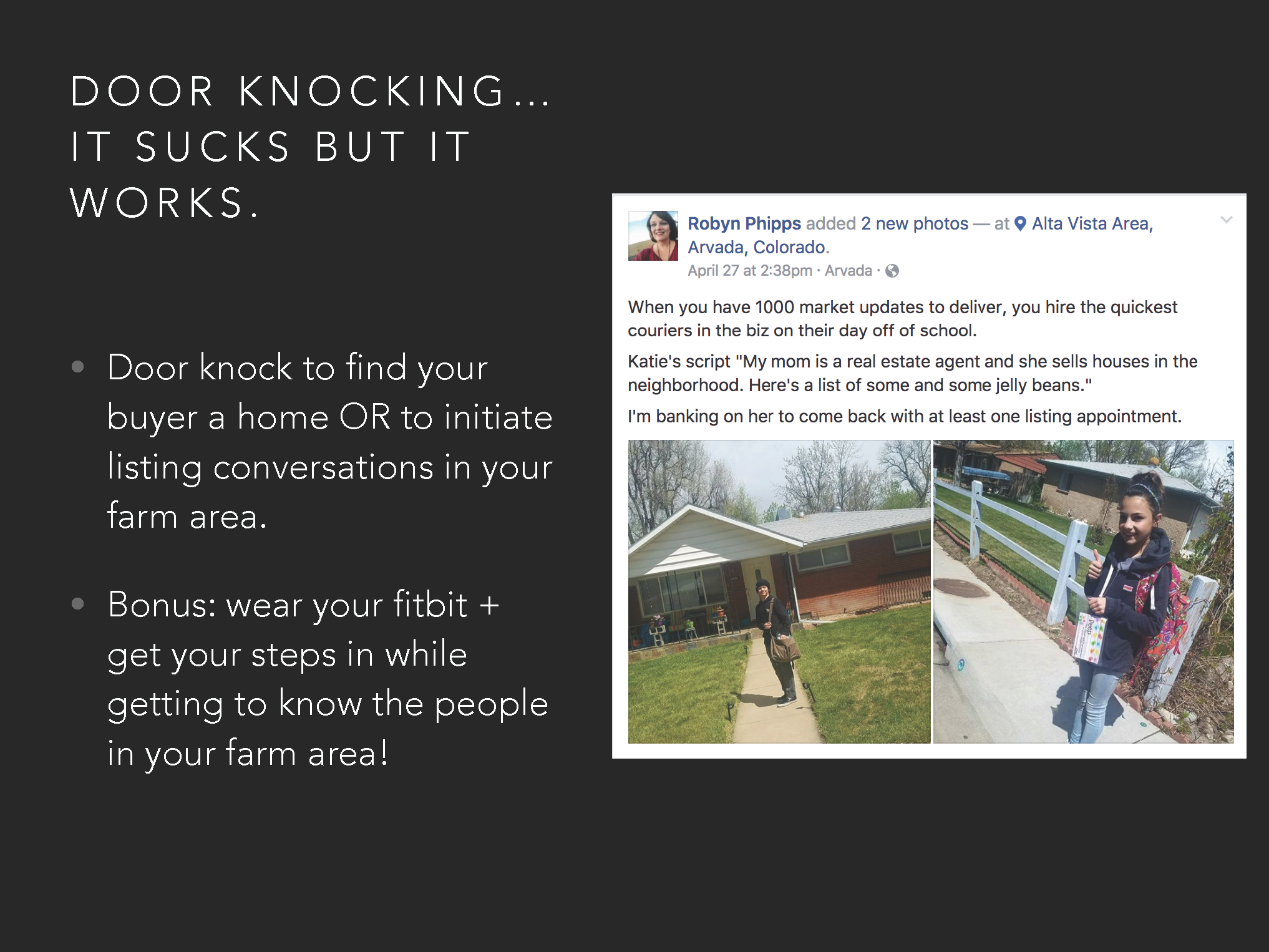 You can get the kids in on the fun, too — bring something to leave at the door if there isn't anyone home, including a small gift (like the jellybeans). A simple, effective sheet to introduce yourself will suffice.
Don't forget to knock — if no one is home, use a sheet or door-hanger to introduce yourself.
Taking email to the next level
If you haven't already segmented your email database, then you are probably not sending your email list the content that's most relevant to them — and that's a missed opportunity.
"The further down you can drill, the better the chance is that you can make a genuine connection through your content," Staub noted.
You can divide your clients into the "As, Bs, Cs," segment them geographically, organize them according to how you know them or filter them by the type of client they are: seller, buyer, past client or referral source.
Staub went over some email marketing basics:
The more often you send, the better the ROI
The content has to be valuable
It has to have a great subject line
It has to have strong calls to action
Pro tip: Put an emoji in the subject line for a better open rate
'Every open house is an event'
If this is your philosophy, Staub noted, your sellers will feel very special and like you've gone above and beyond for them, and buyers will (if nothing else) enjoy the event you've put together.
Start marketing the open house well in advance, Staub said. Send out invitations and advertise everywhere you can think that will take your ad.
Ask your guests to RSVP in advance and register at the door (email capture!), and treat everyone who walks in like a friend who's come to enjoy your party.
Staub likes to take photos and videos during the event. "This is collateral you will be able to use for years," she said — and it's also proof of her dedication; there's usually food and drink and entertainment, so photos help her show sellers that she's throwing an actual party instead of "just" an open house.
Then post on social media before, during and after the event.
And because your sellers knew you went above and beyond, it's easier to ask for concessions or a price drop if that's necessary, she added.
More direct mail
It's not a myth: A quality comparative market analysis (CMA) packet can still win listings — but it needs to be a packet, not a sheet stuffed in an envelope and sent off by a machine.
That doesn't mean you need to go crazy. A decent CMA packet should include a prospecting letter signed by you, a simple CMA, a call to action, your business card and something of value — something fun or useful, like a sticker or another branded piece of (cool) swag.
And handwritten cards will never go out of style, she noted. They can be very powerful, and they only have to be painful if you allow it.
If you take the opportunity to surprise and delight your sphere now, you'll be reaping rewards well into the future, Staub promised.