July's pending sales index dropped 1.3 percent year-over-year -- the fourth month of year-over-year declines.
July's Pending Home Sales Index (PHSI), a monthly forward-looking indicator measured by the National Association of Realtors (NAR), declined 0.8 percent to 109.1 in July from a downwardly revised 110 in June and declined 1.3 percent year-over-year — the fourth year-over-year hit the index has taken within the past five months.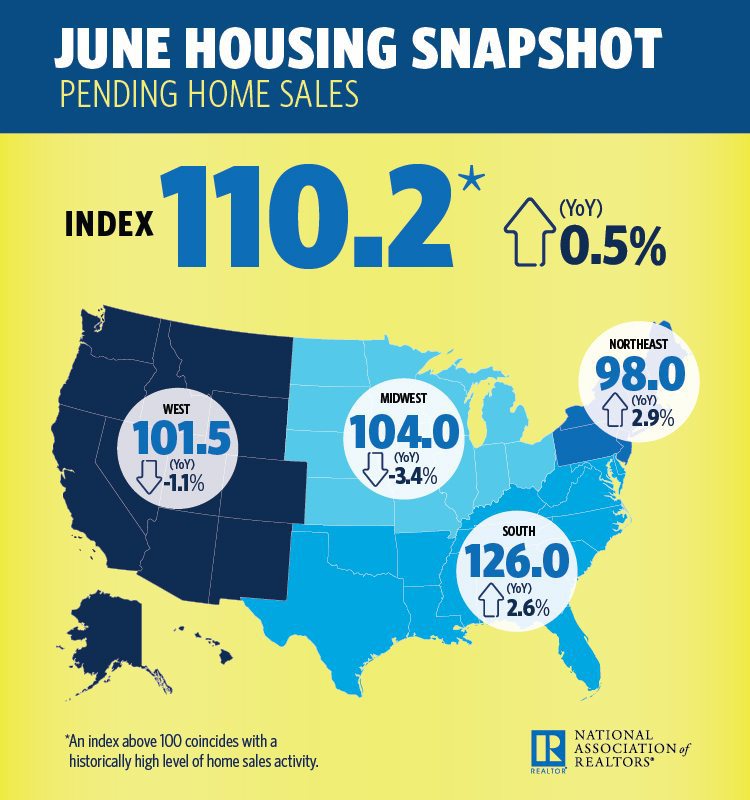 "With the exception of a minimal gain in the West, pending sales were weaker in most areas in July as house hunters saw limited options for sale and highly competitive market conditions," said NAR Chief Economist Lawrence Yun.
"The housing market remains stuck in a holding pattern with little signs of breaking through. The pace of new listings is not catching up with what's being sold at an astonishingly fast pace."
Yun said the inability of income growth (12 percent) to keep in step with median home sales growth (38 percent) is hampering would-be buyers from stepping into homeownership though desire and demand are high.
"Buyer traffic continues to be higher than a year ago, the typical listing has gone under contract within a month since April, and inventory at the end of July was 9 percent lower than last July," added Yun.
"The reality, therefore, is that sales in coming months will not break out unless supply miraculously improves. This seems unlikely given the inadequate pace of housing starts in recent months and the lack of interest from real estate investors looking to sell."
Lastly, Yun predicts the devastation caused by Hurricane Harvey will slow overall sales growth in the upcoming months and result in 2017 closing at 5.49 million — a minor 0.7 percent year-over-year increase.
Regional breakdown
Northeast: The pending sales index declined 0.3 percent to 97.7 in July, 2.4 percent above a year ago.
Midwest: The index decreased 0.7 percent to 103.3, a 2.8 percent drop from July 2016.
South: The index dropped 1.7 percent to 123.1, a 0.2 percent year-over-year increase.
West: The index increased 0.6 percent to 102.3, down 4 percent year over year.
NAR uses a large national sample of signed residential property sale contracts to build its monthly pending home sales index. The sample size typically represents about 20 percent of transactions for existing-home sales.
The index level was benchmarked to 100 in 2001, which was the first year to be examined. Existing-home sales in 2001 were in the 5 million to 5.5 million range, which is considered normal for the population in the U.S.