Contract signings are up again, which means pending home sales are back in action.
June's Pending Home Sales Index (PHSI), a monthly forward-looking indicator measured by the National Association of Realtors (NAR), grew 1.5 percent to 110.2 in June from an upwardly revised 108.6 in May after declining for three straight months.
"The first half of 2017 ended with a nearly identical number of contract signings as one year ago, even as the economy added 2.2 million net new jobs," said NAR Chief Economist Lawrence Yun. "Market conditions in many areas continue to be fast paced, with few properties to choose from, which is forcing buyers to act almost immediately on an available home that fits their criteria.
"Low supply is an ongoing issue holding back activity. Housing inventory declined last month and is a staggering 7.1 percent lower than a year ago."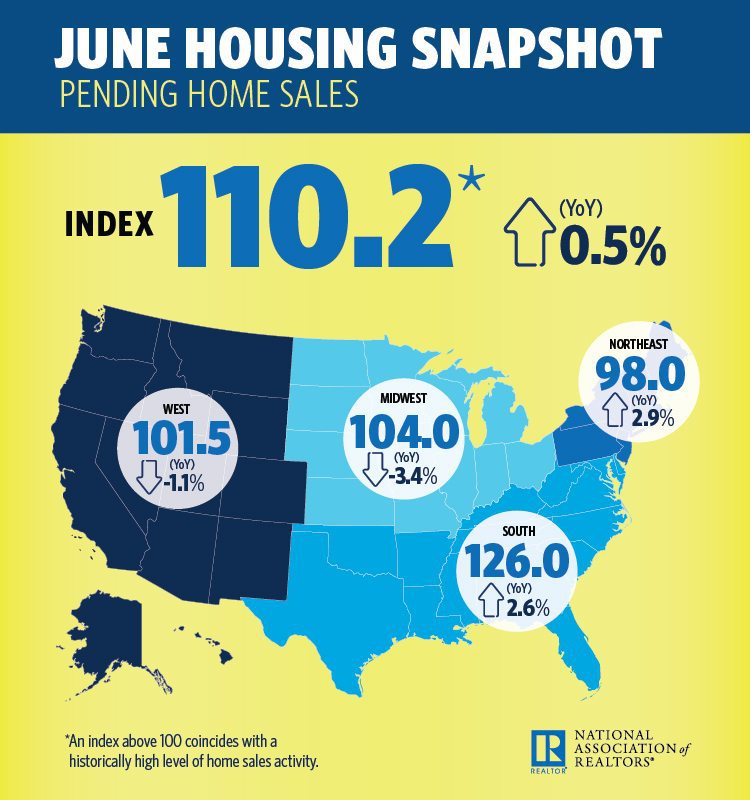 With this resumed activity comes some good news for first-time buyers — investor sales are down to rock bottom for the year (13 percent), reducing all-cash transactions to their smallest slice in eight years.
"It appears the ongoing run-up in price growth in many areas and less homes for sale at bargain prices are forcing some investors to step away from the market," sadded Yun. "Fewer investors paying in cash is good news as it could mean a little less competition for the homes first-time buyers can afford.
"However, the home search will still likely be a strenuous undertaking in coming months because supply shortages in most areas are most severe at the lower end of the market."
Regional breakdown
Northeast: PHSI rose 0.7 percent to 98.0 in June, 2.9 percent above a year ago.
Midwest: PHSI decreased 0.5 percent to 104.0, a 3.4 percent drop from June 2016.
South: PHSI rose 2.1 percent to 126.0, a 2.6 year-over-year increase.
West: PHSI increased 2.9 percent to 101.5, down 1.1 percent year over year.
NAR uses a large national sample of signed residential property sale contracts to build its monthly pending home sales index. The sample size typically represents about 20 percent of transactions for existing-home sales.
The index level was benchmarked to 100 in 2001, which was the first year to be examined. Existing-home sales in 2001 were in the 5 million to 5.5 million range, which is considered normal for the population in the U.S.