SAN FRANCISCO — A market that's sustained home price growth over a long period of time is no longer at its peak but rather at a "table-top" peak.
That's the state of housing in the San Francisco Bay Area as described at Pacific Union International's Real Estate Economic Forecast for 2020 Wednesday night with John Burns Real Estate Consulting.
The buoyant Bay Area market will likely sustain its current price levels throughout 2019 and possibly experience a "hiccup" in 2020.
"We are at the top and it looks like we will stay there for a while between now and 2020," said Pacific Union CEO Mark McLaughlin.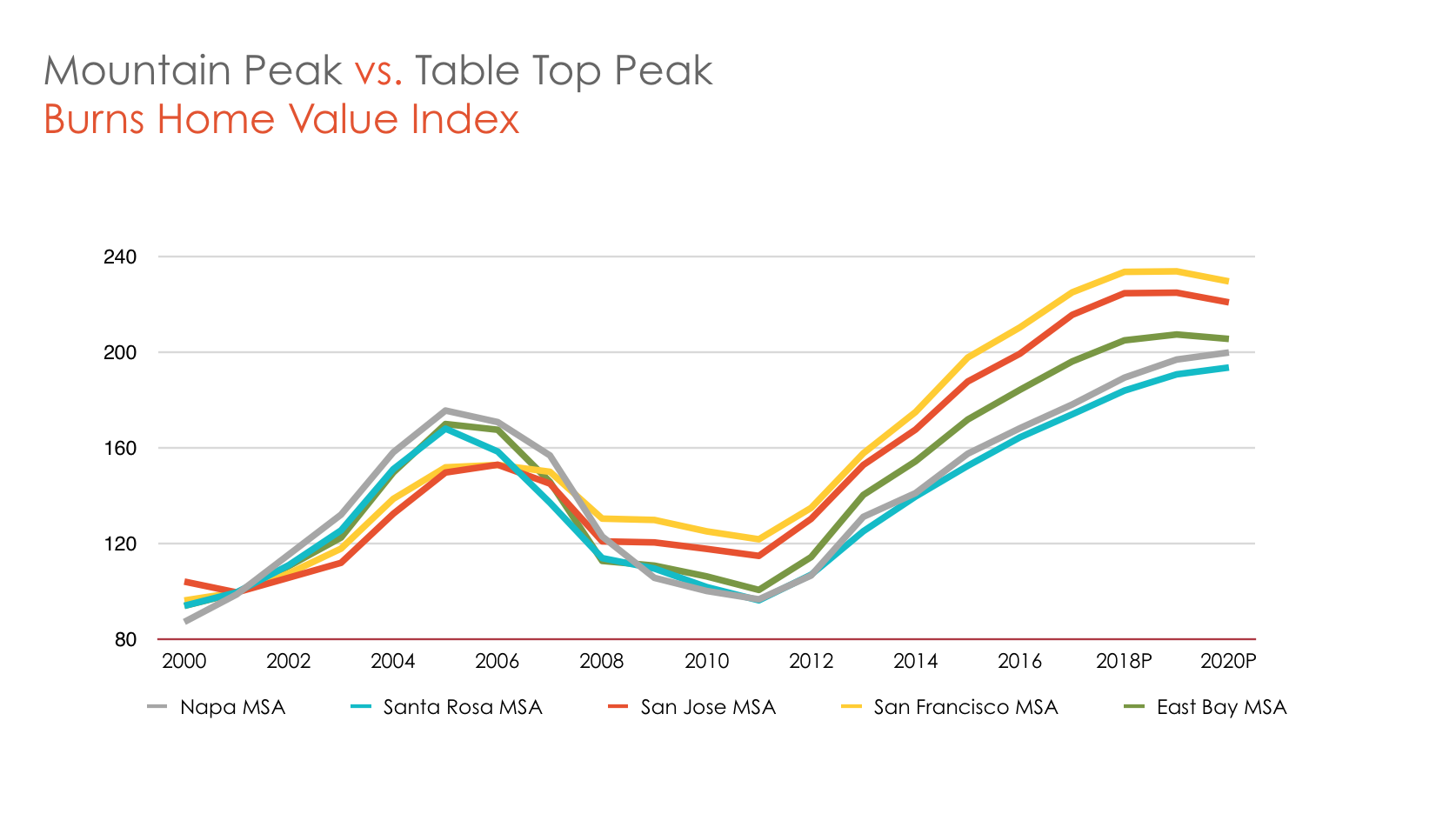 According to Burns, we are currently experiencing the longest expansion of an economic cycle since World War II. The market shouldn't be alarmed at the prediction of a hiccup because if it happens, it will mark a return to economic norms, Burns and McLaughlin stressed. 
"We are calling for a price correction and then it will rebound," said McLaughlin. Even with a price correction, prices will still be higher than they are now, he said.

A tech correction was also very likely in the next two years, added McLaughlin.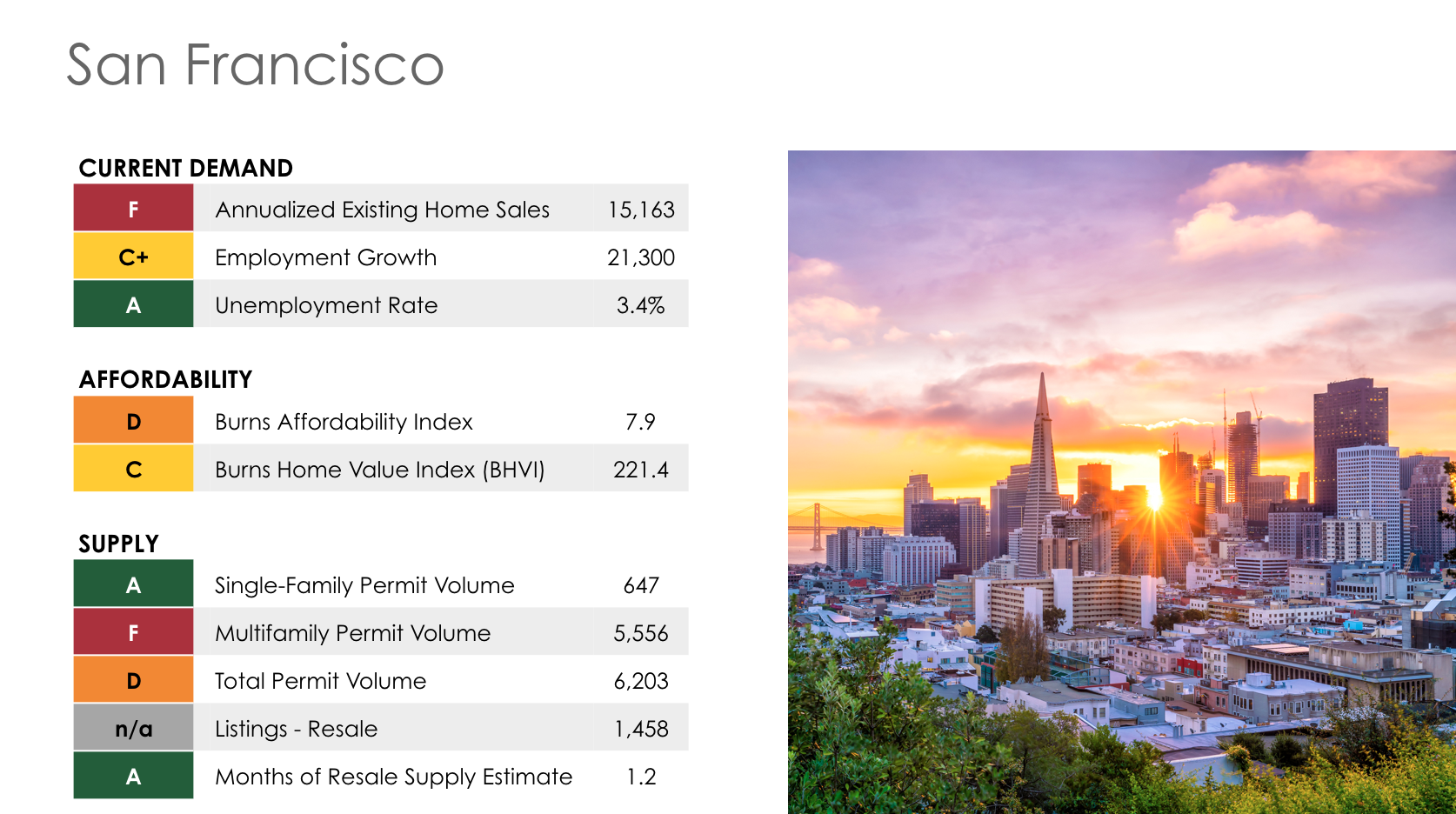 The company gave upbeat figures on employment in the Bay Area, with 21,300 jobs added and a resale housing supply of 1.2 months. In comparison, San Jose's current employment growth is 11,000 new jobs, and there is 0.8 months of resale housing supply.
What could make the table top wobble before 2020? Housing demand could be affected by job growth or a lack of confidence if the country went to war, for instance, said Burns.
Overall, homes in the San Francisco Bay Area appreciated 9 percent year to date compared with 8 percent last year.
Macro housing outlook for the country
Burns gave a macro forecast on housing markets throughout the country, projecting 30-year fixed conforming mortgage rates would rise 80 basis points by 2020 to 4.8 percent, but he cautioned that the economy would have to be "fine" for that.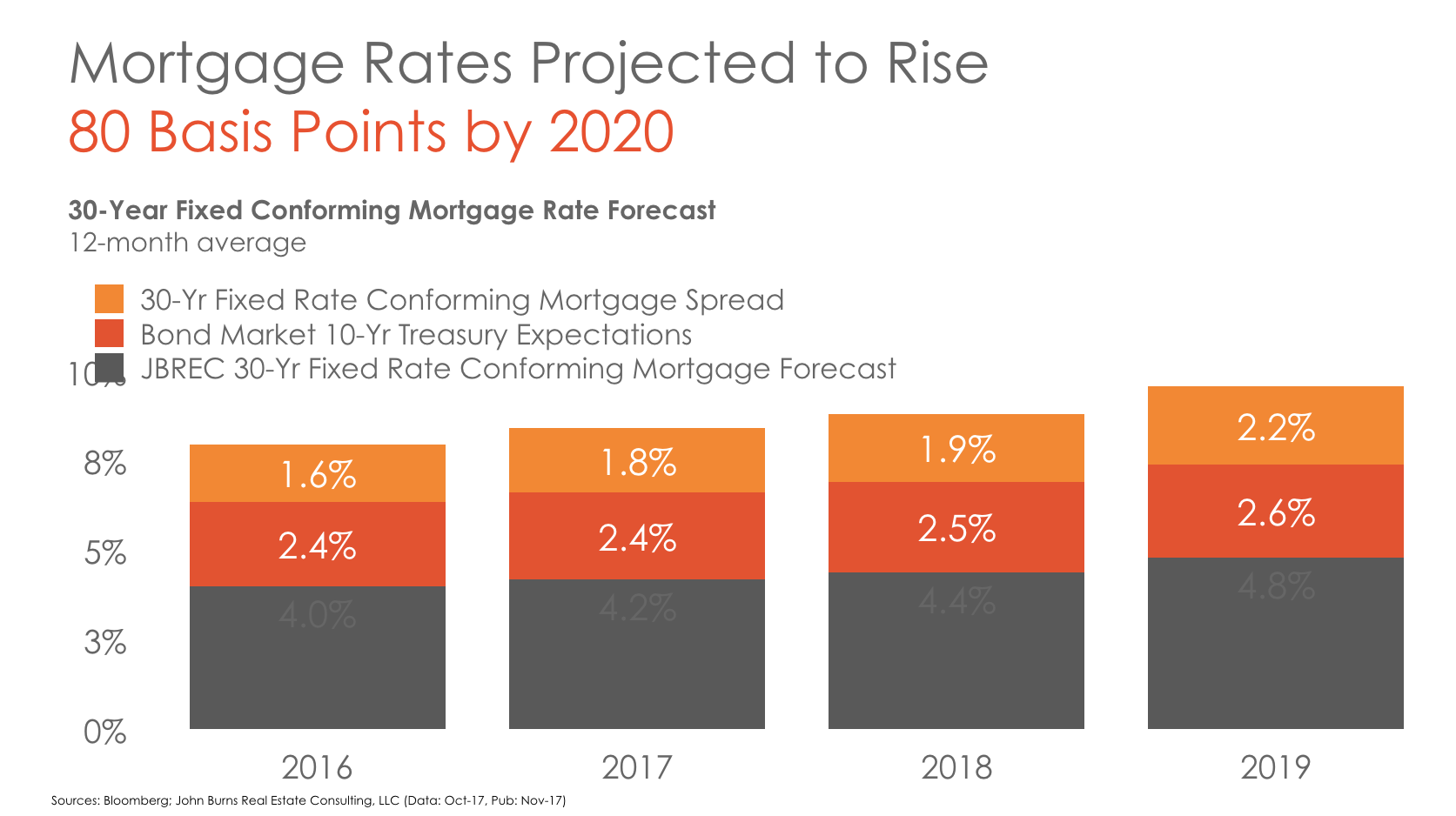 His short-term outlook on the country's market "hotness" — measured by an index ranking cities as poor, weak, average, strong or excellent — placed the majority of markets in the "average" camp, with affordability being a problem in most metros.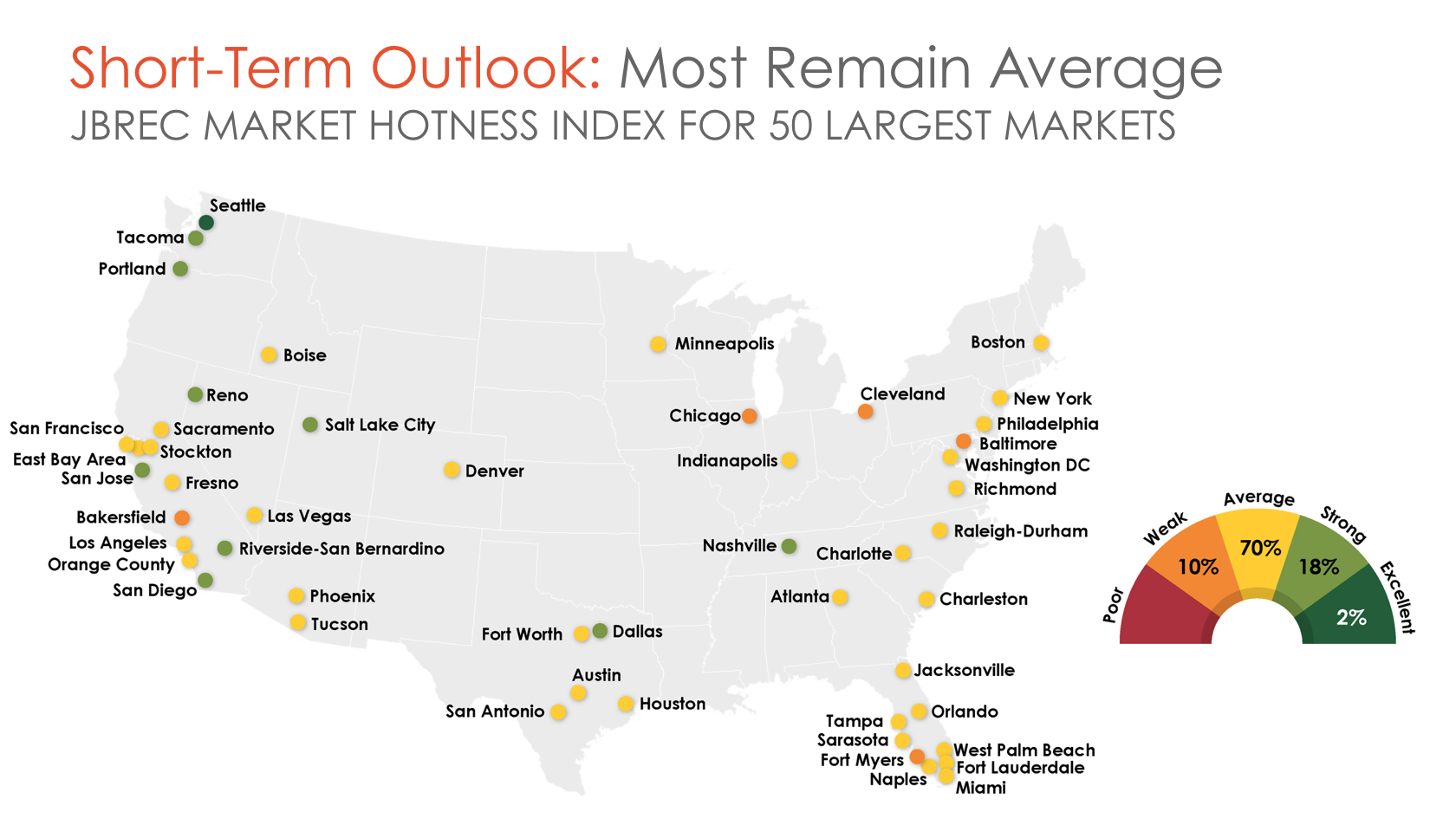 The CEO also highlighted an interesting lesson for the hot Seattle market, where he said the "euphoria had died down" since Amazon announced it was looking at other cities for a second headquarters.
Burns predicted that Amazon's Jeff Bezos would choose an affordable housing market for his next corporate base.
"He has employees in Seattle who want to move; Intel went to Sacramento, others are going to Reno," Burns said. "Discussions are going on right now of how to attract good people who want to raise families and buy medium priced homes."

Pacific Union's take on tax reform
As the House passed the tax reform package today, Pacific Union's chief economist Selma Hepp said last night that the then-proposed bills from both the House and Senate would have a detrimental impact on the typical Bay Area home buyer with a $200,000 income and a $1.2 million home.
Under the current tax structure, these households can file for $65,000 of deductions, which would be reduced to $30,000 under the new plan.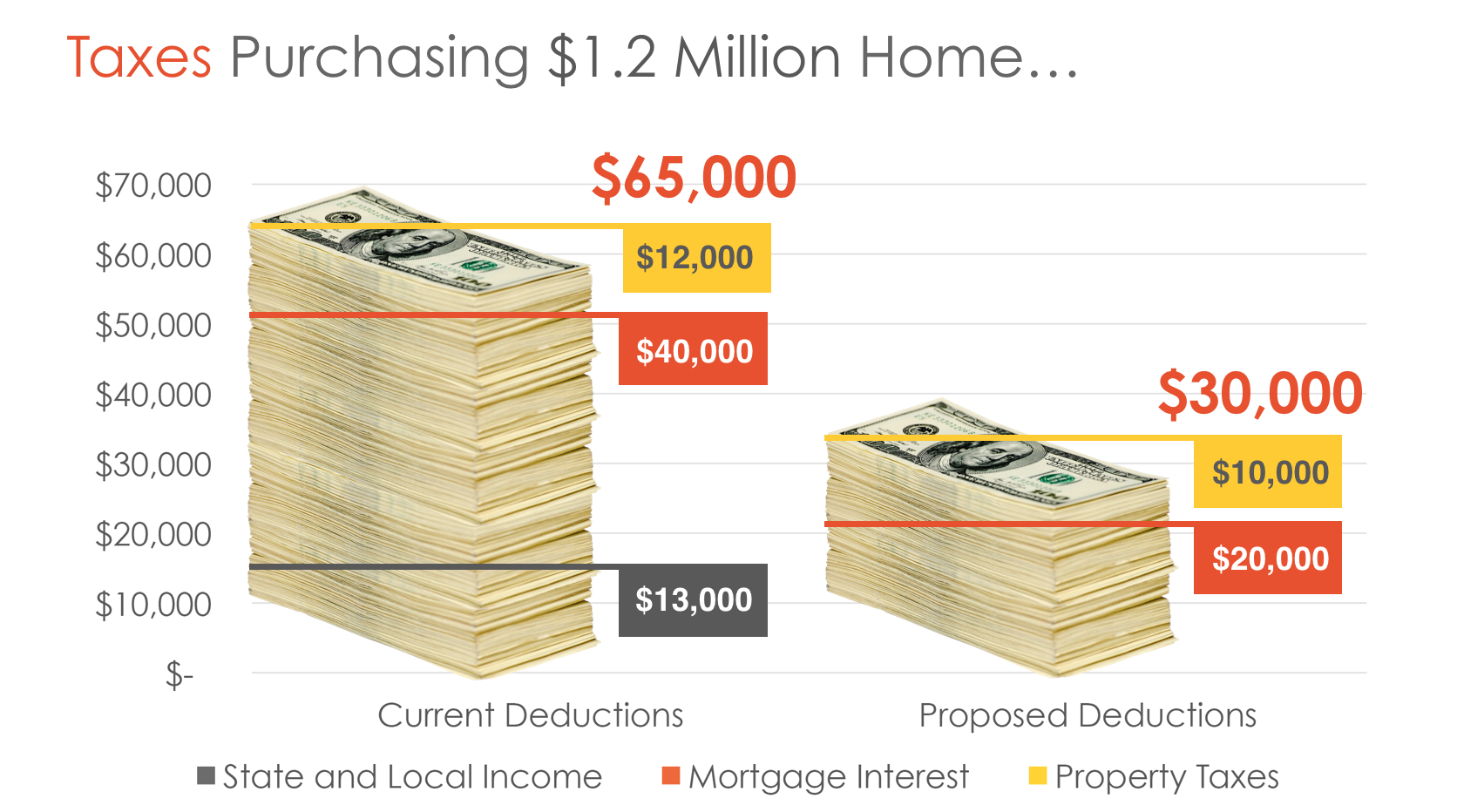 The new tax rules might encourage homeowners and home shoppers to buy a less expensive home, said Burns, a rare find in the Bay Area's strongest markets.
Hepp reported a gangbusters 2017 for the Bay Area with buyer competition intensifying. She said 65 percent of homes to date sold over the asking price, compared with 62 percent last year.