Redfin today released its 2017 diversity report, which outlines the gender, racial and ethnic makeup of the company's employees.
This is the third year of these reports, which CEO Glenn Kelman started as a transparent look into the brokerage's quest to become "one of the most diverse tech employers in technology."
Making progress in gender diversity
In 2017, the company made some positive leeway in increasing the number of women working in the technology team, business operations and in field operations.

The share of women on the technology team, which includes engineers, product managers and product designers, increased 2 percentage points to 32 percent in 2017.
The brokerage says that although women's representation is higher than Facebook (19 percent), Google (20 percent) and Apple (23 percent), they're still reaching for the 2020 goal of having half of their technical hires be women.
Redfin's other headquarters employees (collectively known as business operations employees) are 60 percent women, a three percentage point increase from 2016. The field organization, which is what Redfin calls its real estate agents, is also 60 percent women.
Forty-six percent of Redfin's managerial team are women — a 2 percentage point increase from 2016.
When it comes to the brokerage's various departments, women are well represented in management for business operations (58 percent) and field operations (48 percent).
But they've suffered a hit in the technology sphere with the share of women managers falling 11 percentage points to 19 percent since four mid-level technology managers left over the past year.
Work still needed in technology, managerial racial diversity
Redfin made minor progress in the racial and ethnic diversity of its workforce, with a 1.3 percentage point increase in the number of black or African-American employees and a 0.9 percentage point increase in the number of Hispanic or Latino employees.
There was a 0.4 percentage point decrease in the overall number of Asian employees, although there was a 0.1 percentage point increase in the field operations sector, something Redfin said they made a concerted effort to improve to better serve its growing number of Asian buyers and sellers.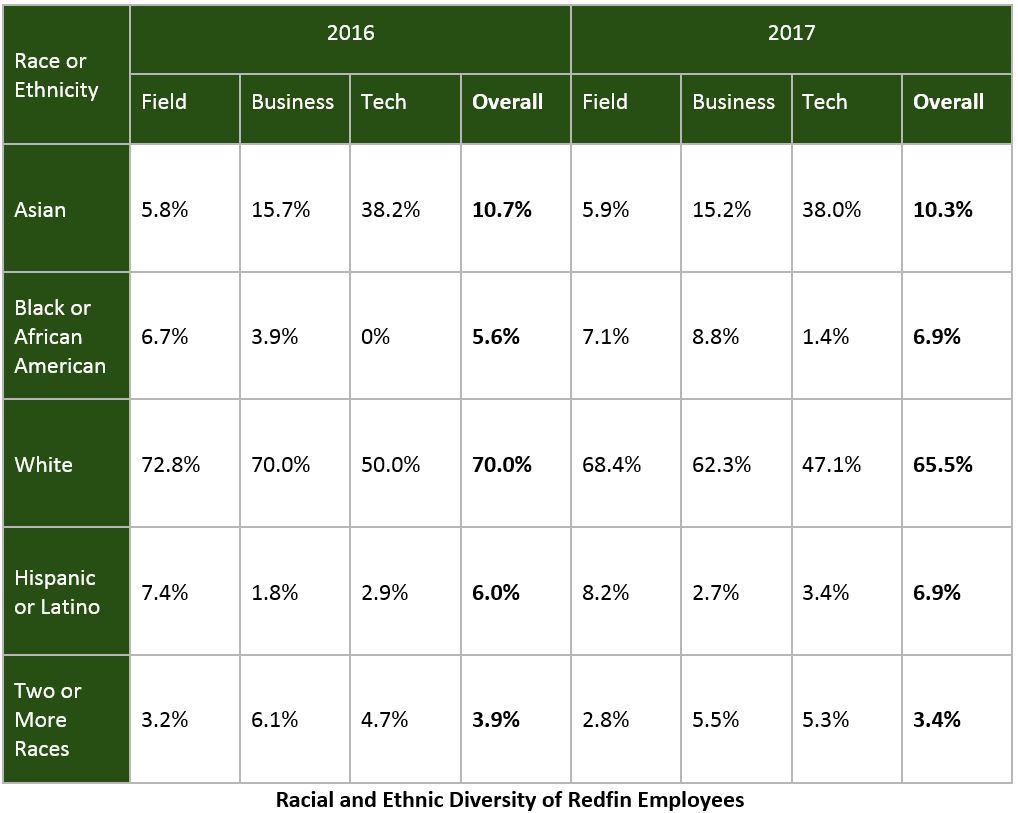 Although the brokerage made leeway in increasing the overall number of black/African-American and Hispanic/Latino employees, they're still struggling to increase the representation of these groups in the technology department.
"The area where we still need to make the most progress is in attracting and developing more black and Hispanic software engineers, product managers and product designers," noted Kelman. "Folks in these roles have an unusual amount of power, determining what millions of online visitors see on our website and our mobile application."
To remedy this issue, Kelman says Redfin has doubled the number of recruitment activities at schools, training programs and professional organizations for people of color; they have updated job descriptions to broaden their appeal and standardized the interviewing process in an effort to eliminate bias from job applicant evaluations.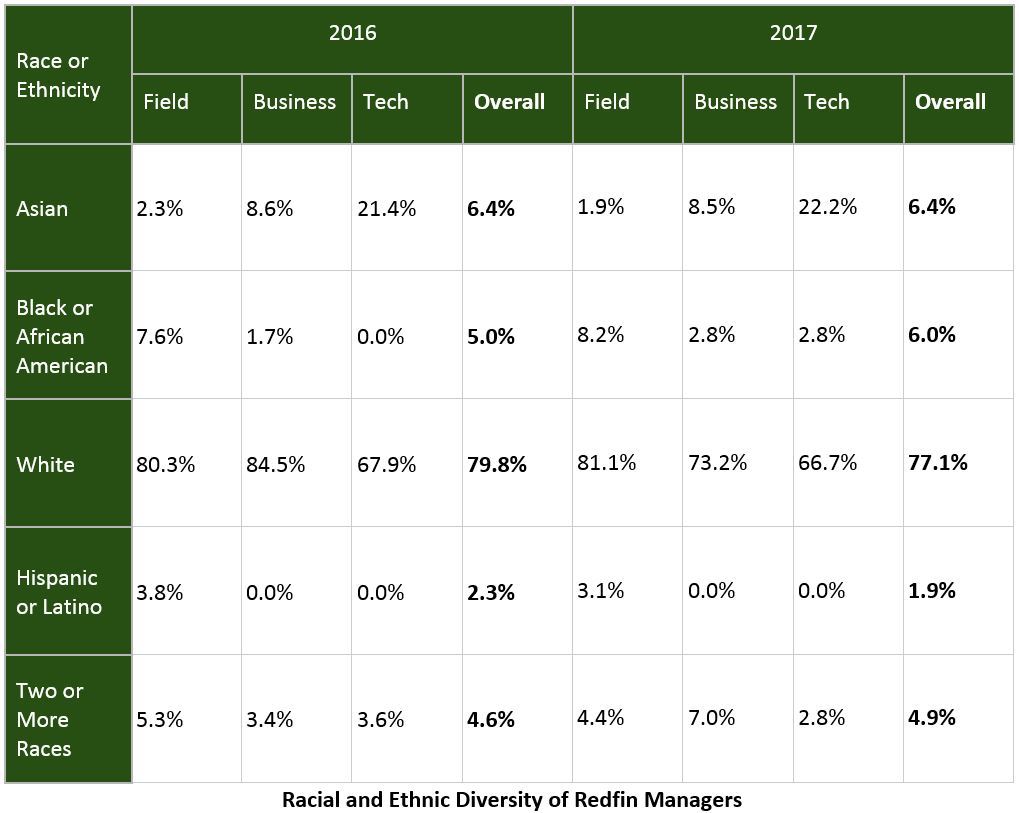 When it comes to the racial and ethnic makeup of Redfin's managerial team, the share of Asians remains unchanged while the share of blacks and Hispanics has decreased by 1 and 0.4 percentage points, respectively — something Kelman says he's laser focused on turning around in 2018.
"It is of course impossible to change the composition of Redfin overnight, especially as the company gets bigger and our hiring as a percentage of overall employees slows: in the early years, nearly half the company had been hired in the last twelve months, but now the vast majority of employees carry over from one year to the next," he wrote.
"Redfin nonetheless expects to make more progress on diversity in the next year, especially in developing people of color into management roles."
Specifically, Kelman laid out three key steps to improving diversity at all levels:
Documented promotion criteria for all roles with more than five employees
Data-driven guidance on pay raises to avoid biased or unintentional pay disparities
A mentorship program for developing individual contributors into managers
Furthermore, Redfin is beginning the search process for a diversity and inclusion program manager, who will be in charge of overseeing the brokerage's diversity initiatives and creating programs to meet diversity goals.
Read the Redfin's full post here.