There are a number of factors economists examine to determine the current and future health of the housing market, such as available inventory, home price growth and foreclosure rates. But there are other, seemingly unrelated pieces of data that can offer valuable insight, like birth rates.
According to Zillow's latest analysis, birth rates among 25- to 29-year-old women decreased in counties with the fastest home price appreciation. On average, a 10 percentage point rise in home values correlates with a 1.5 percentage point drop in birth rates.
The trend is most noticeable in Los Angeles County where home values increased 31 percent from 2010 to 2016. During the same time, birth rates fell 17 percent. That means there were 2,588 fewer babies than would otherwise be expected, noted the report.
In San Diego County, the county with the second largest dip in birth rates (-19 percent or 1,148 fewer babies), home values had appreciated a whopping 34 percent. Lastly, in Travis County, Texas, where home values rose 33 percent, birth rates dropped 22 percent, resulting in 585 fewer babies.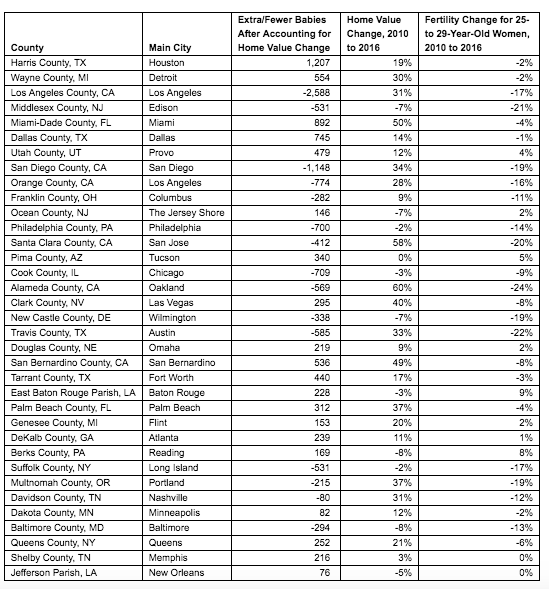 As of 2017, the estimated cost of raising a child from birth to age 17 increased 3 percentage points to $233,610. Housing was the largest expense (29 percent), followed by food (18 percent).
Young couples said financial stability, or the lack of it, is an important factor in their decision to have children. But true financial stability may be out of reach for most as home prices continue to rise, the report said.
Although there's a clear connection between home value growth and birth rates, Zillow senior economist Aaron Terrazas says it's important to remember correlation isn't causation.
"The big question this research raises is whether millennials are simply delaying childbirth into their 30s or are actually choosing to have fewer children — and so far, the data are mixed," Terrazas said in a statement.
"Recently released preliminary data shows fertility rates among 30-something women fell in 2017 for the first time since 2010, an ominous sign, but then again, respondents to recent census surveys indicate they expect to eventually have just as many children as respondents in prior years."
"Ultimately, this data adds another layer to the argument that rising housing costs are contributing to meaningful delays in achieving a number of key life milestones, including getting married and buying a first home — two very important steps on the road to starting a family," he added.