For over 20 years, Inman has connected agents, vendors and technology. Many of you have spent time in the vendor halls at Inman Connect. We've brought that popular concept online with Inman Product Hub. Every agent and broker knows how tough it is to find the time to evaluate and compare new technology. Inman Product Hub makes your search easier and more efficient, giving you more time with your customers.
From agent search to personal websites, Inman's Product Hub has dozens of great products that will help you make the right choice for your particular business case. Today we're going to showcase some of the currently featured CRMs, powering the future of the industry.
Note: The Inman Product Hub is a collection of sponsored content from our vendor partners. Our editorial team was not involved in the selection of these products and inclusion does not imply endorsement from Inman or its staff.
Chime is the world's smartest real estate platform.
Chime Technologies offers the real estate professional a full suite of integrated online and offline sales acceleration products and services — the smartest business-growth tools available for high-performing brokers and their star agents.
From Chime's mobile-first, all-in-one CRM real estate business development platform, to IDX, buyer and seller lead generation and nurture tools, easy communications systems, lead distribution, tracking and reporting — to our GeographicFarm direct mail brand empowerment and multivariate social marketing platform powered by Chime, we can help you and your team make their mark on the ground while converting leads gathered from the virtual world.
Read more about Chime Complete Real Estate Business Solutions here
---
Market Leader Professional – for real estate agents who want to grow their businesses.
Since 1999, Market Leader has provided the real estate industry the most powerful end-to-end system on the market, built to generate leads and turn them into clients.
Leverage the power of several game-changing tools in one system:
Powerful, lead-generating, IDX websites with unparalleled search capabilities
Robust CRM to efficiently organize and work your database
Automated technology to generate, engage, and convert leads into lifelong clients.
Professionally-designed marketing center that includes listing-marketing automation with MLS integration, multi-channel campaigns, and thousands of customizable templates
Lead stream technology that integrates with over 25 sources
Supplement your pipeline with Market Leader leads products – get a guaranteed number of exclusive leads every month
Read more about Market Leader Professional here
---
Streak is the only CRM integrated entirely within Gmail/G Suite inbox, which means you'll actually use it!
It's as easy to use and setup as a Google Sheet, but has the power and flexibility of a fully featured CRM. Real estate professionals from brokerages like Keller Williams, Coldwell Banker, and Engel & Volkers use Streak to manage their buyers, sellers, properties, and more.
Read more about Streak CRM for Gmail here
---
When you're growing, you already have plenty of things to worry about: having to keep systems and programs working together shouldn't be one of them. Software should work for you, not against you.
Firepoint is an all-in-one real estate software solution that provides a smart CRM, an IDX website, and lead generation in a clean and easy to use interface and at a price point that won't break the bank. Firepoint aims to automate every business function for agents allowing you to work smarter, not harder. Firepoint was founded in 2015 by more than 15 top real estate teams and 120 agents across the nation and now services thousands of users throughout the US and Canada.
We believe there is a simpler and more effective way to grow and run a real estate team. Whether you are a single agent looking to create a team, or a mega-team closing hundreds of transactions a year, we can help. With Firepoint you can get more transparency and accountability, ridiculously fast response times, and never-before-seen business reporting and analysis. Firepoint's comprehensive solution for residential real estate professionals is the fastest growing solution of its kind and starts as low at $175 a month.
When you're growing, you already have plenty of things to worry about: having to keep systems and programs working together shouldn't be one of them. Software should work for you, not against you.
Read more about Firepoint All-In-One Real Estate Software Solution here
---
Spark was made by real estate industry experts for the new development sales industry.
Spark's software supports the presale, lease-up, and marketing processes of new development real estate projects. We help project marketers, brokerage teams, and developers sell homes more efficiently with our comprehensive platform.
Project Marketers/ Brokerage Teams
Spark gives you the professional tools you'll need to successfully manage a pre-sale or lease up program, using our intuitive platform that includes a CRM, email marketing tools, inventory management, digital contract transactions, and more.
Developers
Spark enables your in-house sales and marketing team to get better insights into how your portfolio of projects are performing. Compare multiple projects, design custom reports, and track sales revenue and team performance.
New development software should support your team at any stage of the sales and marketing cycle. At Spark, we do more than that: we help you get ahead of the market.
Read more about Spark New Development Real Estate Sales Software here
---
The new mobile and desktop app from iovox is improving how real estate professionals make and manage phone calls.
For busy deal makers, the mobile phone is often the centerpiece of your technology arsenal and while phones have gotten more powerful, the basic experience of making and receiving calls hasn't improved much at all. This is where iovox shines!
iovox's features:
Notes: Capture vital information on every call – since many calls are made on-the-go, note taking is not always easy. With iovox, callers can use voice (or text) to take notes on-the-go, flag important calls for follow up and schedule reminders, to capture and remember all the important details.
Search: The power of search for phone calls – with iovox, callers can add custom tags and notes, before during or after the call and easily search them later.
History: Unlimited archive of your calls – before iovox, callers could not see an accurate call history. If you made a call three days ago, it's likely already gone. With iovox, callers have an unlimited call history archive and they can search it all from either their mobile phone or the desktop version of the service. The basic service is free. The unlimited storage plan requires an upgrade.
Personal CRM: All of the benefits without the fuss – iovox integrates with leading CRM providers, but iovox also provides many benefits of the traditional CRM without the cost or the complexity that comes with using bigger systems.
Call Sharing: Reduce email while still keeping your team informed. With iovox, team collaboration is easy, call notes and conversation history can quickly be shared with others so everyone stays up-to-date on new developments which results in fewer post call emails.
Desktop Analytics: using our desktop version, you can chart and graph your client interactions with our advanced analytics tools.
Whether you're a broker, agent, or a member of the team working behind the scenes, iovox is perfectly suited for anyone in a transactional profession. We're confident the functionality of iovox will improve your productivity and performance. The basic services are free. Available on Android. iOS coming soon.
Read more about iovox Phone Call Productivity for RE Professionals here
---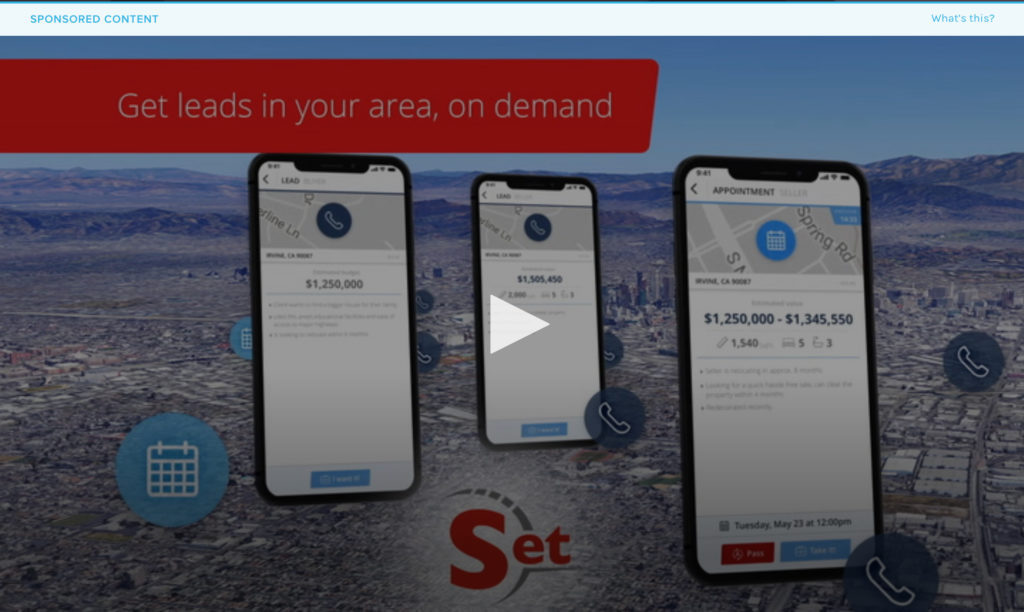 SetSchedule delivers the right opportunities, appointments, and valuable insights to close the deal.
SetSchedule is the technology innovator revolutionizing real-estate business development by filling Realtors' calendars with a targeted stream of real, interested local buyer and sellers, not a list of leads.
SetSchedule is the first and only real estate marketplace that connects home-shoppers, buyers and sellers with real estate pros ON DEMAND!
The multi-patented matching engine leverages:
AI-powered predictive data
Insider market insights
Automated marketing software tools
Read more about SetSchedule RE Data & Practice Management here
---
BoomTown is a software platform designed for real estate professionals to generate, manage, and run their business better.
We combine world-class lead generation, CRM technology, and consumer-facing websites. Our tools focus on what drives success and how to keep it growing.
Dozens of opportunities arise every day. Homebuyers start real estate searches. Sellers want to know their property's value. In between those moments are the questions — the opportunities where they want help from you. Capitalizing on all of them is easier said than done. There's a limit to how much you can handle in one day, whether it's responding to leads or generating new business.
For those hours or days you feel slipping by, BoomTown becomes an extra assistant — a tool to help you go beyond your limits. Our integrated platform creates conversations that turn into closings. From lead generation services to branded websites; from a predictive CRM to seller and transaction tools, we offer the means to run a better business.
Read more about BoomTown CRM/Lead Management here
Note: The Inman Product Hub is a collection of sponsored content from our vendor partners. Our editorial team was not involved in the selection of these products and inclusion does not imply endorsement from Inman or its staff.
Interested in having your video included in Inman's Product Hub? Contact us.