New York State home sales figures slid 11.1 percent in July on a year-to-date basis since 2015, according to the report.
Hamilton County was the only county to have a reported decrease in months supply of homes in July 2016 compared with the same month in 2015.
The biggest annual uptick in median sales price was reported in Chautauqua County, which saw a rise of 39.6 percent to $120,000.
More is not always better, and that's the case when it comes to the New York State real estate market this July. According to a new report from the New York State Association of Realtors (NYSAR), New York State's home sales figured dropped year-over-year in July. However, the report also says median sales price increased 8.1 percent annually in July 2016.
"The New York State housing market has been performing at a very high level in 2016, and July was no exception despite falling short of the exceptional 2015 July sales total," NYSAR CEO Duncan R. MacKenzie said in a statement. "The 11,736 closed sales represents the third strongest July in the past decade, and through the first seven months statewide sales are 11 percent ahead of the same point in 2015."
The biggest uptick seen year-to-date in July 2016 was pending sales, which climbed 12.7 percent. During this same time frame, new listings dipped 4.9 percent to 134,288. On an annual basis in July, that category saw a 14.1 percent dip, representing a much slower summer than in 2015.
Months supply in July saw a 27.3 percent dip to 7.2 months, compared with 9.9 months the previous year. Homes for sale saw a slightly less dramatic decrease of 18.2 percent, to 79,818 properties.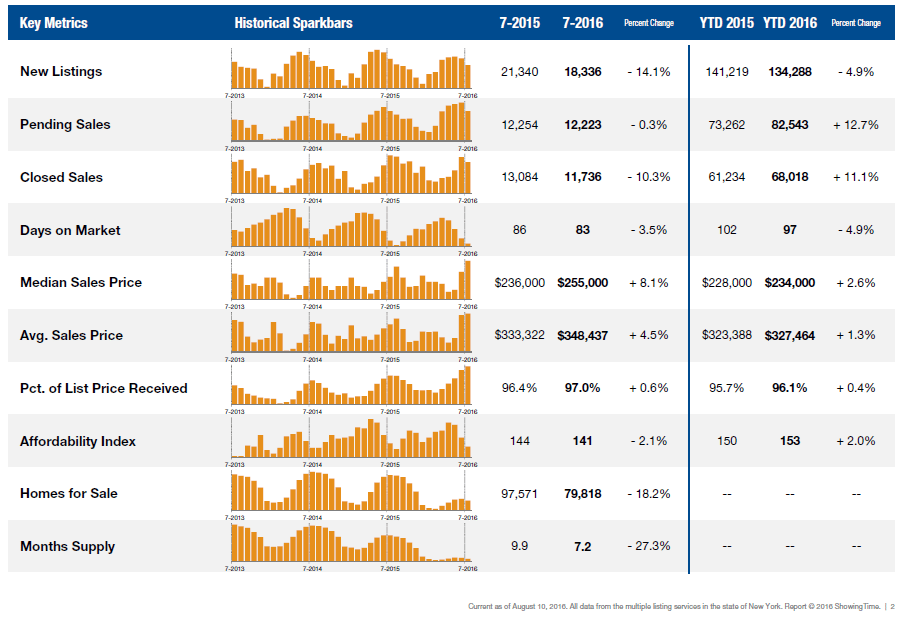 Low inventory stalling homes?
The only county to see an increase in monthly supply of homes in July 2016 was Hamilton County, which saw an annual increase of 2.7 percent, according to the report. The area also had a reported 10 percent dip year-over-year in closed sales in July, and the median sales price increased during the same time frame by 23.7 percent, to $163,300.
Richmond County saw the biggest dip in months supply, at 48.1 percent, to hit 4.2 months in July compared with 8.1 in July 2015. Homes for sale in Richmond fell to 1,482, marking a 38.2 percent annual dip in July of this year. And while prices did increase, the 7.1 percent median sales price increase in July 2016 was fairly moderate compared with the rest of the state.
The biggest uptick in median sales price was reported in Chautauqua County, at 39.6 percent. Months supply dipped 19.5 percent in July 2016 over last year, while homes for sale during the same time period decreased 8.4 percent.
The biggest drop in closed sales in July 2016 was reported in Yates County, which saw a 61.4 percent fall from 36 to 14 closed sales. The median price of a home increased 17.5 percent in July 2016, the report says.
On the opposite end of the spectrum, closed sales increased the most significantly, growing by 66.7 percent in Allegany County. The county also saw annual increases of 40.4 percent in new listings, 32.6 percent in median sales price and 25.6 percent in homes for sale.