I was pretty skeptical of Bitcoin originally, watching its value skyrocket and nosedive from one day to the next. But with the digital currency continuing to hog headlines and real estate firms beginning to warm up to it, it's grown on me.
So last week, I plopped down $806.82 for one bitcoin.
Yes, I'm speculating. I made the purchase because I've decided that Bitcoin has so much potential to grow in value that I'm comfortable with potentially losing every penny I've spent on it — a real risk given that future regulation could neuter the digital currency.
I think its value has significant upside for three reasons.
First, using Bitcoin instead of dollars offers certain advantages to both consumers and businesses. Businesses don't have to pay pricey transaction fees to credit card providers if they accept payments in Bitcoin, and consumers can use it to make some purchases more cheaply.
Second, businesses are rapidly adopting Bitcoin. In less than three months, the number of companies accepting Bitcoin has more than tripled to 2,827 on Jan. 29 from 669 establishments, according to Bitcoin Pulse, a service that tracks Bitcoin adoption. Among those businesses are Internet heavyweights Overstock.com, OKCupid, Reddit, and most recently, Zynga.
Third, the U.S. government has seemed open to allowing Bitcoin to exist, despite the currency's history of greasing the wheels of the black market. A federal judge ruled in August that Bitcoin "is a currency or form of money," and during congressional hearings in November, lawmakers and regulators seemed sympathetic to arguments that the government needs to be careful to avoid hampering the digital currency's growth.
Most recently, in apparent recognition of its growth, New York's top financial regulator held hearings to gather input from proponents and critics for the purpose of creating rules for Bitcoin that would regulate the currency without squelching it.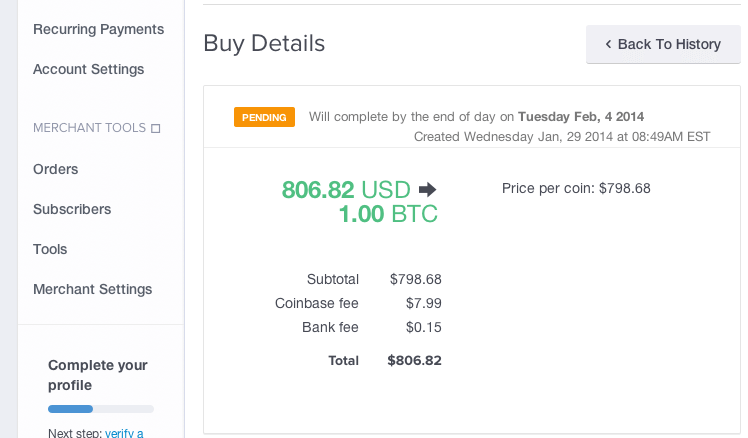 Screen shot of my Bitcoin purchase on Coinbase
As an added bonus, I think having some skin in the game may help motivate me to gain a more thorough understanding of Bitcoin's potential impact on our business landscape.
If you want to jump on the Bitcoin bandwagon (which, remember, could be headed for an abyss), you'll find it pretty painless.
There are a number of exchanges including MtGox.com, Coinbase and Bitstamp. I chose Coinbase.
The fact that it was able to raise $25 million recently suggested to me that it's probably legit, and I'd also heard it was very easy to use, which it was.
The whole process of signing up and buying one bitcoin on Coinbase took me about 15 minutes.
The only tricky part — and it really wasn't very tricky at all — involved downloading the authorization app "Authy" on my smartphone and synchronizing it with my Coinbase account.
The point of using Authy with Coinbase is to add an extra layer of security to your Bitcoin account. The app generates a new seven-digit "token" every 20 seconds, and to sign in to your Coinbase account, you must enter the token within one of those 20-second windows (after entering your password).
Coinbase valued Bitcoin at $798.68 when I purchased one at 8:49 a.m. Wednesday. On top of that price, Coinbase charged a 1 percent transaction fee of $7.99 and a bank fee of $0.15.
A growing number of consumers are trading dollars for Bitcoin on exchanges like Coinbase. And that's drawn the interest of some real estate firms.
Brokerage Bond New York, rental listing site RentHop and landlord software provider Rentalutions are among real estate companies that have said they will accept Bitcoin.
Bitcoin has even sparked the launch of a listing site that lets people pay for homes or rentals in the electronic cash called BitPremier.
At the least, Bitcoin represents low-hanging fruit for publicity-hungry real estate firms: Accepting Bitcoin virtually guarantees media coverage right now.
But supporters say Bitcoin also benefits businesses in other ways. Accepting Bitcoin allows companies to save money by avoiding the pricey transaction fees charged by credit card providers, a benefit cited by listing site RentHop when it introduced a Bitcoin payment option.
And in theory, it should help them attract a growing pool of young and well-heeled consumers who genuinely want to buy and rent with Bitcoin. Bond New York brought that up when it announced that it was opening its doors to the cryptocurrency.
In real estate specifically, Bitcoin could prove particularly useful for international transactions. People could circumvent wire or currency exchange fees when purchasing property or paying rent.
For all its merits, Bitcoin has an underbelly. Regulators say criminals are attempting to use the digital currency to launder money, evade taxes, and buy and sell drugs and other illegal goods online through black markets like the now-defunct Silk Road.
Supporters say that isn't true, but regulators recently arrested Charlie Shrem, CEO of digital currency company BitInstant,  for conspiring to launder more than $1 million in Bitcoin tied to an online drug bazaar.
"Whatever weaknesses they have must be addressed much more seriously," said Richard B. Zabel, a prosecutor with the United States attorney's office in Manhattan, when speaking at a hearing on Bitcoin in New York last week about the currency's alleged amenability to money laundering, The New York Times reported.
Luckily, the comment was apparently not ominous enough to Bitcoin investors to significantly drive down Bitcoin's value, keeping my net worth intact.